Live Review: BIGSOUND 2016 – Day One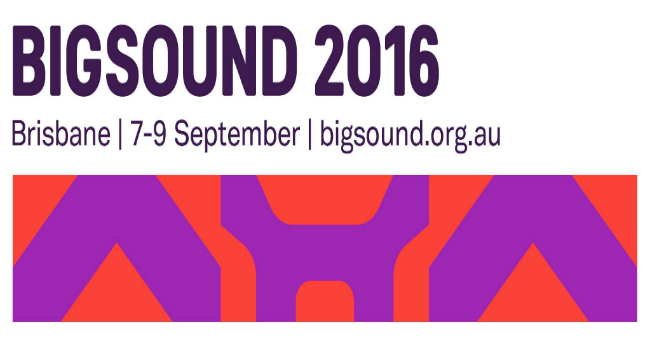 Last night marked the beginning of the BIGSOUND music conference for 2016. Between two days, 150 artists will play on 15 stages around the Fortitude Valley, and try as we might, not even AAA Backstage will be able to make it to all artists' shows. But we've brought you the very best of what we did see across a number of venues. The following reviews were written by Jessica Martyn, Jack Doonar, Nat Patterson, and Max Higgins. Photos all by Cindy Yohana
Coda Conduct @ The Elephant Hotel
The crowd was thick well before Coda Conduct took to The Elephant Hotel stage. Dressed in coordinated black and white ensembles, their confidence and onstage chemistry was infectious. Playful banter and jibes over which of them was the better rapper quickly gave way to top form Aussie rap, complemented by their creative, entertaining, energetic choreography. The only thing tighter than their moves was their rhymes.
Bouy @ Flying Cock
Over at the Flying Cock, Buoy was busy proving herself entirely self-sufficient on the synthesiser and the microphone. The crowd stood back at first, but her confidence kept every pair of eyes in the room locked on her, and once she launched into Exit, it was clear the stage belonged to her. She kept her nerve even when the power cut off and the sound suddenly stopped, calmly working to reconnect it and smiling widely as she picked up right where she left off. The punters agreed that she was "killing it", and kill it she did, every note just as it was on the EP.
LANKS @ Oh Hello!
By 9:40 the crowd at Oh Hello! was buzzing, leaving the chairs around the room unoccupied. Lanks had people flocking in throughout the set, and once inside, few dared to leave. His voice alone was enough to chill and thrill, generating energy and good vibes amongst the crowd early in the set before he launched into Heavy As A Heartbreak. The track was a clear crowd favourite, his voice a delicate glaze over enthralling production.
Vera Blue @ The Flying Cock
Vera Blue's set opened with all the drama her fans have come to expect. She clenched her eyes through Fingertips, feeling the emotion behind every word, and even as she leaned away from the microphone, every note was easily heard. Settle was a clear crowd favourite, the sound exploding out of the amps as she bounced around the stage, and the purity of her trademark falsetto never disappointed. Flipping her hair over her face, she had the whole room swaying and dancing right up to her big finish, Hold and her Breathe Life Like A Version cover bringing strength, energy, and passion in droves.
Kucka @ Flying Cock
Nearing the end of the night, Kucka took to the Flying Cock stage wearing an expression of confidence and seduction. Even as the crowd began to grow weary, the front row partied on, entranced by the bright flashing stage lights and Kucka's impressive multitasking – she pulled off edgy dance moves, intricate synth work, and clean vocals all at once. Like a combination of Ellie Goulding's voice and Just A Gent's production, there was a lot to love about her set, even when the cascading synth melodies almost drowned out her voice.
Harts @ Coopers Brightside Outdoor Stage
Melbourne multi-instrumentalist Harts is widely known as Australia's modern day Prince, heck the late music icon even said "He reminds me of how I was at that age". His reputation as an amazing live performer drew a packed crowd to The Brightside's outdoor stage, and boy did he deliver! His acrobatic guitar work, vast array of "guitar-faces", and impressive vocal range evoked plenty of "woos" and "yeeeeeahs" from the crowd. Tracks Breakthrough, Red & Blue, When A Man's A Fool, and new track Power all sounded huge for a two-man show, and an epic guitar solo behind his back in closer Tide was simply breathtaking.
Polish Club @ Woolly Mammoth – Alehouse Stage
A packed Alehouse loudly greeted one of Sydney's hottest rock duos Polish Club. Riding high on their new-ish single My House, frontman Novak and drummer John-Henry delivered one of the rockiest, loudest, and best sets of Wednesday's BIGSOUND. Their bluesy pub-rock went down a treat with the crowd, and while they do sound like a super fun racket Novak's controlled and passionate vocal performance, especially in Don't F*ck Me Over, highlighted there's more to them than first meets the eye and ears. At times, the band channelled some soul and crooning vibes, albeit filtered through their trademark thrash. Oh, and their medley of Powderfinger's (Baby I've Got You) On My Mind and David Bowie's Suffragette City was a very welcome surprise!
Columbus @ Woolly Mammoth – Alehouse Stage
There's plenty of buzz around Brisbane pop punks Columbus, and it's clear to see why as the local lads lay all their cards out in their powerful, and at times emotional, BIGSOUND set. They delivered a juicy taste of their recently released debut album 'Spring Forever', including the always tearjerker Raindrop and pop punk anthem Spring Forever. It was great to watch the trio play as hard as possible but the MVP award has to be given to drummer Daniel Seymour, who looked exhausted half-way through the set, yet every drum roll and complex double-kick pattern was executed perfectly. If you love your pop punk or just a good mosh, definitely check these guys out!
Save the Clock Tower @ Crowbar
Opening the heavy showcase was Tasmania's Save The Clock Tower, a band that's been kicking around for several years now and one we've seen on a few occasions. It's always hard opening a show, and the Bigsound showcase isn't your typical mosh gig. Nevertheless, the band performed with explosive energy that was consistent throughout their set, and despite the songs being all brand new, the band sailed through their set with the grace of an outfit well beyond their years. Super tight rhythm section from the drums and bass, and crisp vocal harmonies that were perfectly on point through the whole set well and truly won the crowd over by the time the guitars were hung up.
In Each Hand a Cutlass @ Crowbar
Next up was perculiar little Singaporean band called In Each Hand a Cutlass. Completely instrumental, the band fused hard rock, classic metal, jazz, funk, video game music, and thick prog sounds into a focused, dynamic, and captivating set. For a band that no one in the room seemed to have heard of before, it wasn't long before the front of the stage was full of people banging their heads and swaying with the ebbs and flows of their set. Some cheesy stage moves made up for the lack of vocals, and while objectively they were a bit out of place, it added to the charm of a small band from Singapore coming over and doing the hard yards.
Tapestry @ Crowbar
The only independent band from the Northern Territory to ever play Bigsound, expectations were high for the young bunch of lads. Kicking off with a slow, all-clean vocal/all clean guitar track, the band drew the audience in before sailing through a fast set of hardcore bangers that had people banging their heads and spilling their drinks. Vocalist Tom Devine-Harrison jumped between harsh and clean vocals with ease, throwing catchy melodies and abrasive shrieks left, right, and centre. With a couple of post-hardcore vibes thrown in, the boys from up north definitely left an impression on Crowbar.
Mallrat @ The Elephant Hotel
The 17 year old emcee certainly had crowds in the back of the Elephant Hotel captivated with the confidence and swagger of performers with many years more experience, but the whole time you could tell Mallrat was enjoying every moment on stage. She did have some visible shyness at the beginning of the set, but after warming up, she had control of the crowd's attention. Given a few more shows and experience, Mallrat will be a mainstay at festivals and the touring scene with her brand of Allday and Tkay-inspired hip hop.
Luke Million @ The Woolly Mammoth – Mane Stage
Adelaide electro-funkmeister Luke Millions taught the crowds at the Woolly Mammoth's Mane stage how to dance late in the night. The energy that was flowing out of Millions through his Korg and Roland machines was insane, with combinations of keytar solos, jumping drum-pad routines and powerful synth work. With his whole body worked out as he ran from instrument to instrument, Millions looked like he was having the time of his life with the crowd. Dropping tracks such as Fear The Night and a fresh remix of the 'Stranger Things' theme song, you could tell that the neo-80s pop was the hit of the night. Concluding with a crowd captivating aerobics session in the form of his hit Arnold, Luke Million was the definite highlight of at least one reviewer.
If you're suffering from all sorts of FOMO, fear not! BIGSOUND continues tonight, Thursday, 8 September, with tickets still available! Check out our Spotify playlist to get yourself pumped!
BIGSOUND Conference 2016
WED 7 – THU 8 SEPT
Fortitude Valley, Brisbane
Get Tickets HERE