Live Review: Coldplay @ Suncorp Stadium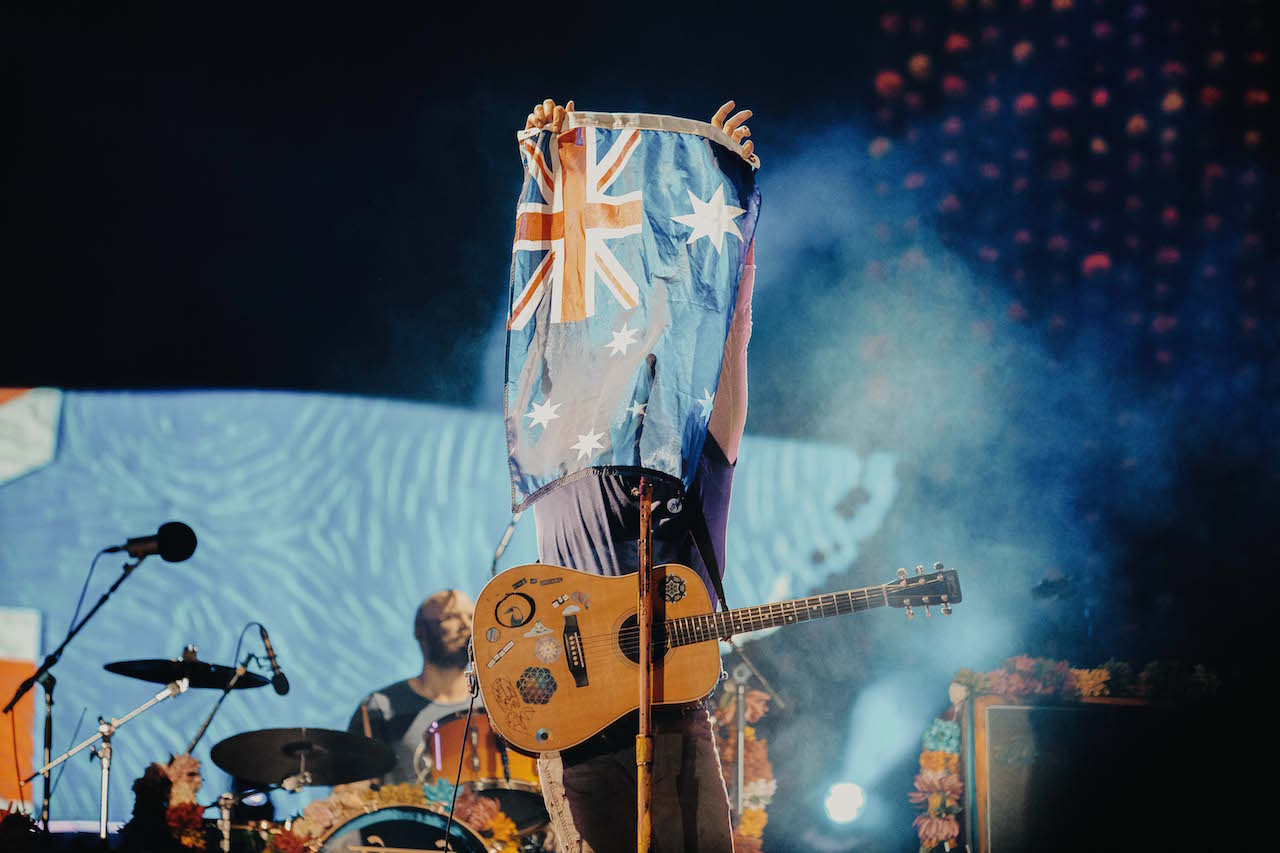 What makes a good live show? Is it just how well a band can play a song? Is it how well a frontman interacts with his audience? Is it the extra flourishes that a band adds to their performance, like visuals and props? No matter how you answered that question, there was no denying Coldplay's Brisbane show was without any shadow of a doubt the best show of the year!
Coldplay are easily one of the world's biggest bands, and are at the top of their game right now. They've been dominating the mainstream airwaves with tracks from an album now well over a year old. They're a band who've played the world's biggest stadiums on multiple occasions, and at this point in their career you'd be expecting a slowdown or noticeable lag in their enthusiasm. But that wouldn't be Coldplay.
Walking into the packed out Suncorp Stadium we were met with the band's gigantic and colourful stage design. Huge screens in the concentric circle design of their latest album 'A Head Full Of Dreams', and pretty much everything was covered in colour and patterns reminiscent of the Hindu Holi festival, a nod to the band's Indian-inspired video for their single Hymn For The Weekend.
The British quartet launching into the headline single A Head Full Of Dreams off the back of a Charlie Chaplin speech. Confetti and fireworks erupted from various points of the field and the stadium was illuminated by a sea of 'Xylobands', LED wristbands that were handed to *almost* every member of the crowd (You have to step up your game, T-Swizz).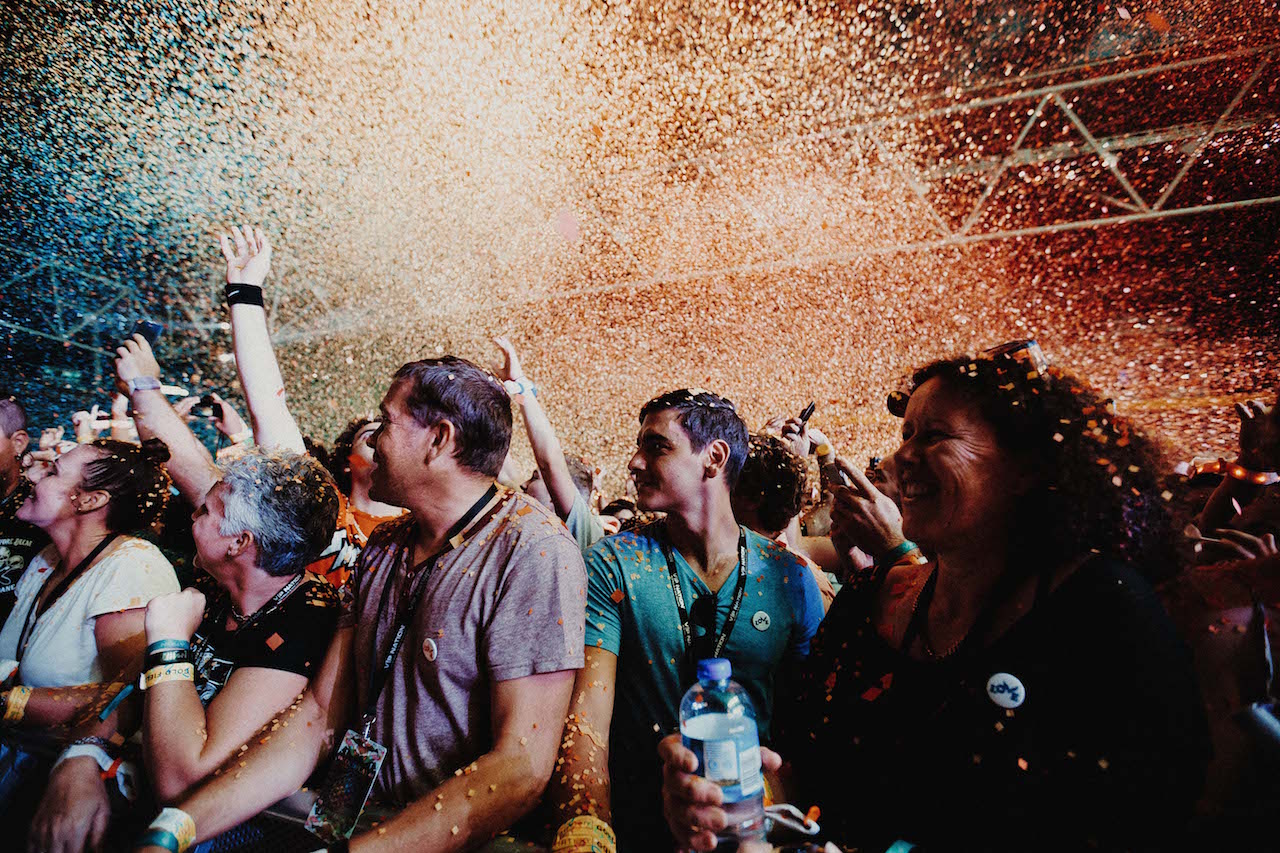 Starting the night with fireworks and confetti may have seemed like using your best dance moves at the beginning of a street dance battle, but Coldplay are true showmen and kept many more surprises up their technicolour sleeves. Within the first six songs of the set we were treated to huge singles such as Yellow, Every Teardrop Is A Waterfall, The Scientist, and Paradise, the latter of which ended with a duelling guitar rave remix that kicked the party into overdrive.
The stage projections were so unbelievably on-point for the whole show that there seemed to be a fluid connection between the music and the visuals. Clips from music videos, swirling psychedelia kaleidoscopes, and pulsating patterns made even the most sober Sally feel like she'd just washed shrooms down with Ayahuasca and stood in Andre Breton's living room. For all you cretins out there, Andre Breton was a surrealist artist… y'know, the kind of art that flips you out low-key?
After finishing the first act of their set, Coldplay made their way to a small stage at the end of the main stage's runway to play a number electronic and stripped back tracks Always In My Head and Magic from 2014's 'Ghost Stories' and Everglow from their latest album. None of these songs had ever been played live to a Brisbane audience, as the band didn't widely tour their 'Ghost Stories' album. As such it was a new experience to see Coldplay in their more emotional and raw songs, a far cry from the rainbows and lollipops of their most recent releases.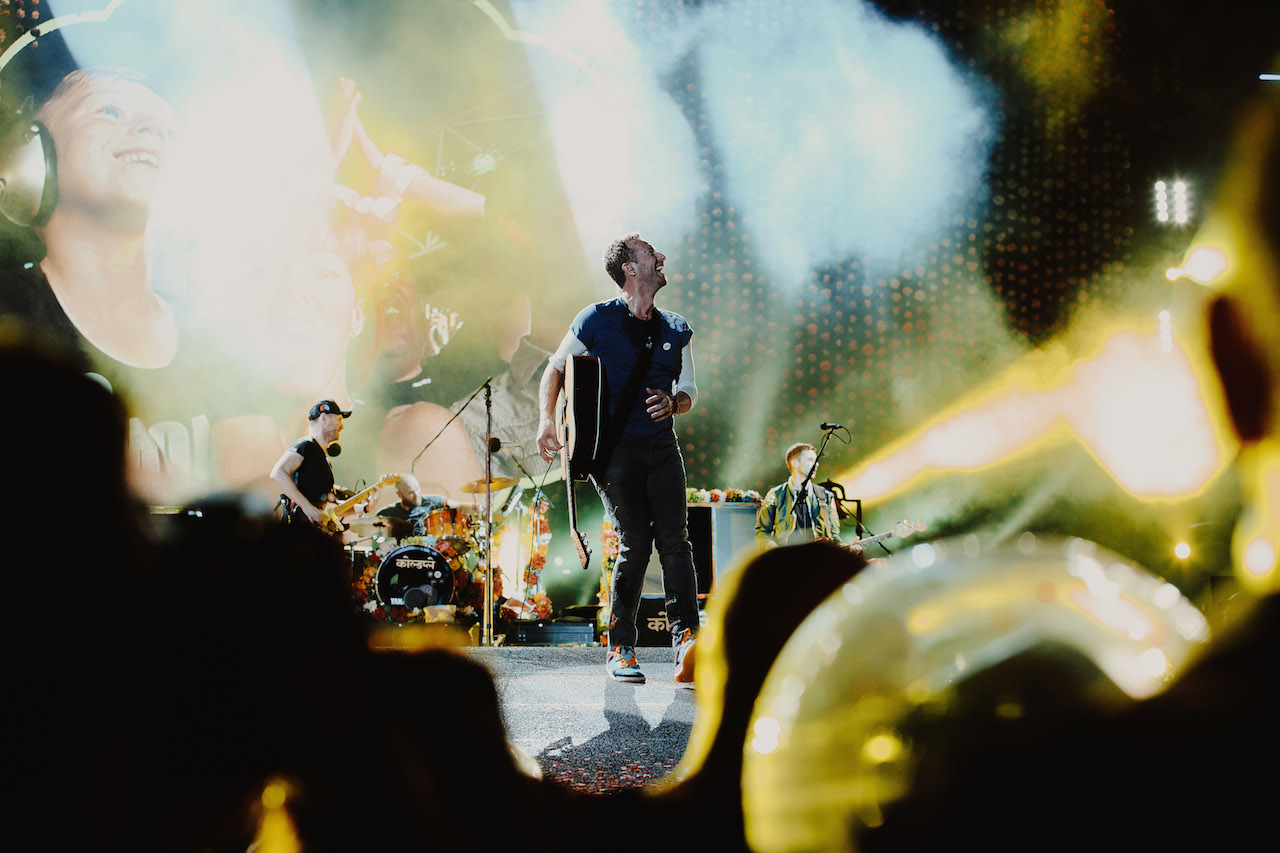 Following a clip from the butterfly-bee himself, Mohammad Ali, the band returned to their starting positions and rattled off another quick succession of their greatest hits including Clocks, Viva La Vida, and Adventure Of A Lifetime. This grouping of tracks also saw a tribute to the late David Bowie, with a cover of his seminal Heroes and the enormity of Fix You, in which Chris Martin's vocals were nothing in comparison to the crowd's tens-of-thousands strong voices.
Hymn For The Weekend, a Beyonce-featuring single from the band's latest album, was the weakest of the whole set, however, it was in no way poor or unsatisfactory and still an exceptional performance. More interactive moments came during these tracks with confetti rain, inflated beach balls being thrown into the crowd, and laser light shows that would put the Battle of Naboo to shame.
Making their way through the crowd, the band moved to a small stage in the back corner of the stadium to play Shiver and Don't Panic from their 2000 debut album 'Parachutes' and Til Kingdom Come from 2005's 'X&Y'. One of the key points of the whole show was that Coldplay expertly expanded their performance to fit the space they occupied. No matter where you were situated in the venue and no matter how many numbers were next to the dollar sign on your ticket, you had the opportunity to see them (relatively) up close, no one was relegated to the back row.
Upon returning to the main stage for the final time, the 4-piece finished strong with Amazing Day, A Sky Full Of Stars, and Up&Up. Plenty of fireworks and smooth visual accompaniments kept the crowd wowed through the back end of the set, and when all was said and done there wasn't a member of the audience who hadn't gotten on board with how much energy and emotion the band had poured into their set.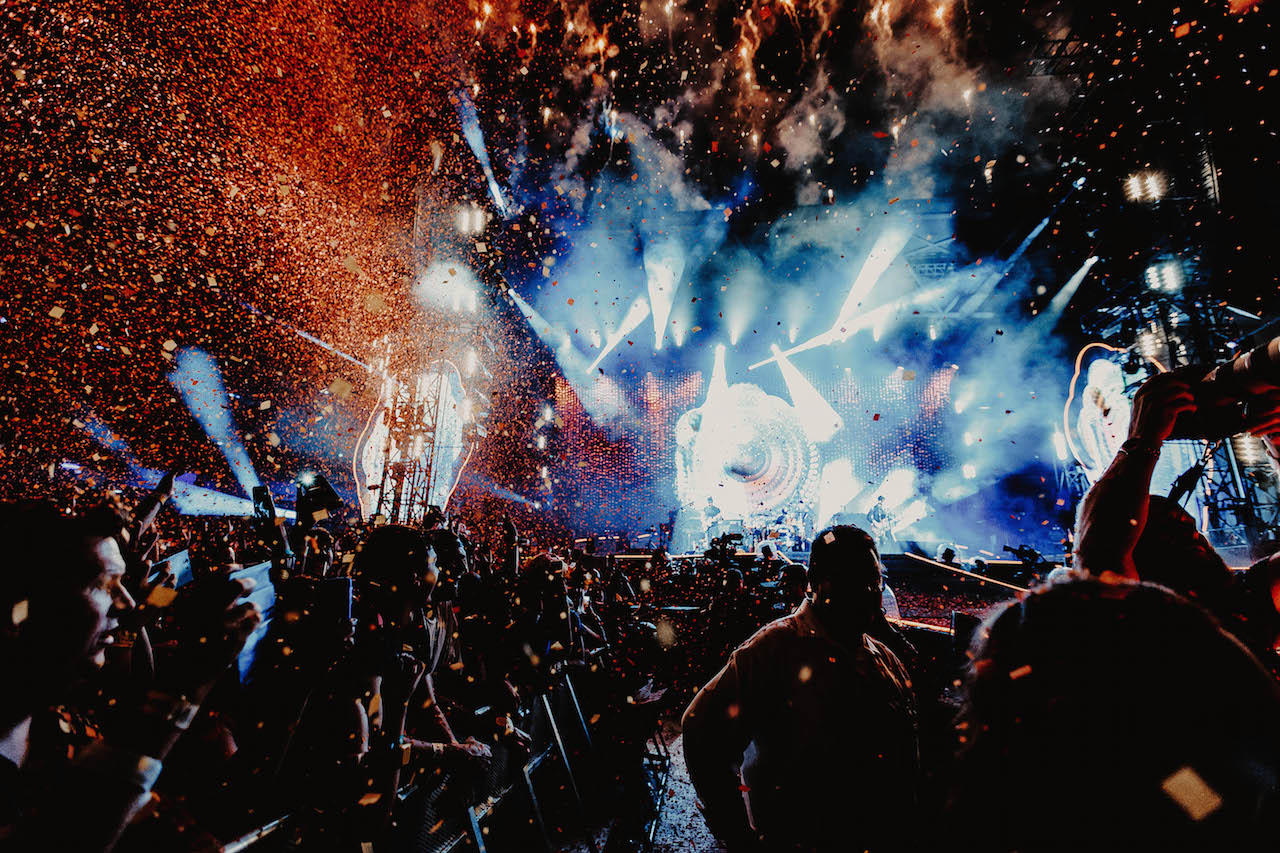 Coldplay are a band that can play to 50,000+ people in a stadium, and just seem like four friends who like playing fun music. They're a band who can capitalise on every inch of space with lighting, effects, and props, and make every member of an audience feel like they've gotten their money's worth. And, most importantly, they're a band that don't take themselves too seriously in the process.
Chris Martin paid due diligence in introducing his band members with sufficient charm and wit, and even managed to "thank everyone for putting up with the sh*t that they get for liking Coldplay". It may be another four years until the British superstars come back to Aussie shores, but for many, including AAA, the countdown has already begun!
Note: To the jacketed man at the ticketing office, whose tickets were "through the Reds", who was getting physically and verbally abusive to the lady beside him: F*ck you mate, that isn't how you treat women, you assh*le. In fact, it's not how you treat anyone! Next time think about not being a d*ck and deal with your problems like any sane or rational human might, without violence.
WatchColdplay's latest music video Up&Up and the remaining tour dates below, and if you're in Sydney or Melbourne make sure you get down to the show!
Check out our Photo Gallery HERE
Coldplay 'A Head Full Of Dreams' Australia Tour
FRI 9 DEC
Etihad Stadium, Melbourne
SAT 10 DEC
Etihad Stadium, Melbourne
TUE 13 DEC
Allianz Stadium, Sydney
WED 14 DEC
Allianz Stadium, Sydney
Get Ticket HERE