Live Review: Dead of Winter Festival @ Jubilee Hotel – 29.07.2017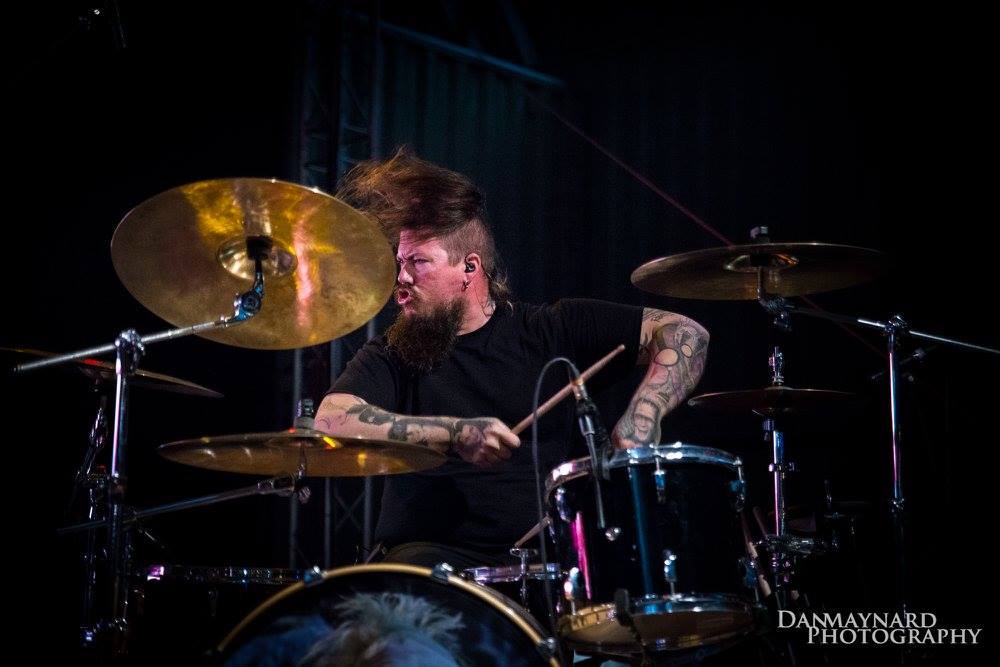 The Brisbane music scene is no stranger to creating truly unique and engaging experiences. This year's Dead of Winter Festival is no exception. As gates open at the Jubilee Hotel, the buzz is palpable. Some colourful characters come in early, ready for action; fully costumed devils, angels, and all manner of weird and wonderful outfits are on show. Beyond the entrance sits a dedicated makeup chair for anyone feeling like getting in on the fun.
As if eleven hours of non-stop music over two levels wasn't enough, the venue offers a number of bars to drink from, alongside delectable food. The house fries are recommended, while the mobile Vegan Van outside boasts an impressive selection. Nearby, punters find merch stands for band tees, the Mermaid Salon and a gothic clothing store all making their presence known.
Engaging décor and atmosphere aside, Dead of Winter presents over fifty acts across five stages, resulting in constant sensory absorption. It is impossible to catch every band, despite running back and forth between stages. So much talent is on offer that one person's recollection of the festival may differ wildly from the next.  With that in mind, here's the Dead of Winter experience, stage-by-stage, from the perspective of one dedicated music lover.
GREEN BEACON BEER GARDEN STAGE
WALKEN, a three man barrage of heavy, hard alt-rock noise dominates the opening slot, entertaining an enthusiastic, if sparsely, populated room. At times, their set is reminiscent of a dirtier, Big Muff-saturated My Chemical Romance if Josh Homme took to vocals. A small but very attentive crowd are right into it, and rightly so. Walken are an impressive trio worthy of a much larger turnout.
HOBO MAGIC, initially a no-nonsense heavy rock act with strong stylistic leanings toward Motorhead and Black Sabbath. Their grungy sound and slick guitar licks are rewarded with an unmoving crowd, too sober to get silly, but too gobsmacked to walk away. With a jump in tempo Hobo Magic inject a jump in complexity, with key changes taking punters on a journey from prog-rock to heavy metal and psychedelia.
THE ROYAL ARTILLERY continue a tradition of authentic blues guitar work with 70s-influenced style. To the discerning listener, Hendrix, Zeppelin and even Jack White are potential guiding forces. It's heady, it's powerful, and is bolstered by a 90s-esque stoner-rock bottom end. Just as listeners get comfortable bobbing to that groove, lead guitarist Zed Charles launches a blistering lead guitar assault, driving his crowd to an energetic space before  leaving them looking for more.
RIVAL FIRE produce a modern dark rock sound, overlaid with clear, powerful vocals. Comparable to the Butterfly Effect, they're lighter than many of the acts on the day and that is refreshing. Straight-shooting rock and roll entertainers.
VALHALORE have their crowd excited from the first moment. They're the only epic, Celtic-metal influenced group on the bill, so every fan of the genre packs the Beer Garden space. Instrumentally unique, Valhalore come complete with flute and whistle, accompanying full medieval fantasy outfits down to leather wrist guards and galloping beats. The sound of epic pirate rock flows over the audience like an invading long boat. It's impossible to turn away from such a spectacle. The Vikings would be proud.
TESLA CØILS seem as unconcerned about their look as they are about their dark, nu-wave electronic synth-pop. Singer Jed Wolters's curly dark hair delivers an attitude of devil-may-care and mystery that must be seen to be understood. Utilising keyboard dominant noise over big drums to support clear, echo-saturated vocals, any lover of Gary Numan, David Silvian, The Cure and all things dark wave will Tesla Cøils to be a treat.
THE GUTTER BIRDS deliver a delightful break from a heavily distortion-dominated day. Three-piece female harmonies in antique vaudeville style drift over cabaret piano. However this act isn't just about vocal trickery or polka dots (both of which are on display) nor are they peddling sweet love ditties or depressing their audience. With a smile and a swift middle finger, The Gutter Birds sing ever so sweetly about all things shocking and ribald. Their comedic timing is on point and the capacity crowd cannot stop laughing. It might be their very vocal Flangipanis obsession, or a simple contrast to other acts, but The Gutter Birds are a definite highlight of the night.
SOME JERKS take to the stage and their audience without hesitation. They're a confident three-piece, pushing surf-influenced, western-tinged rock. The crowd loves it, the front row grooving and dancing along. Some Jerks know how to work their instruments, and bassist/vocalist Vicki knows how to surprise with some very pleasing high notes. Talented veterans of music and the genre.
GIANTS OF SCIENCE: speaking of veterans, what a band. Gutsy powerful rock and roll with a fat bottom end bleeds out of bass and rhythm guitars. At first the vocals lend a little from Kyuss, but cleaner and wider. Any comparison quickly vanishes as the song escalates into a gorgeous howl, alcohol-fuelled anthems riding over thumping four-four drums. The performance is fast enough to rock, but slow enough to keep listeners grooving and nodding. Essentially, Giants of Science are a truly exceptional act and a worthy end to the Green Beacon Beer Garden section of the festival.
4ZZZ CARPARK STAGE
HOT WINGS open the 4ZZZ section with upbeat, fast-paced, funky, punky tunes from Melbourne. Arguably a Strokes-influenced sound with a surfin' '60s edge, they sit in the instrumental space space for a time before launching into some epic psychedelic rock. Hot Wings appear to enjoy their tremolo effect and have a talent for keeping a sun-addled crowd entertained.
FRIENDS WITH THE ENEMY are friends for any lover of California-style thrash-punk rock. Think chunky, fast-paced distortion overlaid with straight-up superb vocal clarity delivered via two-part harmony. They're a well-oiled act with a tight, well-branded sound that stays consistent throughout their set. Singer Chelsie Bomb keeps up the energy from start to finish, channelling energy from an obviously appreciative afternoon audience.
THE CUTAWAYS carry on the punk rock pathos when Friends With The Enemy finish. They're a little more on the Distillers end of the spectrum to begin, though obviously unique in their own right. Gravelly, Brody Dalle-esque sonic styling soon gives way to an Against Me! kind of feel. The Cutaways are a four-piece punk-n-roll act well worth checking out.
SMOKING MARTHA are something else. As the crowd sways, immediately converted by a big bass-driven number, there's a deceptively complex, metal-inspired lead lick carrying over a tight rhythm section. A long snare roll signals the voice of Tash Doherty, immediately recognisable and incredibly magnetic. Aside from being an enviably attractive group, Smoking Martha present a unique combination of hard-rock sonics crossed with smoky, sultry, and surprisingly powerful vocals. Overeager punters loudly chime in their approval as the afternoon comes to a close.
SABRINA LAWRIE opens the evening for the 4ZZZ stage. She and her band are dressed like glam stars of the forest. There's a rosemary bouquet on the mic stand and Sabrina's face is painted like a woodland fairy. The audience is entranced before she plays a note, but when she does, they wake up fast. The sound is big and bluesy with a touch of sleaze in the melody. Her voice is clean in one moment and full of beautiful broken glass the next. Some of the set is eclectic, but all of it rocks and she nails it.
TRANSVAAL DIAMOND SYNDICATE drag their audience with them on a stoner-blues rock journey. Led by harmonica and underscored by deep, bombastic drums, the group recalls a combination of Kingswood and Kyuss. There's a frenetic two-step section and a whole lot of rather impressive lead work. Overall, Transvaal are a dynamic group worthy of the genre.
DALLAS FRASCA  is best describe as a full-frontal rock n roll assault. She's got vocal chords of busted porcelain and steel. Her drummer is super-tight, the showmanship exemplary. She speaks accurately about the energy of the crowd and how she's been staying in the Australian desert before they rhythm bounces she's off again. Deep, deep bass and distorted riffs underpin a consistently husky, throaty voice. She's tight on guitar and her band does not disappoint. Her closing song is, in a word, insane, all gutsy high notes, drums fills and guitar arpeggios.
THE PORKERS push the mood to a new level with some good old-fashioned ska punk, complete with a brass section. This is a band with an image that's fast and loose but who are musically tight and quick in execution. With touches of The Living End and Reel Big Fish, The Porkers are a super happy time for all, delivering sweaty party music that sent their capacity carpark crowd just a little crazy.
THE BENNIES end it for the 4ZZZ stage. They open with a fast paced rock-number. It's punch and catchy. Vocalist Anty sings, shouts, shout-sings, and hollers at his audience. He's harsh and catching, he's got black coming through the blonde and it's clear he doesn't give a damn. Anthemic power-rock choruses pump the crowd, and then Anty gets that rock n roll shriek on. An audience member stage dives, the now overflowing carpark crowd is at surge levels and the energy is wild. The Bennies are a strong closing act for the 4ZZZ stage.
BERSERK SIDESHOW STAGE
HEART AND DAGGER SIDESHOW features a young burlesque performer in a feather head-dress swallowing a balloon—whole. She's impressive, to say the least. This is followed by Frankie May Felon's sensuous dance number and a fire-swallowing stunt. After a moment of heart-in mouth there's a surge of applause and an old-school bed-of nails act follows. Not for the faint of heart, but very entertaining. They perform twice in the evening; the second act sees the fire act taken to an ever riskier, and risqué position.
LILITH REVERE AND LILLIAN LACE are another sideshow that opens mouths and keeps the audience on their toes. Lilith Revere performs an act that must be seen to be described. It's sensuous, intriguing and entirely engrossing. She owns while she's on it. Her departure gives way to Lillian Lace, who enters with her face covered in a seaweed-themed veil. The veil drops to reveal a face of beauty, her crown crafted in the shape of a ship. She's got a sultry manner, a mysterious vibe, and an attitude that flows off the stage. She uses her veils like the wind, graceful, fluttering. Lillian Lace may be a burlesque performer, but she steps off the stage like a queen.
DRUM CARTEL STAGE
Until night falls, this is the heaviest stage by far, dedicated almost exclusively to heavy, hardcore, metal and closely related genres.  It's located upstairs, so for someone rushing from stage to stage to ingest as much music as they can, this is the toughest stage to stick with. However, for the consistently dedicated crowd who remain in the Drum Cartel section, the reward is a constant onslaught of some of the heaviest and darkest acts known to Brisbane.
THE MOLOTOV may be the lightest group to touch the upstairs stage, but they're still a heavy band. They begin with a cover of Zombie by The Cranberries, a tough-leaning metal version with a surprising synth overture. The sound desk murders them early on, but soon enough it's under control and they're back to doing what they do best. An enthused gent rolls in doing his best air guitar and stays for the death growls of singers Jayde and Scart. There are moments where one scream begins, overlaps the second, then ends with no audible difference. A very impressive vocal technique and an enjoyable act overall.
A.M.P. are a heavy-as-hell hardcore screamo act. The attendant audience are clearly fans of big, angry, bass-driven metal with drops between clean and screaming vocals. Exhibiting an As I Lay Dying/Rise Against kind of feel, A.M.P know how to fill a room with their sound and give their all to the performance. The room is impressed.
HOLISTIC take the stage confidently. Delivering a continuous period of melodic hardcore metal, their power-growling vocalist is a showman, calling on his crowd to up their energy. Characterised by duelling distorted solo moments, Holistic make for an enjoyable metal interlude.
ARTERIES: a five piece hardcore metal outfit worthy of the title, "heavy". The group rains down a relentless barrage of roaring, triplets and distortion, one after another. This group has a dynamic flair that engages and drags the listener in. Dropping off into soft, clean, ambient moments in the tradition of early Opeth, the intensity shifts immediately back to power metal. Arteries are intense, dramatic and varied in their approach to the genre.
HYSTERIA CARPARK STAGE 
FIRE AWAY open the Hysteria stage in the early afternoon. They're a fun-time, trumpet-driven piece of so-cal style punk rock. Excellent to bop to while chugging down a nice curry.
FREAKSHOW NIGHTMARE are easily recognisable by their new singer's bright green hair and tattoos. While enjoyable to watch as a fast-paced punk n roll act, there's a clever touch of Sex Pistols and a horror-punk twist embedded in their sound. Freakshow Nightmare keep their car park audience interested with quick beats and some comedic on-stage shenanigans.
SWAMP GULLY HOWLERS bring the swamp to the Jubilee Hotel. Vocalist Caity wears a cowboy hat like it belongs there. Their costumes (ranging from a Rob Zombie clown to the Cookie Monster) add a fun flavour, but their bluesy, country-touched deep-south sound complement Caity's powerful range perfectly. She's Etheridge-esque, and the band could be at home in Louisiana or Tennessee. Complete with sweet harmonica rolling over big bass, Swamp Gully Howlers are a pleasure to watch.
BEING JANE LANE kick the energy up a notch, pushing punk rock back onto the Hysteria stage. To see Being Jane Lane is to see five girls having the absolute time of their lives. Their show is super energetic, they bounce, they jump, they grin and when they say they're so excited to be here, you can tell they really mean it. A couple of tracks dip into grunge territory, sporting a Violent Soho style vibe, but overall they're a hundred percent positive energy. Being Jane Lane are an infectious and fun live act.
LA BASTARD follow Being Jane Lane on the Hysteria stage. This group elicits an old-school Janis Joplin/Aretha Franklin vibe. There's a Hendrix/Rainbow kind of feel to the music. The audience quickly expands into the car park and obviously enjoys every minute.
FAT: there's a lot to be said for Fat. The drums are fast, powerful, and intensely rhythmic. Guitars are distorted, rambunctious, growling, and occasionally saturated with chorus-like tones. Vocals move stylistically all the way from a Talking Heads feel to the rage of Brian Jonestown Massacre. Fat represents psychedelic punk rock at some other level; difficult to put in a box, but a highly engaging live performance well worth experiencing.
FLANGIPANIS are a highlight of the evening, not only for some of the attending musicians (particularly Being Jane Lane and The Gutter Birds) but also for a crowd that almost doubles in size as they take the stage. Dressed as superheroes with a decidedly pink colour scheme, they're in your face and as punk rock as can be. The crowd thrashes energetically in time to fast beats and raucous vocals. They're fun, they're fast AF, and their last song F**k You is unanimously clapped, cheered, and hailed as awesome. It seems like everyone loves the Flangipanis.
NIGHT GAUNTS progress naturally from The Porkers' ska punk on the 4ZZZ stage down to a softer, slower, reggae ska feel to close off the Hysteria Stage. Everyone sways to this unique interpretation of island sound, enjoying a rich almost-rap that goes down as smoothly as the underlying saxophoninto e-backed pop-reggae. Then something magic happen; a glorious saxophone solo transforms a synth-like noise. The effect is nothing short of magic.
SAILOR JERRY DECK BAR STAGE
MAMMOTH are a dirty, fuzz-driven early-day pleasure. If Mammal, ISIS and QOTSA birthed an angry little three-piece child, it would be Mammoth. With rolling drum fills and engaging, descending guitar melodies, Mammoth create a rousing set of dirty, heavy, doomy stoner rock. Their closing track is climactic, dramatic and engaging.
ELKO FIELDS follow Mammoth on the Sailor Jerry stage. A swampy, stoner-blues rock group, they start slow, quickly escalating into gutsy blues territory. Vocalist Kella Vee surprises with her control, range and projection. Elko Fields don't give it all away at once, but when they do there's definitely a payoff.
RED BEE rate as one of the most enthusiastic acts of the festival. A three-piece heavy-ended hardcore prog-metal outfit with a big sound, they're clearly loving it as much as the crowd. Triplets play a big role in their song craft, featuring in guitar and drums, while vocals are doubled with a unique sounding reverb. Red Bee definitely stand out due to their obvious intent to entertain.
BLACK RHENO push the Sailor Jerry stage deeper into the heavy side. This group is like Soundgarden or Rage Against the Machine on steroids. Frontman Milla is sweating and full of positive rage, and the energy emanating from the group is full-on. Black Rheno don't stop moving or roaring, except between songs. Even the breakdowns see Milla dancing about as a couple of punters climb onto the stage and dance with him. Suddenly he's crowd surfing and the audience is going wild. Black Rheno work their crow into a positive frenzy.
DARKCELL start with a piano piece, giving no indication of the ferocious metal onslaught about to come. They kick in with a powerful shriek from vocalist Jesse Dracman. It's a set characterised by fat bottom end, distorted, synth-like melody and chunky guitar. The closest sonic comparison might be Rob Zombie but their sound is their own. When Jesse screams, "make some f**king noise!" the crowd screams back at him with glee. For fans of the genre, Darkcell are a force to be reckoned with.
THE MEANIES close the Sailor Jerry stage late in the evening. As the last act on the lower level, they deliver some old-school punk rock goodness for a drunk, ecstatic and somewhat crazy crowd. With a meaty Marshall guitar sound, a vocal roar and fast beats, the audience doesn't take long to start frothing. On-stage it's all about arm waving and swaying along with the audience to chorused harmonies. Brisbane loves this particular type of punk rock, so it's definitely an appropriate ending.
Heading home after eleven incredible hours of non-stop music is surreal. It's natural to have hoped to be able to see every act, but far from realistic to assume it is possible. Ultimately, the Dead of Winter festival delivered a fantastic experience and an impressive lineup of local and touring talent.