Live Review: Deadlam Halloween Festival 2016


It was a BIG night in Brisbane's Fortitude Valley last Friday! Bedlam Records went all out for the third year of their now infamous halloween live music party, as Deadlam showcased emerging and great Aussie acts such as Shining Bird, Dorsal Fins, Twin Haus, Astro Travellers, You Beauty, Squidgenini, Bugs, Thigh Master, Romeo Moon, Muddy Chanter, Voiid, and headliners The Drones.
The 2016 instalment of Deadlam was a 4-stage, three-venue Halloween event. Punters were centred around The Brightside with its two stages, but acts also played at Black Bear Lodge and The Foundry throughout the night.
The all-Aussie lineup was a true ripper. At 7pm the doors kicked open at The Brightside. Since it was a Halloween themed mini- festival, a lot of punters and band members got into the Halloween spirit dressed in all sorts of costumes, face paint, and funky to ghoulish clothing.
By the time local folk-rockers Golden Age Of Ballooning was mid set the crowd had doubled in The Brightside. Sounding like a sweet mix of Fleet Foxes, Band Of Horses, and Boy & Bear, the 6-piece folk rock band delivered a solid performance, slamming through hits such as Summertown and Love & War. The set also included a solid Pearl Jam cover and even a few new songs, before the band announced an upcoming tour.
Dorsal Fins then hopped on stage ft. Ella Thompson of GL. The 7-piece experimental band were an absolutely chaotic party on stage, but it was impossible to not bump to the funky beat of the wild band. They ignited the Deadlam crowd and had most ghoulish characters dancing about to tracks such as Nothing Left To Hide.
While The Brightside's two stages had bands blaring from outside and inside the venue, you were still able to catch a number of acts over at The Bear Lodge such as noise-pop group Bugs, psych-rockers Shady Bliss, and hip hop crew Astro Travellers.
Shining Bird, I Heart Hiroshima, GL, and The Drones rounded off the night at The Brightside. The Drones took the main stage by storm opening up with Private Execution. The Aussie legends played most of their hits from 'Kinda Feel Free', and their history jamming together since the late 90's clearly shone through during their impressive punk and alt-rock set.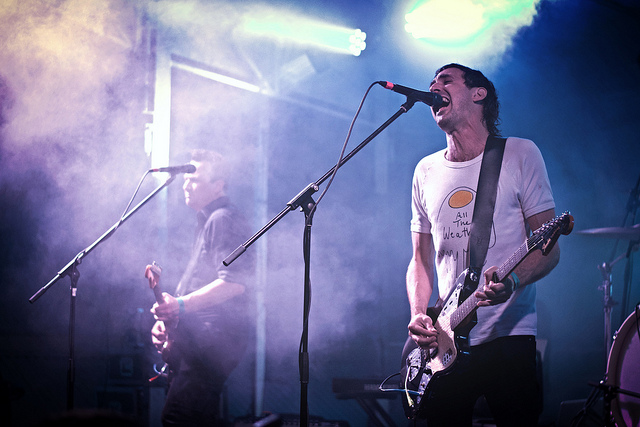 But Deadlam wasn't dead, yet! Punters were still able to catch the "Afterparty" acts at The Foundry. You Beauty, Tina Khasi, Rams, and Pocket Moth DJs closed out the seemingly never-ending Deadlam festival till 4am. For a mini festival, Deadlam was a massive night. It seems the saying is really true, "third times a charm"!