Live Review: FOMO, Brisbane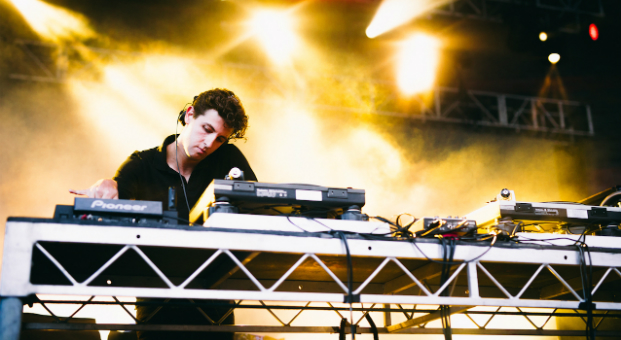 It's a nervous time to be hosting a music festival in Australia in the good year of our Lord 2016. The list of reasons festivals have been canned in the past year ranges from the mundane (poor tickets sales for Sea N Beats), to the downright apocalyptic (a raging firestorm cutting off all access to Southbound), and AJ Maddah has usually had something to do with it. What a relief then the FOMO Festival passed with nary a hitch, excepting the tender sunburns most punters will be still nursing come the resumption of the work week.
Despite the music being not really this writer's scene I feel confident enough in saying FOMO Festival have stumbled upon a formula that will provide a blueprint for many festivals moving forward. Its already accepted boutique music festivals, evidenced by flagship event Laneway, are doing far better financially than their larger counterparts. FOMO proves that both organisers and punters are having more fun too…
The Riverstage is one of the most beautiful venues in Brisbane, situated behind QUT Garden's Point and nestled in a lazy meander of the river, it's a natural amphitheatre created by the rolling grass and watchful eucalypts. It sounds like the perfect venue for a Groovin' the Moo or perhaps a Harvest Festival back in the good ol' days, but FOMO felt right at home.
Part of this is to do with the intelligent marketing of the festival. The music formed only a part of the experience and was at least as important as the social scene, the transporting of the energy of a late night at Oh Hello! to a lazy, dog-day Brisbane afternoon. When you #fightthefear, as much of the festival's advertising told you to, you are fighting the physical embodiment of the fear of missing out. How to do that? Sidle up to the bar, choose from several craft beers on tap or a "FROMO" daiquiri, have a sit on the green and wait for a familiar face to stroll by. It really was that simple! It was like having a picnic at 3:30 AM, screaming pleasantries over all the club bangers with volume turned up to 11.
Which brings us neatly to the music, the criteria on which every festival must live and die regardless of pleasant vibes. I must confess now, in the interests of full disclosure, that this writer is much more Smiths than Skepta, but even I couldn't help but throw myself fully into the music. Arriving early, there were about 100 punters slowly crisping at the front barriers for UV Boi (I hope you'll understand if I omit the Arabic script), with another 50 odd dotted on the hill. Opening was a big ask and you could barely look at UV Boi unless you had sunglasses on, dazzling as he was in a white Basenji tracksuit. At this stage in his career UV Boi looks a bit like a Grade Sixer who's been asked to give a speech at school assembly when on a stage that big, but it simply added to his charm. UV Boi's brand of existential, woozy synths contrasted perfectly with the Colonel himself, Melbourne DJ/ producer Benson. Benson is much more focussed on bass and rhythm and he conducts himself like Bacchus waiting for the first party guests to arrive, all coiled energy and wild intentions. A useful comparison to Benson is Peking Duk, and Benson made the link himself when he gave Take Me Over a spin, shortly before Kendrick Lamar and a couple of unreleased and as yet untitled songs.
The third act of the triumvirate of back to back to back artists to kick the day off was Anna Lunoe who, upon seeing an already throbbing crowd present and needing to move, began moulding us like Playdough in her hands. Oozing confidence in a FILA t-shirt, kneepads, and sneakers, the word for how she moves is saunters: Anna Lunoe saunters up to the mixing desk. She's much more vocal than Benson or UV Boi, teasing out the occasional lyric, enough to suggest an impressive voice. Her 2014 single Bass Drum Dealer was the high point of her set personally, but the crowd's beery roar when the first bars of Disclosure's When a Fire Starts to Burn was scarcely believable and was only bettered by Renegade Master.
Ten minutes seems simply not enough time to both recover from Anna Lunoe and prepare for Keys N Krates. The Canadian trio are renowned for their closeness as a production unit and their easy demeanour on stage. Dry mouthed and in desperate need of sunscreen, I was halfway up the amphitheatre hill but felt bass vibrations rattling up my shins. Keys N Krates specialise in incredibly deep, almost subsonic, drops that feel somehow like anti-music, like the sounds are coming out backwards via a wood-chipper. Keep it 100, their 2014 collaboration with Grandtheft is a good example of this sonic insanity.
Adelaide rapper Tkay Maidza is the only singer on the festival bill, male or female, and her set was a little like her trademark balloons: light, playful, but ultimately unable to escape the tether it is tied to. Part of this has to do with the sound at Riverstage: fine when you are standing in front of the speakers, but as the amphitheatre fans out, the sound becomes a little tinny. So, for those not right in the thick of things the already diminutive Tkay seemed to be unable to conjure that big sound that makes hits like Brontosaurus and Switch Lanes so fun at club shows.
Mr. Carmack looks a little like Toro Y Moi and is very much the technician: intensely focussed on his mixing board, he leaves the crowd mostly to make their own fun. Going back to a vaguely unsettling trap sound like Keys N Krates, Mr. Carmack's absence of stage personality is the personality itself, as he conjured up a sense of mystery that among contemporary producers, perhaps only SBTRKT matches (and he uses a mask).
Of all the people I talked to during the day, Skepta i.e. Joseph Adenuga, was the name that kept popping up as the major drawcard of the day. Skepta has been a rising name since 2014 and last year was a breakthrough year, spearheaded as it was by single Shutdown, which charted in his native UK. Skepta was messianic on stage, filling every nook of space with an irresistible force of personality and a belief that the time is now. When Skepta started spraying the first three of four rows with water it was like Jesus performing a miracle; indeed, when it left Skepta's hand it was water, but by the time it reached the crowd it may as well have Louis Roederer or Moet. The man can do no wrong!
German producer Alexander Ridha, better known as Boys Noize, is an unsettling experience. I mean that in the best possible way. His music is much more technologically influenced, all mystery phone beeps and distorted dial-up warbling, similar to Knife Party. He allies his music to unsettling Satanic and mechanic visuals that flicker and grow like shadows in the night. Boys Noize probably deserves more recognition in Australia.
Jamie xx was a transcendental experience. It's golden hour by now, and Jamie fit himself comfortably between a mixing desk with two turntables and a caddy with milk crates full of old records. He's dressed minimally and scarcely acknowledges the crowd. This seems rude, until you realise that this is because you are witnessing one of the most talented producers going around at the moment. Of all the DJs and producers I've seen with my own eyes perhaps only SBTRKT and Totally Enormous Extinct Dinosaurs come close to existing at such a level with their own music.
Underneath his cascading fringe his pupils dilated at the hypnotic sight of a 33 1/3 LP making lazy revolutions on the desk. The smoke machine was working overtime, and combined with soft blue and pink lights to create a dream-like experience. It would be incorrect to say this was dance music, it was electronic, but of the down the rabbit hole type, where songs melt into one another and an hour long set can evaporate in what seems like ten minutes. Jamie xx didn't even play I Know There's Gonna Be (Good Times), but the mark of the set is that this didn't even feel like an omission.
After this slice of heaven Flight Facilities felt like a bit of a chore. Oh, all the classic FF elements were there: a bass and a lead guitarist silhouetted against the smoke, Owl Eyes strutting about like the third member of Flight Facilities that she virtually is, an impressively imposing mixing desk framing Hugo Gruzman and James Lyell like a neon shop window; but after the wizardry of Jamie xx and before the batshit insanity that was RL Grime, FF's expansive, airy tunes fell a little flat. Flight Facilities would benefit from a period away from the Australian festival circuit to cultivate the magical aura they had circa Clair de Lune.
Is 9 PM a little early for the blunt physical trauma that is RL Grime? Fuck no. If Panic! at the Disco was correct in lying is the most fun a girl can have without taking her clothes off then RL Grime must run a close second. Every aspect of RL Grime's performance is geared towards complete musical hedonism: white lights flicker on and off a thousand times per minute, industrial clatters and horns blare with the sole aim of shattering bones and ear drums, and an entire festival kinks and twists to what can only be described as some of the filthiest music that's ever been heard. Taken individually, elements of an RL Grime song sound pretty god-awful, but taken together they tap into a collective energy that feeds the crowd. One suspects RL Grime has a mutually symbiotic relationship with crowds, that he would wither or evaporate without complete crowd participation, and the crowds themselves would deflate like old balloons without Grime's primal trap beats.
Was 10 PM a little early for FOMO to be finishing? You bet. But therein lay the last trick up the FOMO team's sleeves: Fortitude Valley is only a short walk away, and Oh Hello!'s doors are wide open.
How to make sense of such a physically draining but mentally rewarding experience? Having only one stage creates a real sense of community for the day, but leaves a certain type of punter with little to do in between sets except drink. The outdoor stage throws FOMO's fate at the feet of the elements, and while it was preferable having sunshine to rain, another marquee was definitely required. The medical officers roaming around with sunscreen were heroes' sans capes, but it was like bailing out the Pacific with a ladle. I'm being nit-picky though, the quality of the music and the crowds virtually guarantee FOMO a sophomore run next year. I can't wait!