Live Review & Gallery: Connan Mockasin @ The Tivoli – 20.03.2019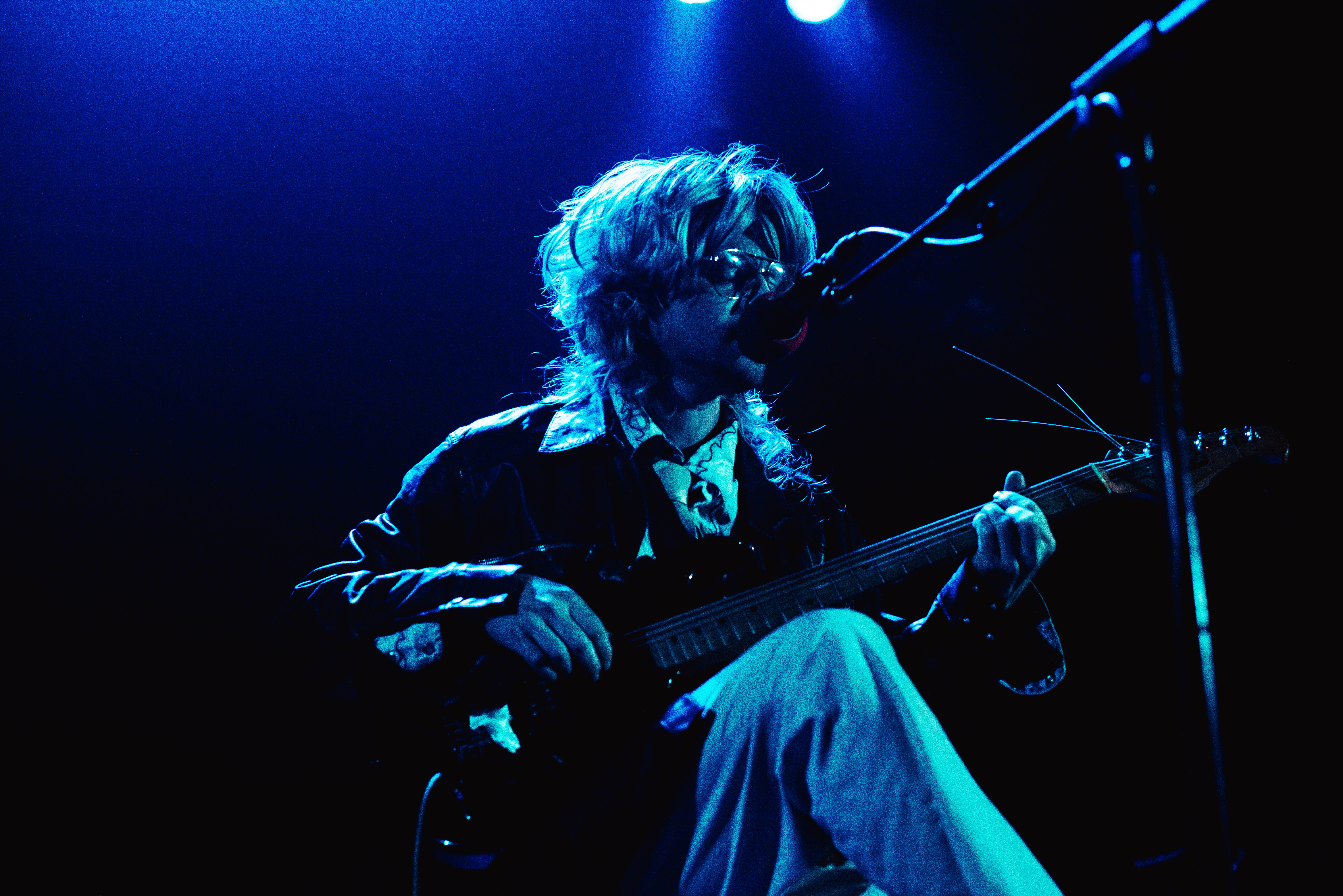 I've been to the Tivoli in Brisbane a bunch of times but never for a sit-down show and never for anything quite like what Connan Mockasin had in store for us. The old theatre was filled with rows of cheap, red cushioned chairs all facing toward the main stage where a large screen hung above the bands setup. Crowds of people milled into the venue all dressed in washed out pastels somehow setting the tone for what was to come from the psych-pop darlings conceptual album tour.
As scheduled, the lights dimmed and opening credits rolled for Connan Mockasin's directorial debut, 'Dobsyn n Boston'—an uncomfortable but hilarious dramatic short created in an empty salon in Los Angeles by Mockasin with his bandmates and girlfriend. Boston, a school teacher played by Mockasin, falls in love with a student troubled by bad grades. With the ensuing awkwardness and hilarity received with a mixture of long silences and outright laughter. The film ended with a recording of an old live show by the Jassbusters lead by Boston aka Mockasin. As the outro played, the Jassbusters themselves walked out onto stage to take their seats and slowly take over from the film's soundtrack.
Boston opened the Jassbusters set with a quick mockery of his own falsetto and then kicked things back into character opening the set with Con Conn Was Impatient. The four-piece were all seated front of stage under dim blue lights as they sifted through songs from Connan Mockasin's third album. The buttery smooth and yet childish sounds of the Jassbusters were only interrupted by long pauses as Boston stared out to the crowd sipping some sort of black liquid from an old water bottle. Songs weaving into each other seamlessly until Boston apologised for the band's timidness. Saying they hadn't played together for a while, four months to be exact. The audience applauded and laughed through the somewhat awkward set with the band finishing on Charlotte's Thong.
They finished to a full house of applause, with Boston quietly asking the audience if they liked that a few times before making their way off stage. The lights came on and the screen lit up again simply saying, 'Intermission: 20 minutes.' Everyone milled outside for drinks or a smoke with plenty of chatter as everyone tried to process what they'd just been exposed too.
It was weird, to say the least, but pleasant. Connan and his band had lived up to his peculiarity and musicianship while also flipping the idea of what a touring artist was meant to do on its head.
The intermission ended, Connan and his band remerged, no longer in costume but wearing a Jassbusters tee and ready to be perform as Mockasin. They opened with It's Choade My Dear, Mockasin choosing to gesture with his closed fist phallically every time he sung the chorus. As if we weren't that was what the song was about. The guitars softly rung through the room as the audience swayed in their seats unable to completely let loose.
Early in the set someone yelled out, "Where's Boston?" To which Connan laughed and casually replied, "Not here, did you like that?" He gave thanks to the opening act and bantered with the crowd before playing Faking Jazz Together. Dimly lit, the band dived into their catalogue, mixing improv jazz guitars with his most well-known tracks. The show felt intimate yet awkward, like you'd accidently walked into somebody's house uninvited. Yet they played as tight as ever, weaving instruments into walls of sound accompanied by Connan's soft vocals—offering up the full experience that is Connan Mockasin. The unusual, the discomforting and downright alien nature that he commits to is genuine.
It was as if we'd stepped into a private backyard listening of some new work played only for close friends and family, who seemed to make the front row of seats. Again, Connan stopped and struck up a conversation in Japanese with somebody from the audience. The guitarist called Connan out for being rude, saying we aren't all bi-lingual, so Connan paused and apologized in French for the rudeness and continued playing. No explanations offered but the audience laughed it off, quickly being seduced by his broken falsettos and musicianship.
Not long afterwards, Connan tried to grab a lit candle from a nearby table, quickly pulling his hand away from the heat. Without missing a chord, he climbed from the stage pacing between the front tables before pausing uncomfortable close to someone to finish off the song.
A couple tracks later, a younger boy jumped around the stage in an Avengers shirt as Connan bobbed around him chuckling. The kid, named Kevin, briefly left returning with two girls in pig masks to dance as the band played along. Kevin, shyly made his way to the microphone as the masked girls continued to dance either side of him.
"Penis"
Kevin yelled it once, laughed, paused. The audience did the same.
Taking this as approval, Kevin continued to yell, "penis" for a minute or so as the crowd took stock of what was happening. Laughter brokenly echoed around the mezzanine. Connan sat crouched in the corner playing.
Kevin continued until suddenly he decided he'd yelled enough and waved goodbye as the girls bowed and skipped off stage. As per the genius of Connan no reasons were offered. No follow-up, just more guitars as the band moved into their final songs.
This included an epic version of Forever Dolphin Love, which was dedicated to a friend who had recently passed. The drums circled Connan's chords as the song reached out for its peak then subtly tapered into a whisper that ended in an eruption of applause. A standing ovation for an evening with Connan.
Connan finished by asking the audience if they wanted to go quietly into the evening or get up and dance, to which one of Connan's friends yelled dance. Connan dedicated this final song to his, "favourite surfer, Stephanie". The crowd already squished into front around tables and chairs swayed to closing grooves.
Everyone looked mildly stunned but enthusiastic about what had just happened. We'd been invited into Connan's inner circle and as such left with a bizarre but unforgettable evening.