Live Review & Gallery: King Princess w/ Clea @ The Metro – 06.11.2018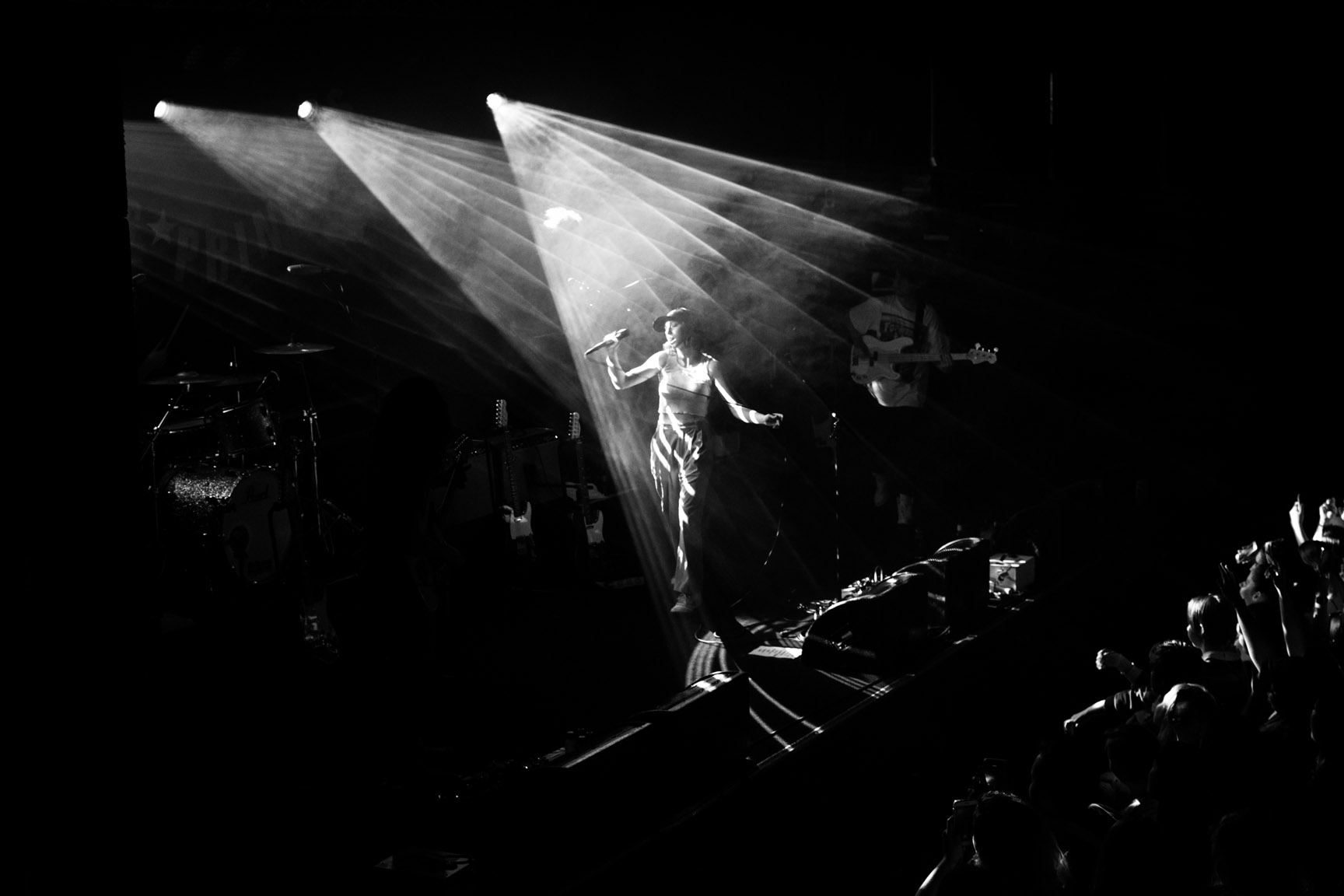 Having had a brief taste of Sydney a month earlier as the headliner of Spotify's Front Left playlist activation gig at Carriageworks, King Princess—US indie pop songstress Mikaela Straus—returned on Tuesday evening to play her first Sydney gig proper. She's already accomplished the triumphant feat of having sold-out the Metro Theatre (and plenty of other Australian venues, besides) on her very first tour to Australia—something that tends to happen when you've written possibly the most perfect pop song of the year, that's gone ARIA-certified platinum in Australia, and you've got Mark Ronson's wind under your sails.
Drag queen Paris gets the crowd going, before Brisbane singer Clea takes over with a short but ethereal set. The crowd who've come to the Metro Theatre are wide-eyed, young people, mostly about the same age or younger than the 19 year-old Straus, and who seem to be living their teenage dreams, with the excitability of someone whose snuck out of their bedrooms on a school night to see their idol in the flesh. You could be mistaken for thinking they'd all just walked straight on over from Friday's Taylor Swift show in Sydney, the way they reacted with giddy screams to King Princess. Interesting how both starlets are so different in brand and persona, one at the beginning of her journey, one at the height of her fame—but are equal in their ability to craft perfect pop songs about young love a (albeit Swift's content is more hetereonormative). Maybe it will be King Princess we'll be seeing instead of Swift at the stadium next time around.
Smoke fills the stage and a roar from the crowd emerges as our young royal—who has used her position in the public eye thus far to be a powerful role model for the LGBTQ community, and empower young people and individuality in general—sauntered onto the stage, make-up less and bra-less, in a crop top with baggy oversized pants and a baseball cap emblazoned with Cher's logo. King Princess begins not with a high-energy bang, but makes a gentle entry with the title and opening track from her breakout EP 'Make My Bed'—a downstated (vocals, piano, and a hint of ambient bass), atmospheric piece that makes the most of Straus' commanding vocals. She ends by stepping up behind the keys to play us a short solo, for which she's rewarded with wild, loving applause. She starts talking to us, you already feel like her friend.
Like KP, the set is dressed down, with a simple paper 'King Princess' garland letter banner—lounge room home-made happy birthday style—draped across the back wall of the stage adding to the teenage bedroom jam vibe. The lighting design is strong, a wash of energetic reds and oranges, with backlighting heightening the drama. The four-piece band KP has in tow then kick into gear for the rock-ier, familiar 'Upper West Side'. KP is super popular in a viral sense, but her oeuvre is still pretty limited, so it was always going to be intriguing to see how she'd fill the set beyond the EP. Would we hear early pre-EP jams? Or covers? Or some kind of extended live remixes? Or would she take a leap of faith and share a heap of new material that nobody knows the lyrics to yet? The answer was the latter, and what we were privy to on Tuesday evening confirmed that her forthcoming album on Ronson's Zelig imprint is going to be very solid indeed. The best of the bunch was Best Friend—a gorgeous ballad that shows off Straus' voice and capacity for dynamic delivery as a songstress as she sings some heartfelt lyrics, building to a crescendo, "It's not my fault, not my fault you need me / So I've picked up my pieces." She's both vulnerable and seductive at the same time—it's beautiful.
She prefaces the next song, 2017's bluesy Sunburn, by saying she wrote it with her bassist about a girl they hate (but have now forgiven), before its onto another new one, House Burn Down, ending it with a triumphant, "My album's gonna be lit!" before throwing what looked tater tot snacks onto the crowd. KP introduces the next song, her second single Talia, as one close to her heart. It's huge—recorded its nice enough, but live, KP and band really unleash some raw rock 'n' roll energy on this, KP owns the stage with an electric presence, and confident physicality, by the climax she's pretty much shouting with the whole room, "but four drinks I'm wasted, if I drink enough I'll wake up next to you!".
One of the things that really hits you about King Princess live, is how self-assured, and mature she is—she is 19 going on 40—you almost feel like you're at an underground comedy club, listening to a jaded, sharp-witted chanteuse comedienne throwing sass at her crowds. She's not jaded though: she's cheery, exuberant, and loving—regularly interacting with her bandmates and sharing stories from the road. She still has that early-career excitement about her—she tries to play it cool but is clearly stoked that she and her band are down under playing their debut EP to thousands—she follows up Tahlia with a story about her fear of swimming in Australian beaches with dubious sealife.
A quick inhale of her vape, and KP's ready to give us what we came for, her breakout hit 1950, with thatmelody that just keeps pushing. Undoubtedly one of the year's best and most relevant songs, 1950's lyrics cleverly chart the course of queer love, mounting the singer's unrequited yet socially accepted modern love story against the backdrop of historical queer love in repressed societies ('tell me why my gods look like you, and tell me why its wrong?'). 'I'll probably be playing this forever,' KP jokes, but nevertheless goes in for a dedicated extended version, before a quick departure, leaving in her wake a room buzzing with energy, before she returns, draped in a rainbow flag, cracking jokes and I don't know what happened next, but suddenly the crowd is shouting for her to do a shoey, to which KP laughingly protests, "I will not drink alcohol out of a shoe! That is not what a king, or a princess, would do!"
With new single Pussy is God having not been performed thus far, this seemed a natural encore (particularly given its getting a fair bit of radio play in Oz at the moment), but instead she finishes with another unreleased track, Ohio. She's left Pussy is God out of her other Aussie shows too, along with Holy, despite both being crowd favourites, on the basis that they're both 'too hard to sing'. Which seems a bit lazy of her, but hey, she's still a teenager, after all—they do what they want.