Live Review & Gallery: Polaris w/ The Devil Wears Prada & Gideon @ Valley Drive In – 02.11.2018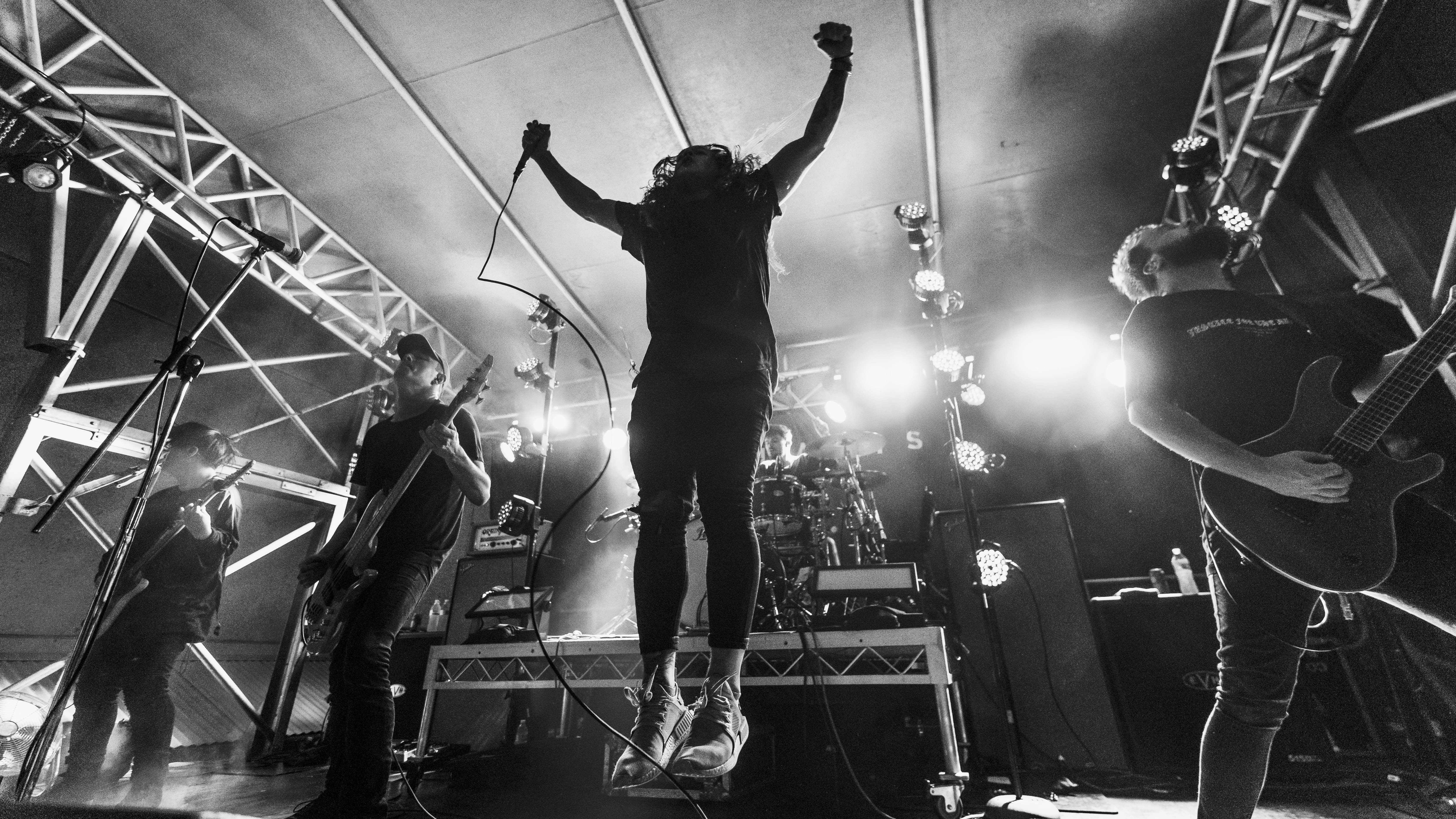 Polaris are THE next big thing in heavy music. We get it, it's a bold statement, but my god, if there was ever a time to jump on the Polaris bandwagon, now is as good a time as any. For fans of the Sydney five-piece, this isn't new to the ears, but for those new to them, sitting there wondering what this twenty something year old writer is baffling on about, sit back and ride the wave that was Polaris, live at the Valley Drive In.
Nestled snugly between Holey Moley and the Brightside, the Valley Drive In is more of a claustrophobic shoe-box than an outdoor venue. However, with a plethora of metal's finest and brightest about to strut their stuff, cramped spaces and squashed toes were the least of Brisbane metal heads concerns on Friday night. Kicking things off for the soon-to-be rowdy crowd were Melbourne upcomers, Thornhill. Youthful, with riffs thick enough to put a Maccas thickshake to shame, UNFD's latest signings wasted no time in getting heads banging with Limbo before ripping straight into rhythmic pit opener, Parasite. 
For such a relatively inexperienced band when contrasting to the experience of the remainder of the bill, Thornhill showed signs of a band mature beyond their years. While the members themselves don't look a day over 21, the excitement of the moment didn't sway or hinder the live performance whatsoever. No more was this evident with the more vocally demanding My Design, with singer Jacob Charlton jumping seamlessly between clean singing, to falsetto and back into heavy growls. The brutality of Lavender and the unrelenting nature of the opening riff sent the Brisbane crowd into chaos and pandemonium. But the highlight was without a doubt Reptile. The lead single of the bands debut EP, 'Butterfly' had fingers aggressively pointing left, right and centre while the mosh pit bosses provided the band with something to marvel at.
With everyone pleasantly surprised by Thornhill's talent and musicianship, a quick break was needed before the biggest break downs of the night came in swinging from the Alabama boys in Gideon. Like Mitchell Johnson firing 150km/hr bouncers down a dry WACA pitch, Gideon certainly didn't miss their target when they tore the Valley Drive In a new one with Champions. Without a moments notice, the pit was back in full swing (literally… limbs everywhere) and Survive had everyone appreciating the beauty of bass booms and filthy breakdowns.
Only a four-piece, the Alabama natives were producing a wall of sound that was both unexpected and impressive. Additionally as impressive was guitarist Tyler Riley's ability to combine his clean and dirty vocals at the same time while acting as sole guitar in the band. Picture, Sam Carter from Architects in vocal style meets a breakdown beast, who on more than one occasion, had us turning to peers in looks of disgust (in the best way) as riffs from Pulling Teeth and Prodigal Son hit like a freight train. However, as heavy and hectic as the lead up had been during the Gideon set, nothing could prepare us for Cursed. As soon as the Brisbane crowd caught wind of that infamous flanger-effected opening riff, it was on for young and old as the Valley Drive In stage looked quite literally set for collapse from the movement on and around it.
As the sweaty men and women tried to recover their shoes and hats after the brutality of Gideon's set, it was time for everyones favourite Anne Hathaway and Meryl Streep inspired band, The Devil Wears Prada. 2008 nostalgia never felt so good, as 'TDWP' tore through a nice mixture between old and new, with head-bangers Mammoth, Assistant To The Regional Manager and Planet A amongst crowd favourites early. Given the bands synth inspired sound and the outdoor venue, it was at times hard to distinguish what instruments were making what sound as the mix often favoured the backing track and synths rather than the lead guitar and bass. That aside, the band pulled the most rowdy crowd yet as Dez Moines brought out everyone's inner emo.
Nothing says metal like the sound of a chainsaw starting up before a distorted guitar riff initiates chaos in a crowded mosh pit. But then again, TDWP call that Anatomy, and it was Mission: Survive as limbs, shoes and drinks flew everywhere, while those like us, keen to just avoid a black eye, scrambled to clear out of the way. Rounding out their set with Born To Lose and Danger: Wildman, it was a hit and miss set for The Devil Wears Prada. While the energy shared between band and crowd could not be faltered, it felt as though the muddied sound often hindered the impact of certain moments throughout the set.
While there were highlights throughout the night in the lead up to the big headline act, nothing could prepare us for the mayhem that is Polaris live. For a band that was fresh on the scene only four years ago, it is monumental to believe how far the Sydney-siders have come. Walking to a deafening chant of their name, Polaris were all systems go as they opened up proceedings with The Remedy. As soon as vocalist Jamie Hails yelled "go", the energetic Brisbane audience were in the palm of his hand, jumping, singing and being all around loose units when called upon.
What separates Polaris from the rest of the pack is not only their catchy melodies, bone-crushing breakdowns and intricate riffs, what often gets lost is their sheer talent and musicianship. Pulling out older tunes like Voiceless, No Rest and L'Appel Du Vide, guitarists Ryan Siew and Rick Schneider failed to miss a note as confetti cannons sent a strange sense of euphoria across the Valley punters.
A sea of lights filled the venue as Hails showed off his impressive vocal diversity with the slightly softer, Dusk To Day while Frailty and Sonder left us standing there simply in awe of the sound we were hearing. With bass booms to make the band sound bigger than belief and somehow sounding better live than on recording, it's no wonder drummer Daniel Furnari broke his snare drum midway through the set given the intensity of the moment.
Popular singles Consume and Lucid were a thunderous way to round out the night, before the debut of Crooked Path closed out the set in a flurry of confetti and fan girl like screaming, mainly from me…
It's difficult to properly explain why Polaris are the next big name in the metal scene, it is simply a case of "it must be seen to be understood". But whether it's the tightness of the playing, to the sheer power and presence of vocalist Jamie Hails, the pitch perfect cleans of bassist, Jake Steinhauser or just the fact that they cannot write a bad song, Polaris are a band you have to see live at some stage.
Whether you're a heavy music listener or not, the talent on display is simply mind blowing at times and we found ourselves sitting back just embracing and enjoying the beauty that is live music. Hats off to you Polaris.