Live Review & Gallery: Unknown Mortal Orchestra @ The Forum – 12.09.2018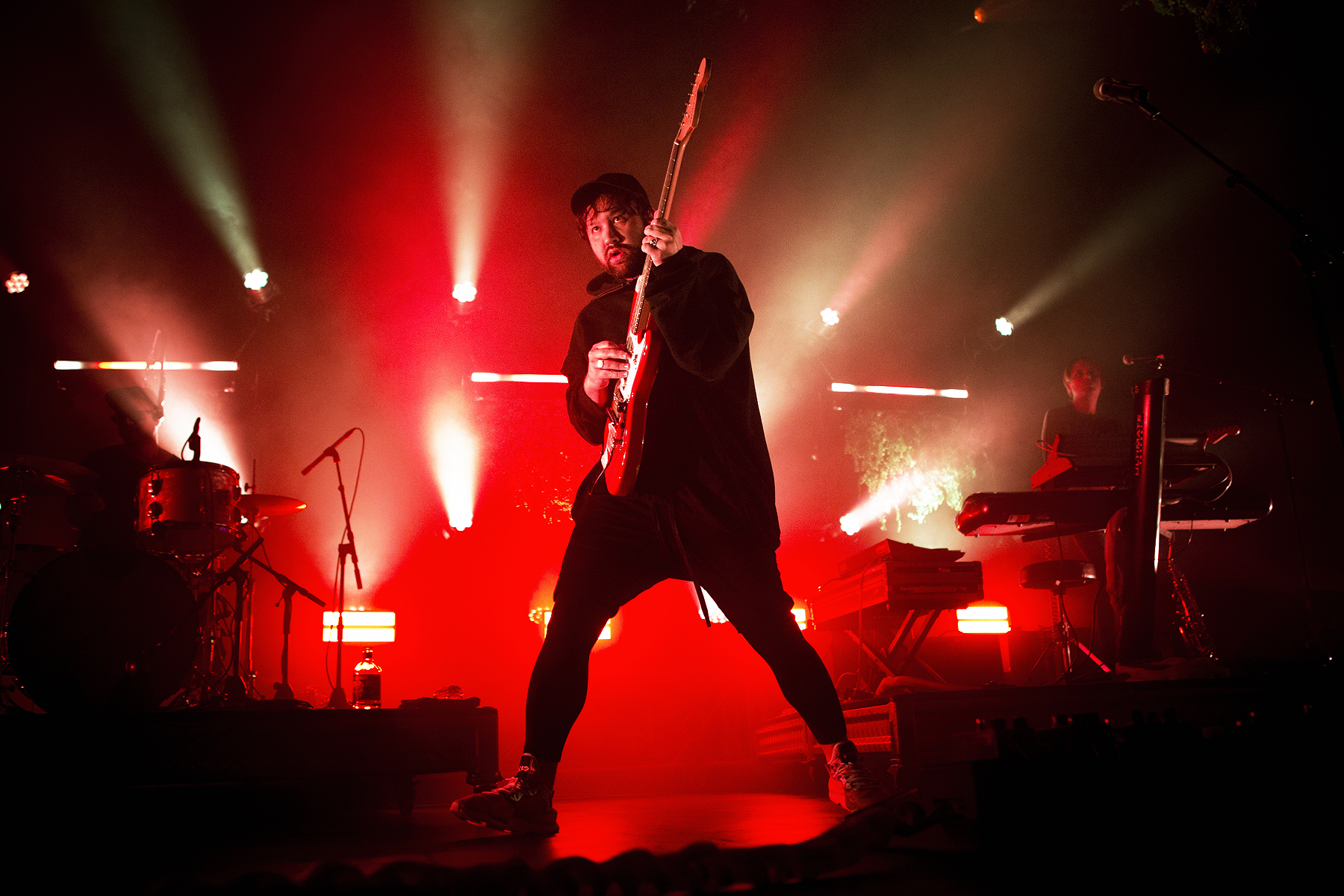 Wednesday the 12th of September at the Forum was an undeniable blockbuster of a night. Divide and Dissolve started it all off with powerful messages and powerful music, involving speeches that preached racial equality and demanded a silent crowd. They played highly emotive, lyric-less songs that, although had no words, said so much. If you closed your eyes, you could easily imagine you were at a heavy metal gig—the drums and guitar were so intense that it even made my vision vibrate.
Around 9:30pm, Unknown Mortal Orchestra found their way to the stage and rocked out to From The Sun. With lead singer Ruban just casually deciding to run through the entire venue hacking away at the guitar, welcoming everyone to the party.
Prior to this night, I was under the impression that Ruban's voice was digitally tweaked to sound the way it does, but I was pleasantly surprised that his voice sounds the same on record as it does live, if anything more raw, which I really enjoyed. To put it simply his voice is really freakin' cool and I'd listen to him sing any day of the week. Which is why I was a little disappointed when a few of the songs drowned out his voice. It seemed the more weighty songs, like American Guilt, when the band was playing just that little bit louder, made it pretty hard to hear the singing.
The boys played a great variety of their older tunes, along with features from their 2018 album, 'Sex And Food'. One of my favourite songs, So Good At Being In Trouble, added a touch of calmness, and just when you found yourself being carried away by the repetition of lyrics and the smooth tempo…BAM! Epic instrumental alert!
Special mention to the performance of Not In Love We're just High. If I could add the live version to my Spotify, I would. The vocals were so much more prominent and the rhythm of lyrics was so captivating and was definitely a highlight of the night. And of course they had to play Multi Love! Which was a colossal crowd pleaser.  The band took it on home with two of their funkiest, Hunnybee and Can't Keep Checking My Phone. What a content crowd we were. I could not see one dissatisfied person in the crowd.
Experiencing Unknown Mortal Orchestra live was somewhat less psychedelic, more rock, more raw, and incredibly satisfying. The change of tempos kept us intrigued and showcased the talent the band has to offer. It was so refreshing to see two bands that don't typically fit into the norm. Both Divide and Dissolve and Unknown Mortal Orchestra are in a league of their own and would happily see them both again.
Photos by Kyleigh Pitcher