Live Review: Good Things 2019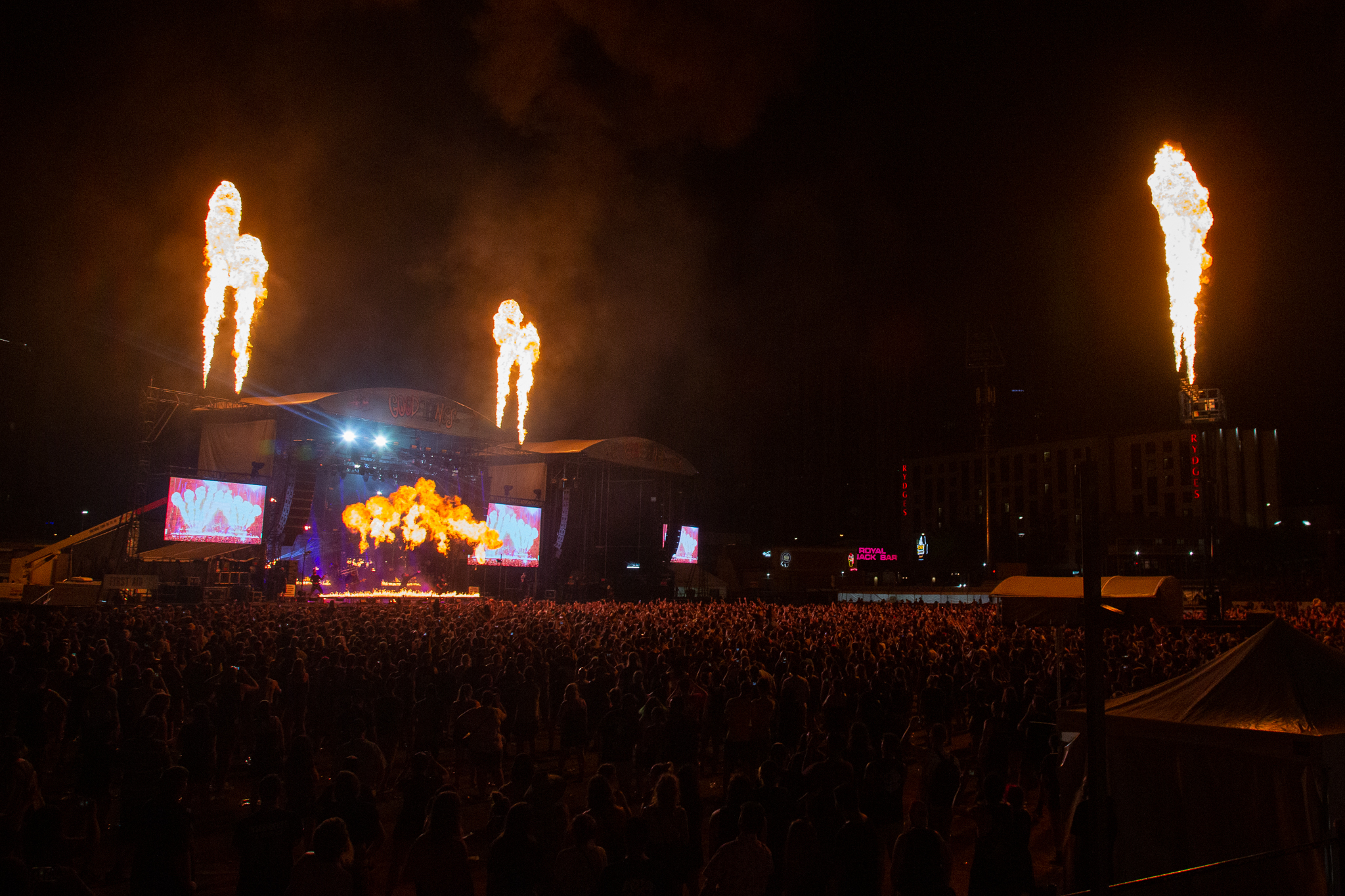 Christmas had come early, and by that I mean the third and final leg of the 2019 Good Things festival was upon us, here to rip up the beginning of a killer festival season. We were all expecting an absolute scorcher, and albeit, it was hot but not as much as we anticipated. Walking in through the gates was instant nostalgia from the year previous and I was interested to see how the day panned out, if it could compare to 2018.
This Good Things weekend was Ice Nine Kills first time in Australia and we couldn't be happier to have them. Known for their American horror inspired music and film clips, the metalcore band did not disappoint with today's show, donning full horror themed outfits paired with an equally theatrical performance. Vocalist, Spencer Charnas first graced the stage in full Freddy Krueger fashion with their first track of the day The American Nightmare. Throughout their set, various other costume changes included Michael Myers, Pennywise and even an undead Mickey Mouse. For long time fans, another highlight was Spencer crawling out into the crowd during Communion Of The Cursed to chant: "Where's your savior tonight / as angels fall from the sky / his idle hands let me inside / but I cannot be crucified."  With an Ice Nine Kills performanceーeven though it has just passed and we are approaching Christmas, it feels like Halloween all year round. Finishing the set with 'It' inspired It Is The End and letting a final red balloon fly from hands grip, it'd be fair to say we all float down under…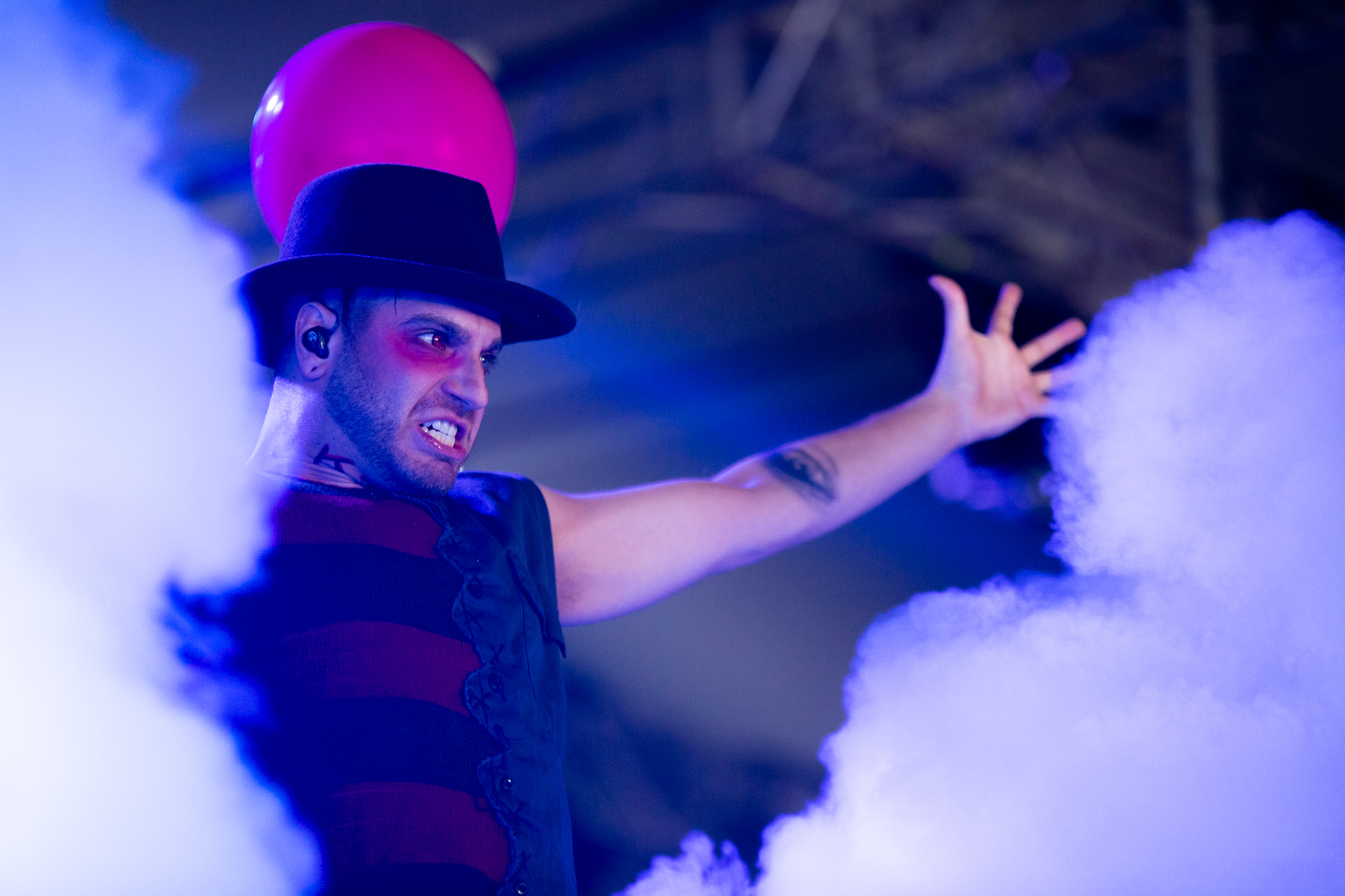 After that I made my way over to the main stages to see Skeggs, the garage rock trio from my home town of Byron Bay. I made it just in time for their hit Spring Has Sprung and it was real fitting considering the circumstances as the lyrics go: "Spring has sprung in the summer / all the girls take off their clothes". At this point in the day it was probably the hottest but we had the  honor of being constantly sprayed with the water hoses so it honestly cancelled out. Churning out party anthems made for a hot summer afternoon bbq, slinging beers with your mates. Just a super fun, classic aussie rock set.
Making my way over from the main stages, coating myself in what was probably the fifth reapplication of sunscreen, I got to Windwaker nice and early.  Pulling out some favorites like The Stitch and My Empire, and of course a cover of Silver Chairs Freak, the crowds gathered to stage 5 like bees to honey. Windwaker always put on a fun show, with Vocalist, Will King interacting with the crowd and getting us up and jumping about, opening pits to throw down in. Early into the set, the tone was brought down a little bit to a more somber one. Liam, guitar and vocals, equip on the keys, began to play Colourless, which was bittersweet due to the fact it was his last ever show with the Windwaker boys but we sent him off with a bang.
When you thought it couldn't get any hotter, festival veterans Trivium brought the heat and shred up a storm, kicking off their set with The Sin And The Sentence. Matt Heafy and co. know how to quench your thirst for huge riffs and breakdowns and continue to stay at their top of their game after almost 20 years since the birth of the band. The crowd, myself included went nuts, opening up the pit again as soon as Pull Harder On The Strings Of Your Martyr came on. The fan favorite still goes as hard as it did in 2005, a certified banger.
I won't lie, had it not been for my best mate being there I might not have stayed around for Falling In Reverse, but the nostalgia value was through the roof, as staple emo tunes like The Drug In Me Is You, Raised by Wolves and Fashionably Late were performed. Yeah, the rap-metal band gets a bit of a bad wrap nowadays but it makes it all the while when you know all the words to early 2010's songs from your old emo playlist and having your best friend scream them right back at you.
After Falling In Reverse I realised I hadn't eaten all day because I was too busy trying to catch as many bands as possible and see as many friends as I could, so I quickly bought and inhaled some really salty fries whilst heading over to Simple Plan. Canadian pop punk band Simple Plan were either the soundtrack to your middle school days or the band whose tracks you know and love but aren't not too sure who actually sings them. I'd forgotten how much I actually loved Simple Plan and immediately regretted not being there for the entire set. But what I did see took me way back in an instant wave of reminiscence of the good old days. Part of the set list included I'm Just A Kid, What's New Scooby Doo and have a guess…a cover of Oasis' Wonderwall which was super wholesome.
Violent Soho were next up on my list so my mates and I wiggled in and out through the masses of people so get closer to the front. Seriously, 20 bucks to anyone who says they've ever come out of a Soho set feeling shit, because with Soho you get what you came for: feel good singalong party bangers, playing the likes of Covered In Chrome, Neighbour Neighbour, hot off the press new track Vacation Forever and GOD cover of My Pal. We were a pool of sweaty smiley strangers, shoulder to shoulder, just radiating the energy the band was giving off. I joined in on the rowing pit and got whacked in the face on the way up but hey, no complaints here.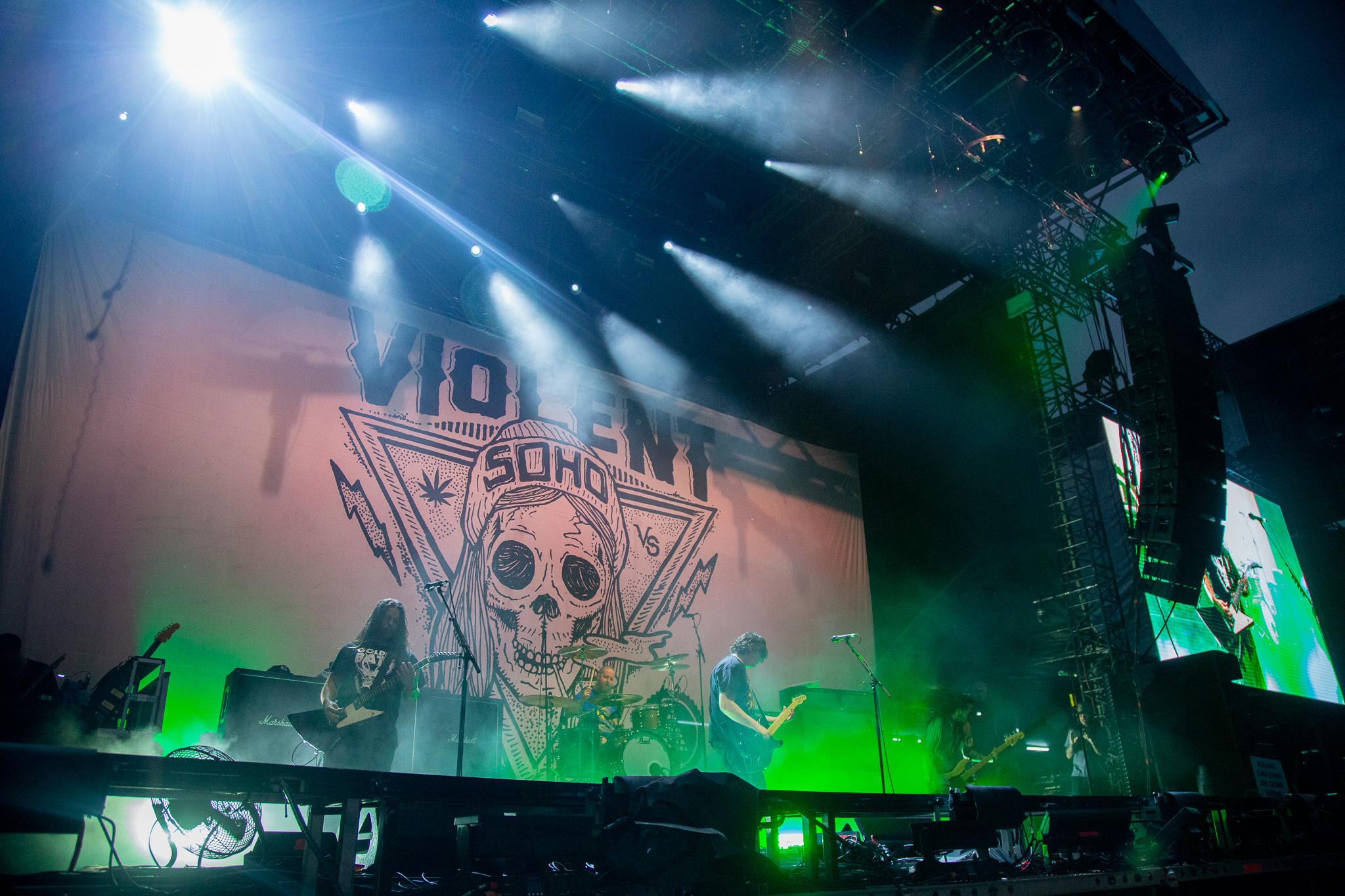 As the long day began to turn, Parkway Drive were there to bring that sweltered energy right back up for a brutal closing set. Now, if you didn't know, Parkway Drive have never headlined an Aussie festival prior to this and promised us a show like we'd never seen before. Entering the arena from the crowd, kind of like a pro wrestler in the WWE entering the ring, surrounded by torch bearers and clothed in a fur coat, they took their stage positions. The suspense was building for those few minutes until the man himself, Winston McCall dived straight into the spoken word intro of Wishing Wells, setting the tone for the rest of the evening and letting all hell break loose with the breakdown "Until I'm done / cause tonight I'm killing gods."
Performing more huge tracks like Carrion, The Void, Shadow Boxing, and Vice Grip, a part of me wished they played more of the old school anthems from records like Horizons or Deep Blue, but it was still a stand out act and totally deserve the 'Best metal band in Australia' title that's being thrown around.
Having seen Parkway almost 5 years ago, still nothing can beat these metal core giants. In contrast from that last show, I wanted to be seated in the stands and watch the whole show unfold from afar. As much as getting thrown around like a ragdoll in the pit is super fun and unbeatable as far as best concert experiences go, it was worthwhile experiencing it from the back, being able to soak it all in without having to watch my back for overcoming crowd surfers and stage divers every few minutes.
Parkways production value wasーand always has been top notch with pyrotechnics, strobe lights, fireworks, the infamous drum cage of death, you name it. Setting the bar for live performance and ability, Parkway burned up the stage figuratively and literally.
The boys also revealed their huge upcoming Viva The Underdogs tour for mid 2020, bringing Every Time I Die and Hatebreed along with them. So if you missed your chance to catch Parkway Drive at Good Things this year, mark your calendars for next June!
Well, what a way to spend a Sunday! If you're a seasoned festival goer you'll know how stressful it is running from stage to stage like a headless chicken trying to catch all your favorite bands in the blasting heat of the aussie sun, but of course it's all worth it in the end. It's hard to sum up the whole day without using the line it was just a bloody good day with bloody good people. And as much as I hate the word, the vibes were on point. There's nothing like being surrounded by people who love the same shit as you. Even though there were many bands I missed due to the plethora of clashes, I'll say it was the best way I've spent a Sunday all year.