Live Review: In Hearts Wake w/ Crossfaith, While She Sleeps & Polaris @ The Tivoli – 15/07/2017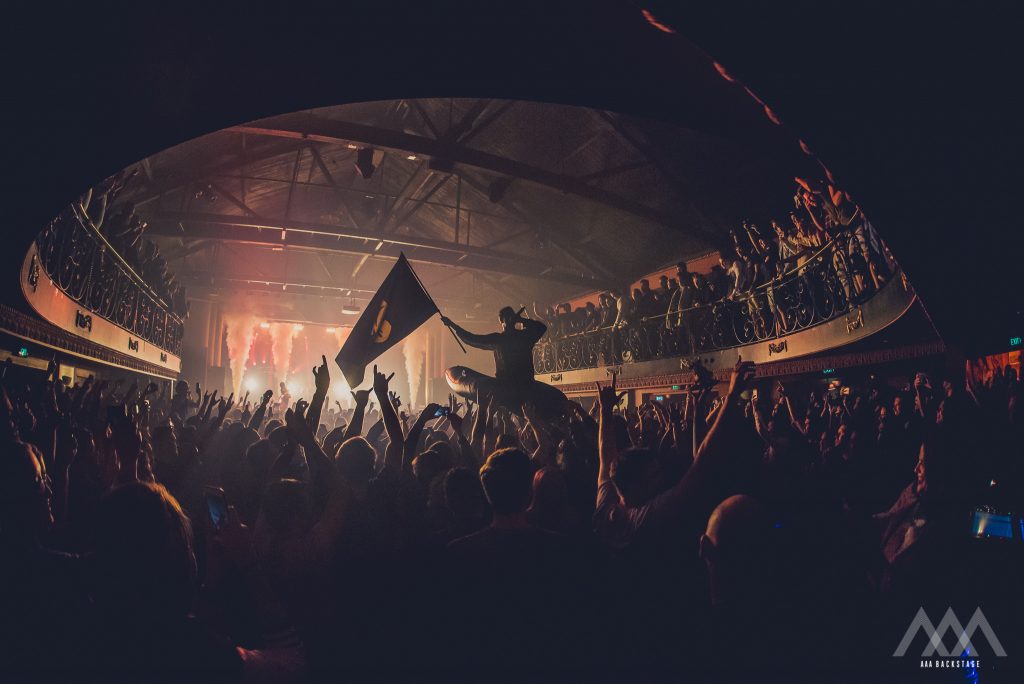 You couldn't have asked for poorer weather conditions last Saturday night, but a good gig is a good gig is a good gig—and bugger me sideways was it a good gig! Saturated metal enthusiasts from every corner of the wider Bris Vegas region swam into a moist Tivoli last week as In Hearts Wake put on what is sure to be a big contender for best gig of the year.
Sydney up-comers Polaris got their boogie on, opening up proceedings for the absolutely stacked lineup. The biggest letdown within the metalcore scene are vocalists who can't back their studio recordings up live. Luckily, Polaris have no such problem. Both Jamie Hails and Jake Steinhauser were consistently flawless song to song. Pair that with monstrous breakdowns and impressively tight riffs and you have a band that will quickly reach national headliner status in no time.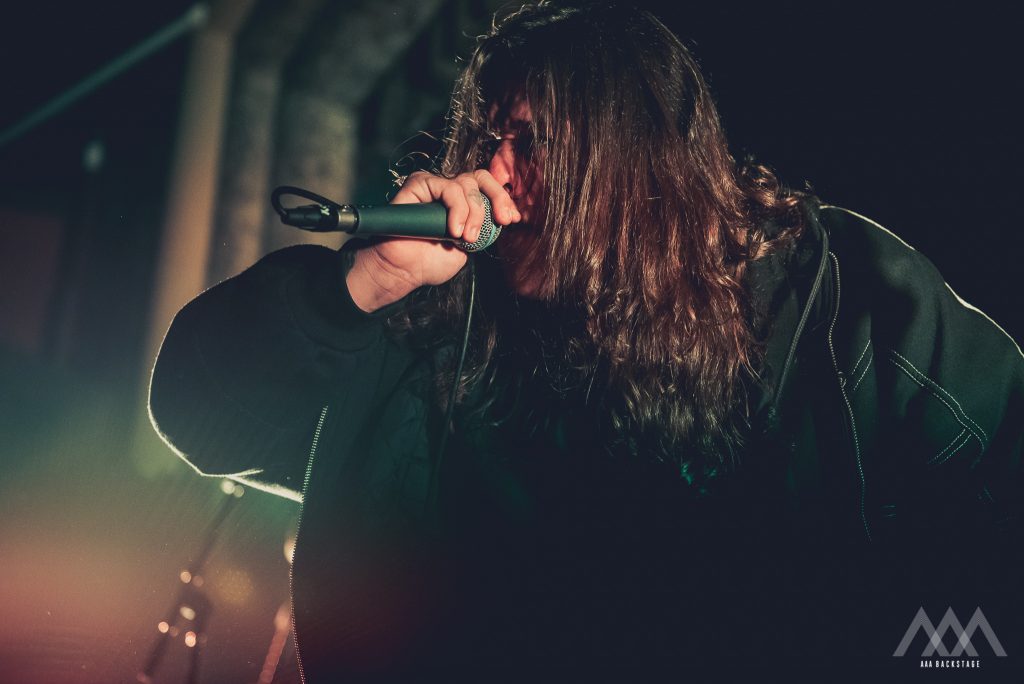 After their latest EP, 'The Guilt & The Grief' landed them in the ARIA charts as an unsigned band (a big deal for those who don't know), it's unsurprising that tracks like L'Appel Du Vide and Unfamiliar were crowd favourites. The eruptive breakdown of Regress ran a riot in the pit, a windmilling fans wildest dreams. The five-piece also dropped sweet appetisers of new material, with a yet to be named track opening their set, while new single Consume going over a treat. While a date for any further tasty metalcore treats is unknown, when it hits, Polaris' status will rise astronomically.
Taking the night up a notch were British lads, While She Sleeps. Possibly with the set of the night, the Sleeps boys provided nothing but unrelenting passion and energy with impeccably tight musicianship to match. The calm introduction of You Are We was the only relief throughout the set as the end of every song was met with wild applause and multiple drunken statements like, "f*ck that was mad man." The beauty of While She Sleeps songs are not only the obnoxiously heavy breakdowns, but the gang vocal style that the band employs, making the choruses of songs like Four Walls and Hurricane a beautiful interaction between band and audience. The only downside to the While She Sleeps set was an attention seeking stage invader who completely ruined Oli Sykes guest spot in Silence Speaks, however vocalist Lawrence Taylor more than made up for the slight interruption by jumping from the balcony of the mezzanine into the crowd for quite possibly the ballsiest and most bad ass moment of the night.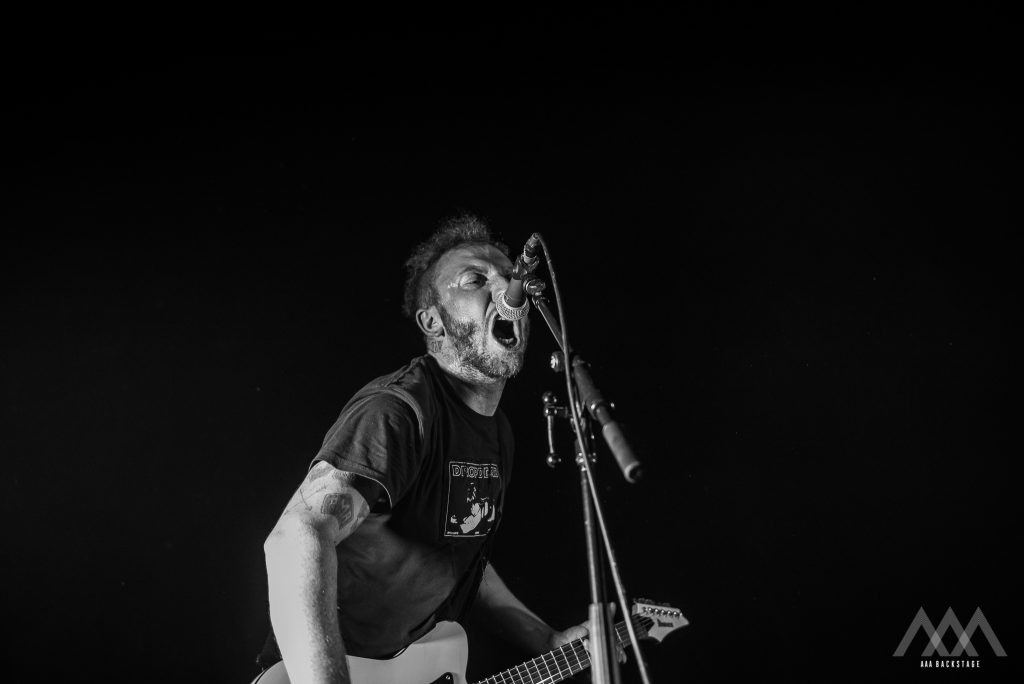 Not only was this lineup one of both humungous proportion and talent, it was one which saw the crowd genuinely pumped for every band playing. This was abundantly clear as Japanese rockers, Crossfaith, began their techno-metal destruction. With only a relatively small amount of time for a main support slot, the always fashionable five-piece tore through their electronic breakdown filled set with classics like Monolith and Jagerbomb. Crossfaith are in the luxurious position of being both an unreal live band, meaning that regardless of the reception of studio songs, they'll always bring home the chocolates come show time!
While the 1200 strong sing-a-long to Bohemian Rhapsody between bands was both entertaining and nostalgic, the fade to black was a welcomed silence before the mayhem of Ark unfolded. In dramatic fashion, a drape shadowed the members of In Hearts Wake as they teased their appearance in the introduction, before vocalist Jake Taylor appeared seemingly out of nowhere, jumping on a riser and belting out the opening verse of Passage. The band spared no expense on their headline run, with pyro and an impressive light show to enhance the live spectacle.
Fans young and old ran around the circle pit all night as the band tore through old favourites like Survival and Healer, while the gritty new vocal style of clean singer Kyle Erich held up impressively live. New tracks Frequency and Waterborne went down an absolute treat, with the emphatic breakdowns and new harmonious chorus' delighting mosh enthusiasts and 'sing-a-longers' equally.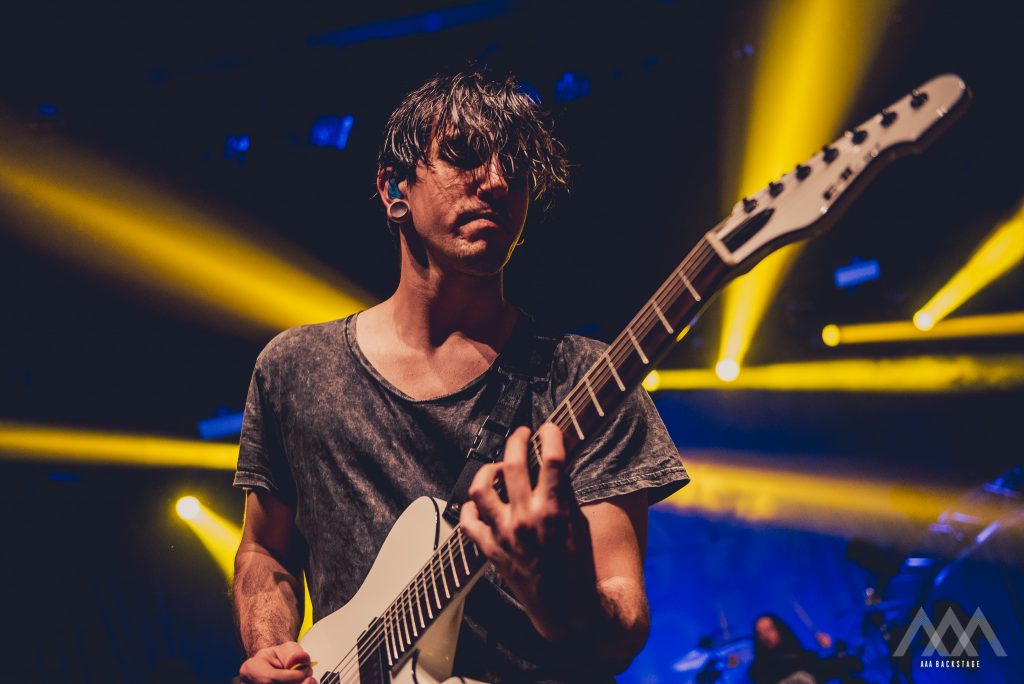 In Hearts Wake constant inclusion of inflatable pool toys amongst the crowd is always a spectacle, as every eager punter did their best to crowd surf on an inflatable dolphin. However, if you want a job done right, do it yourself, and that's exactly what vocalist Jake Taylor did. Pulling out the big guns and grabbing himself a massive inflatable boat, Taylor not only crowd surfed while an enormous pit was mid windmill, he managed to circumnavigate the entire audience, front to back, carrying a birthday cake intended for the sound engineer.
In Hearts Wake have always been in the upper echelon of popular Australian heavy bands. However, this latest headline run has seen them go from a solid live band, to a great live band with a show to match, almost following in the footsteps of Parkway Drive with the use of pyro, props and a carefully designed stage setup. Their dedication and passion will never be questioned, and nor will the fact that on Saturday night, In Hearts Wake put on potentially the best show of the year.
Check out the full gallery HERE