Live Review: Killing Heidi & Eliza and the Delusionals @ Redland Bay Hotel – 17.11.2017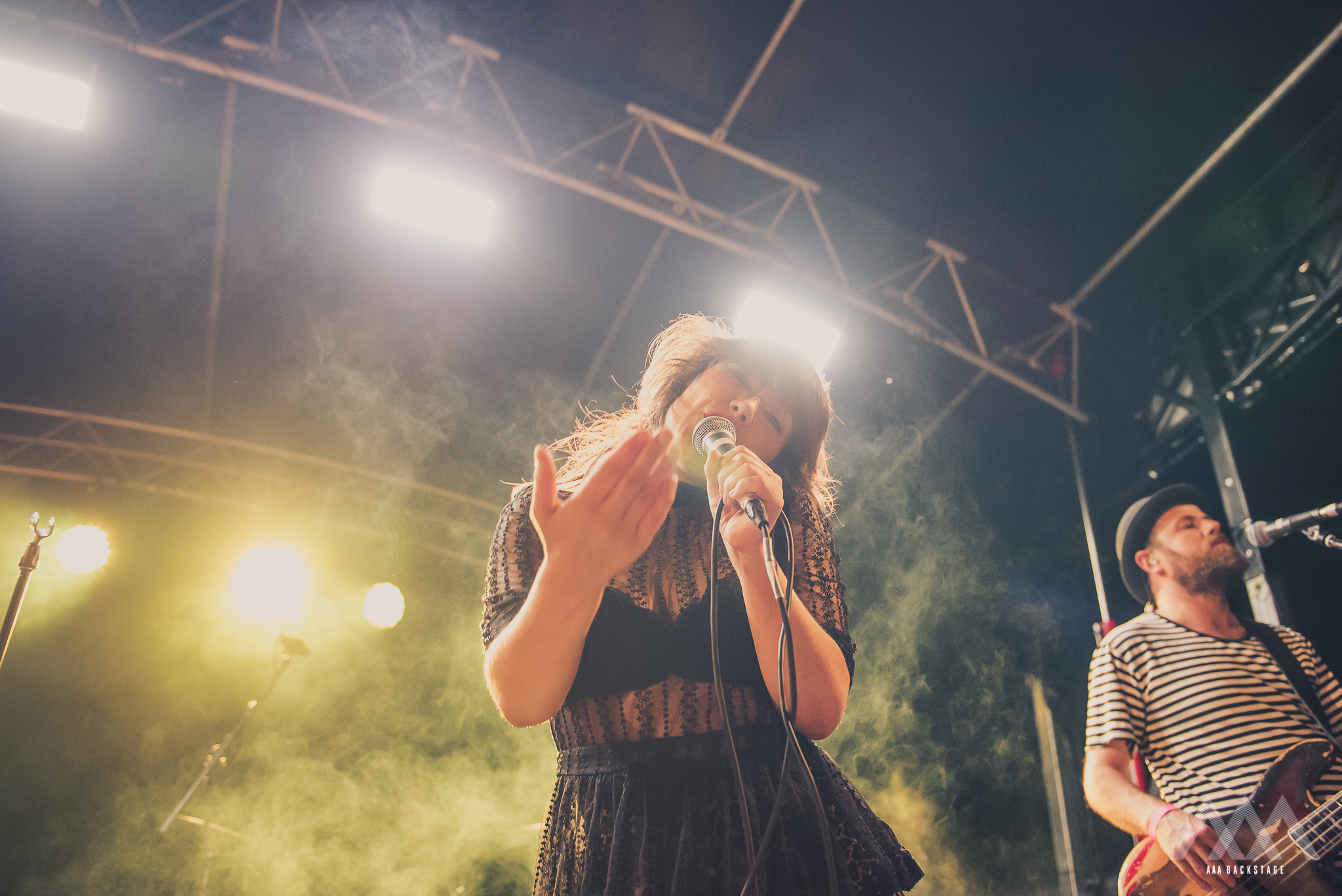 On Friday night, the Redland Bay Hotel was treated to a pretty epic line-up of bands, with Eliza & the Delusionals supporting the one and only, Killing Heidi. Touring off the back of their successfully sold out reunion tour back in June this year, Killing Heidi were performing their second last show of their regional tour.
We arrived early to what seemed a very subdued crowd of revellers, with most sitting down at tables milling around and having conversations among themselves. I was interested in how this would play out and couldn't help compare to Killing Heidi's Reunion Tour earlier this year at the Tivoli, which had a completely different vibe to it. This crowd seemed like they would be a hard one to crack but who was I to judge as the night rolled on.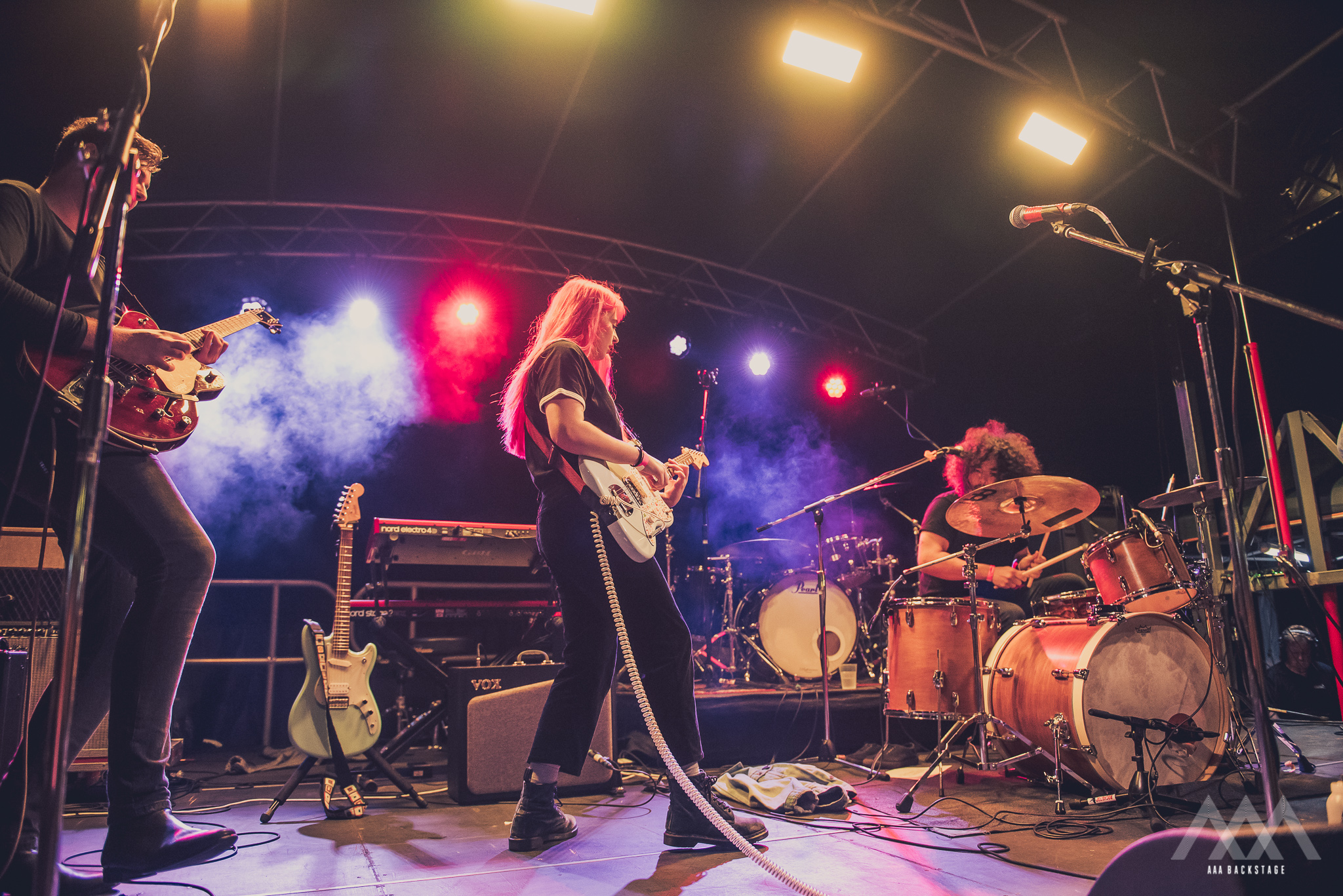 Eliza & the Delusionals, hailing from Queensland's own Gold Coast, were first to take the stage and showed the Brisbane folk what they had to offer. I was lucky to of seen them previously in the year also supporting Killing Heidi. The crowd were in for a treat.
They seemed to conjure up images of Veruca Salt with frontwoman Eliza Platt's coloured hair and tonight she presented a shade of fluorescent pink, and Courtney Love with songs emanating teenage angst, while still managing to maintain a unique sound of their own. They opened with their title track 19 off their recent EP 'Deeper End'. With its heaving hitting drums and heavy guitar riffs this seemed to capture the audience attention and it had a pretty cool sing along chorus.
A new song of theirs When You're Lonely didn't seem to go off as well as planned highlighting Eliza being slightly off key in her vocals but this was quickly rendered with brilliant, crisp stripped back vocals heard in songs like Cigarette, really showcasing what she has to offer vocally and her impressive vocal range on show. At other times it seemed her band hampered her brilliant vocal efforts by overpowering her voice. With the crowds attention beginning to waver, Eliza Klatt tried to regain their attention by acknowledging the crowd with a, "How you doin' tonight Redland Bay?! We are Eliza and the Delusionals, an absolute pleasure to be here with Killing Heidi," trying to get the crowd pumped while introducing an old song of theirs called Don't Talk with its upbeat tempo.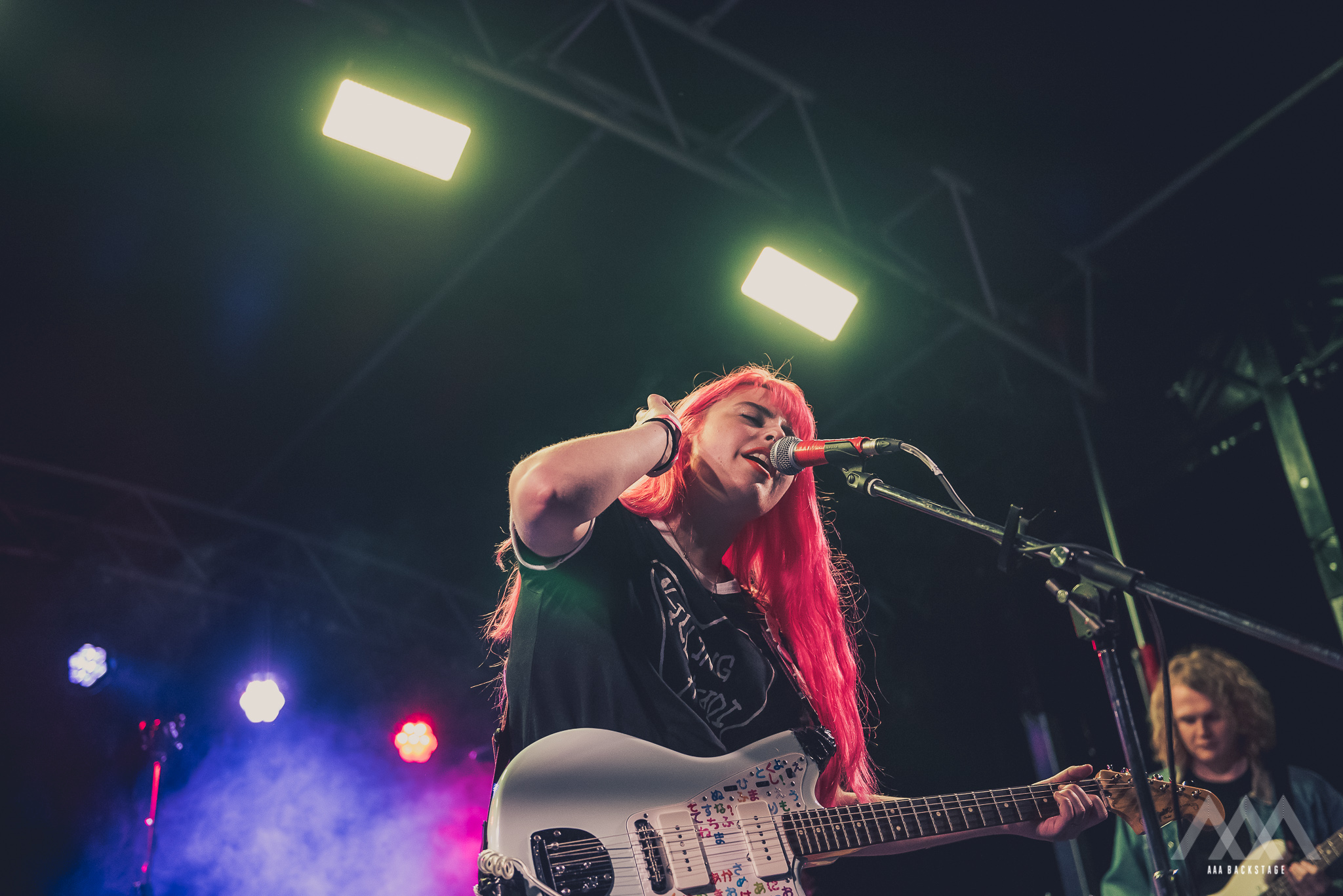 Upon first hearing this track, I likened it to English band Feeder's song Buck Rogers as it started off with a similar riff and tempo. The gritty, vocal I likened to vocal influence of Courtney Love. Another song off their EP called Cigarette was quite the catchy, up beat tune and got the crowd moving with its sing a long chorus, with her vocals emanating angst and frustration through the lyrics of the song. Eliza found it hard to maintain the attention of the crowd checking in half way throughout the set with an, "are you still with us Redland Bay?"
Even early efforts by the guitarist to radiate energy onto the crowd with his interesting moves and motion for people to raise their hands and clap with him didn't really eventuate but saying that they had to deal with what seemed to be such a minimal crowd as it was still quite early in the night.
The band managed to regain the crowd again nearing the end of their set with the song Salt, their new single off their EP. This had an eclectic sound to it and mellow guitar riff. Ending their set with the song The Ground with heavy hitting angst in the lyrics a great way to finish with a high energy number, by this time they had the crowd on their feet.
I give these guys credit they truly are quite impressive live but there was just a certain element missing that night. I think the crowd had a lot to do with it, they were a tough crowd to crack and Eliza & the Delusionsals gave it their best shot. I think with a little bit more hard work they will be the next big thing to come out of the Gold Coast. Their journey is only just beginning and they are well worth the effort to go see live.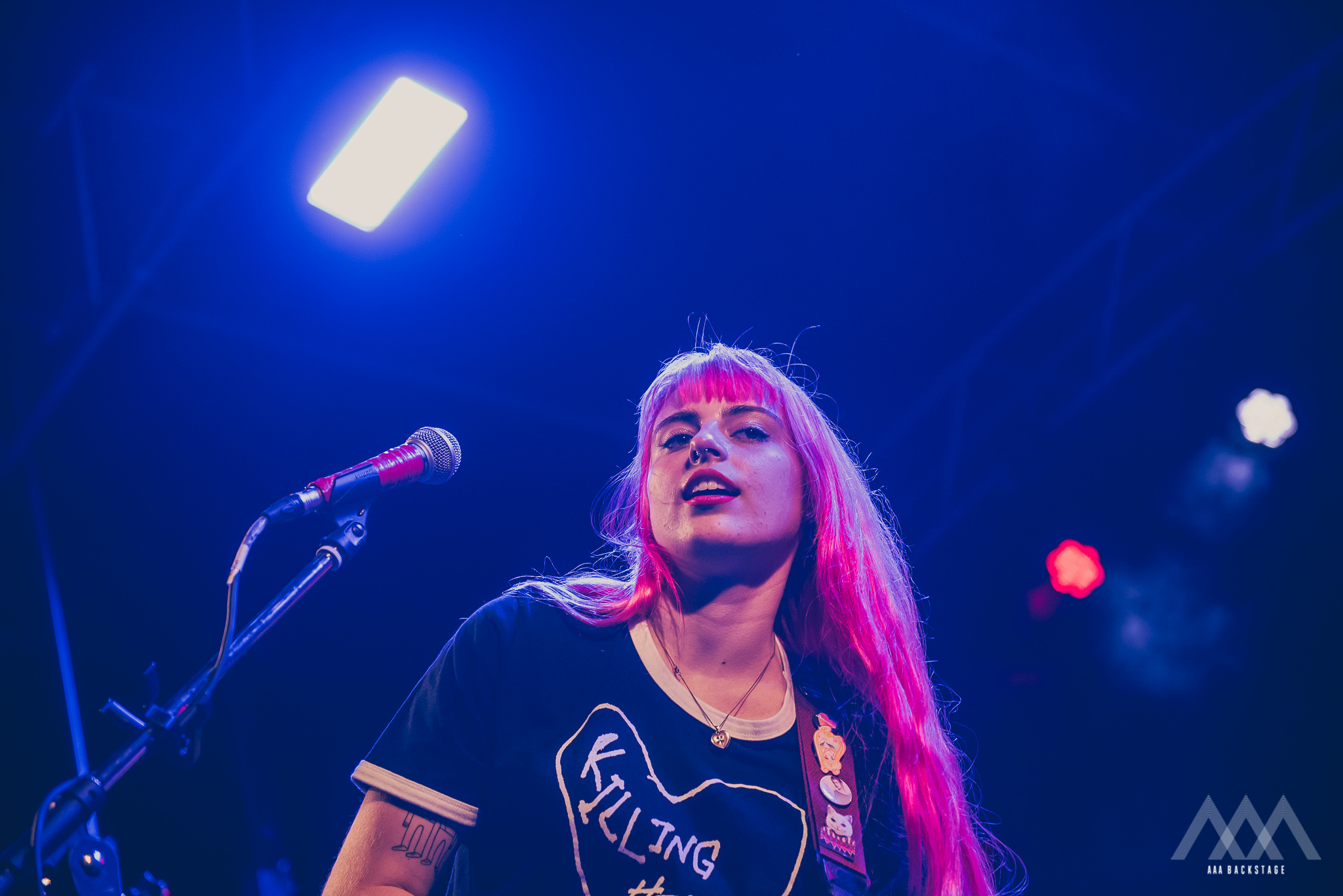 Killing Heidi were next up and seemed to make an interesting entrance—quite passive, taking the stage with mystical keyboard and guitar tones leading into the build-up of the song Calm Down, the second single off their third self-titled album Killing Heidi from back in 2004. The crowd was pumped, as front woman Ella Hooper helped to further energise the crowd with a grand entrance and motioned to the crowd to put their hands in the air and clap with her.
Slight weakness was evident in her vocal range on this song as she explains to the crowd later about a very air conditioned plane flight up to Brisbane and hopefully her singing is ok that she will just talk less. This may have been the reason for a variation in their set list which provided for a more mellow start to the evening with mostly acoustic numbers changing later into more highly charged and energising hits.
They even played what seemed a more toned down, slower version of Outside of Me involving the crowd as Ella gets the crowd to sing along saying bring me your teen angst! As she moved around the stage transferring her energy onto the crowd. Pushing her vocals to the limit with songs like, a crowd favourite Heavensent, leading in with haunting lyrics of ooh yea ooh yea yea followed by that familiar riff that any Killing Heidi fan would surely recognise. It seemed like Ella struggled with her vocal range on this one, encouraging the crowd to sing along to the chorus with her.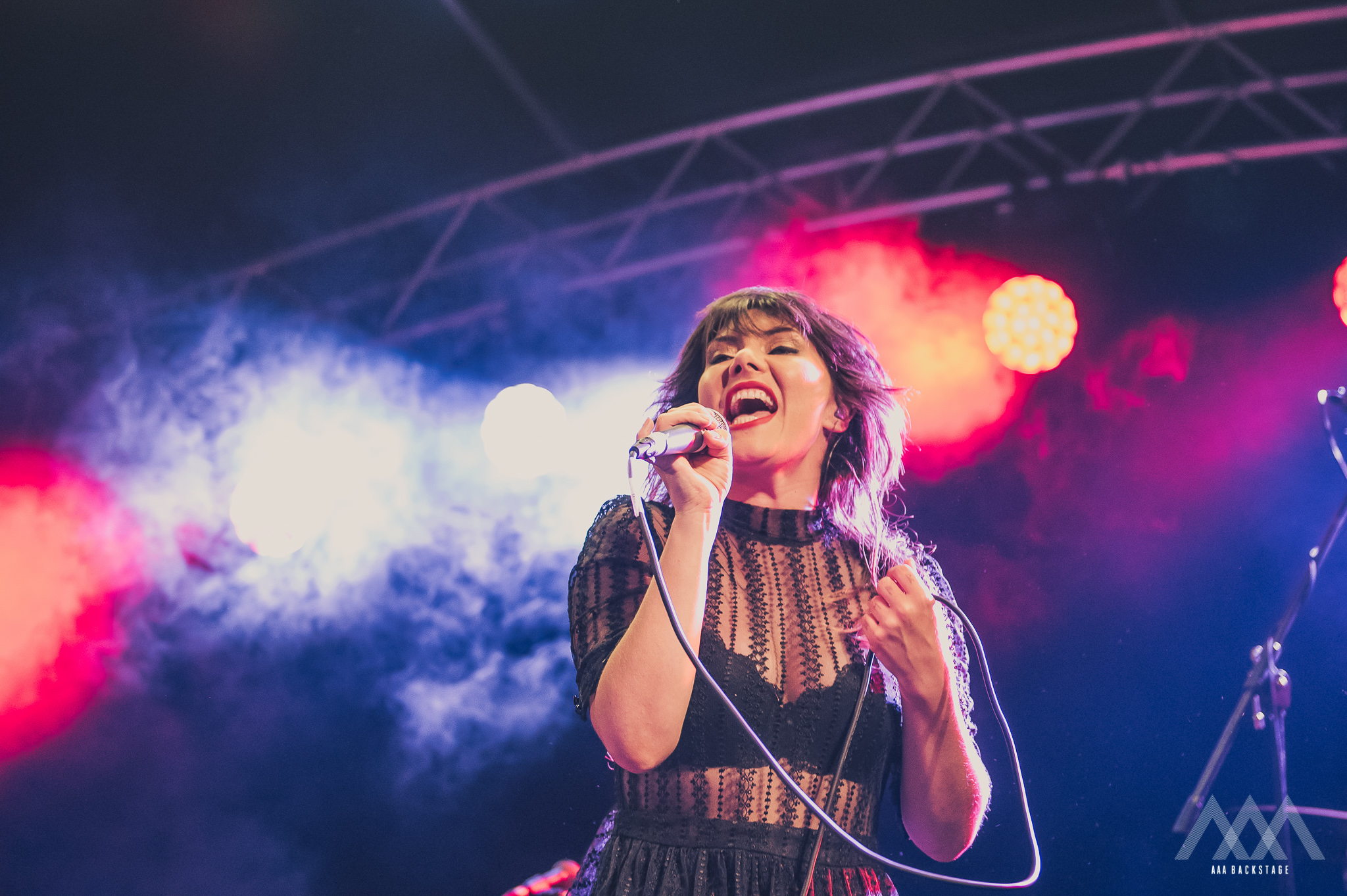 Ella paused between songs to engage with the crowd, providing a more intimate level to the occasion as she showed her appreciation for the crowd and the location saying, "Gee you don't know what you're going to get sometimes, we got the best deal coming out here, this is so beautiful! You guys are awesome," as she pumps the crowd up. Adding a comedy element to the show she discussed her reluctance to originally do a reunion tour, and how they were never going to do it in the first place as she was met with opposition as loud yells from the crowd rang out, "you were wrong!" and her brother Jessie adding, "You hypocrite, you absolute hypocrite!" as Ella replied, "I got egg on my face over here!" as she showed great appreciation and thanked the crowd for letting them do it loud cheers and whistles rang out through the venue in positive response.
Their set included the song Kettle, from their humble beginnings, a mellow acoustic number that made them famous, originally sent into Triple J's Unearthed competition and songs like Astro Boy, another slow, gentle, acoustic number showcasing what an amazing voice Ella has to Black Sheep, a song Ella explains is about their parents breaking up which seemed to have a very folky sound to it. This song seemed to be a bit of a sweetener with the crowd, as Ella engaged intimately with the crowd getting them to sing along with her.
This gave her a chance to rest her high powered vocals before launching into songs from what she deems her teenage angst years with songs like Mascara and Weir certainly had the crowd in a frenzy and on their feet hanging on every word as the venue erupted in song. Ella found her amazing voice once again as she gave her everything, providing the crowd with an unforgettable experience that is Killing Heidi.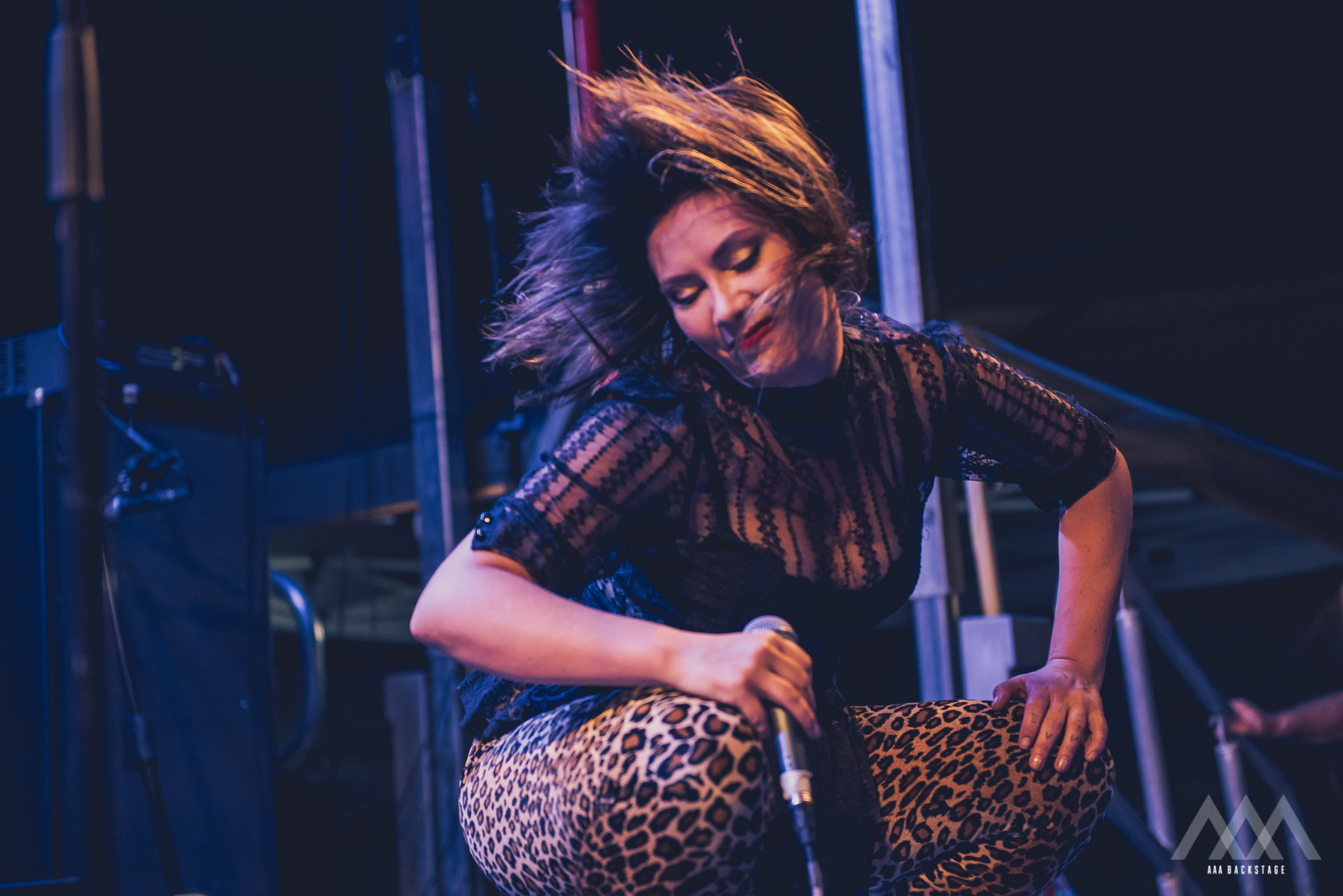 They also took the crowd back to their days when they had a break from Killing Heidi and worked with a band called 'The Verses' with a song called 'Want everything', which was heavily influenced by Fleetwood Mac and this was certainly evident in the sound.
Ella also showcased her new song released last year called 'Monkey mind', a song she explains is about anxiety. The crowd seemed to warm to it. It had an interesting up beat tempo to it that got the crowd dancing and jumping around. With an amazing high powered encore of songs such as 'Superman/Super girl' and 'I am'. Wow what a way to finish off such an amazing set.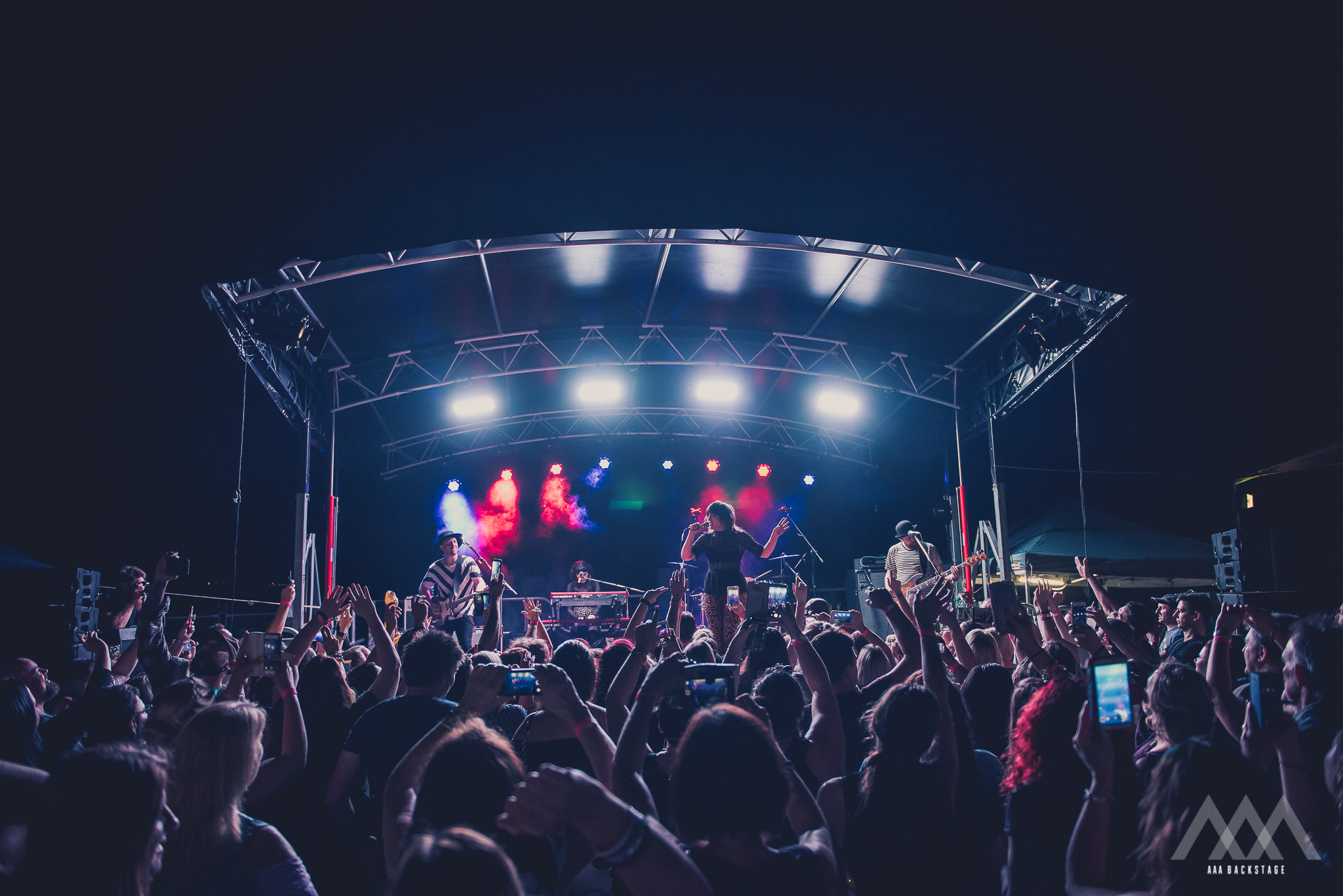 The set in between songs was full of banter and comedy moments and conversations that took the crowd back to the earlier years of Killing Heidi and their humble beginnings of where it all began in their childhood in Violet town, giving the crowd a more intimate insight into the band.
If you happened to miss out on getting a chance to see them on their reunion tour you missed an unforgettable experience.
Photos by Cristina Jorgensen