Live Review: Maroochy Music & Visual Arts Festival 2017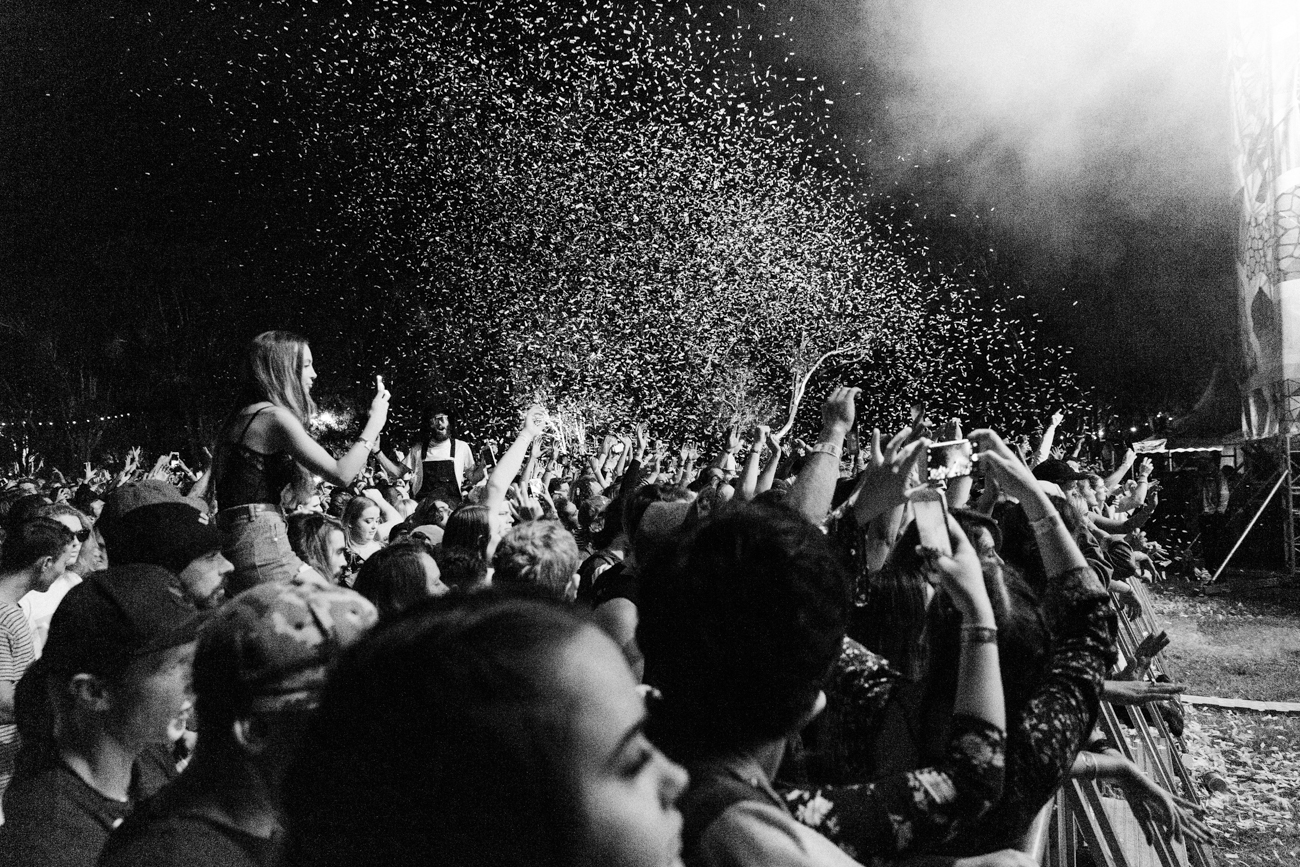 The term, "visual arts festival," may get thrown around a lot in this current music festival environment. But, if one thing is for sure, Maroochy Music & Visual Arts Festival absolutely pulls through with what its name promises. Taking place smack bang in Maroochydore's CBD, at the Old Horton Park Gold Course, MMVAF is both a scenic and sonic exploration of exactly how a one-day music festival should be.
Sprawling and spacious, the festival grounds offer a wide variety of activities, aside from the main stage of music, right from the get go. From interactive art installations, a blow up triple j drum and an ever present metallic spider looming over the fields, MMVAF certainly stands head and shoulders above any other festival in the region. Appealing to all senses, MMVAF has barely began and already there's a rush of longing to soak in everything this festival has at its disposal.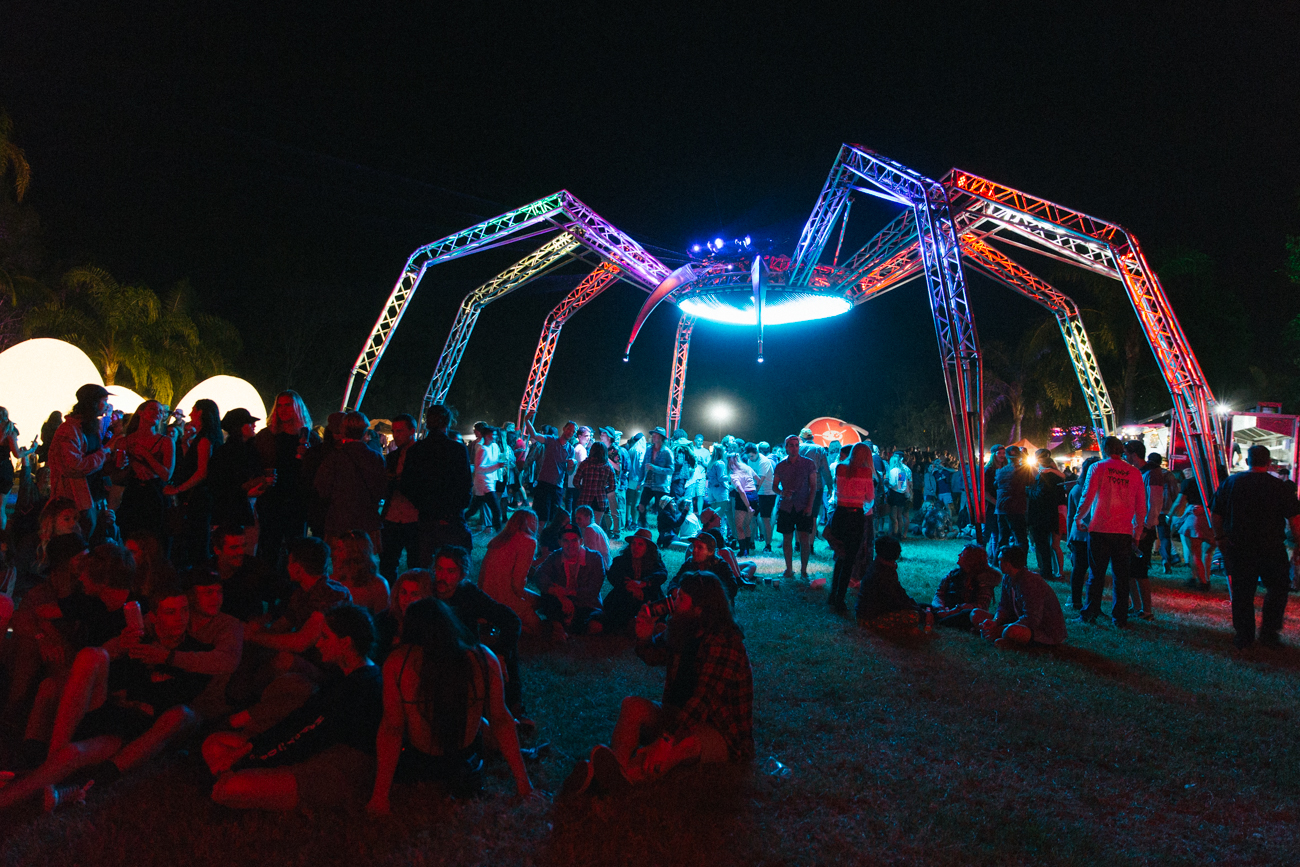 On the music side of things, Northeast Party House were early risers to the main stage and proved a daring force to be reckoned with. Festival experts by now, the six-piece rip into hit-after-hit from their bonkers back catalogue. Sun beating down, things were heating both temperature-wise and in the pit. Heartbreaker, Your House, Calypso Beach and ending with none other than Youth Allowance and a confetti canon, Northeast Party House set the vibes to the 11 very early on. There was truly nothing stopping this band from partying with one of the guitarists limping out onto stage with crutch in one hand, Fender in the other.
Horrorshow also made mayhem of the main stage dialling into their hit machine following last weekend's performance at Shakafest on the Gold Coast. With just them and Mallrat representing the hip hop demographic of the lineup, the calibre was set extremely high and there wasn't a dry eye in the audience.
Adorning the sunset spot on of the day, Bernard Fanning continues to proves, time-and-time-again, just what a master of the Australia stage he is. Quashing rumours of another potential Powderfinger reunion—much like at last month's Splendour in the Grass—Fanning still has a whole three albums worth of banging material to rip through. Shoutouts to Fanning's backing band for their true diversity in the day's music and whipping out far too many instruments—almost rivalling Arcade Fire's amount of instrumentation. Ending his set with Wish You Well, Fanning walked off to a screaming, adoring crowd and promised, much to their dismay, no encores; but thanked everybody for their passion.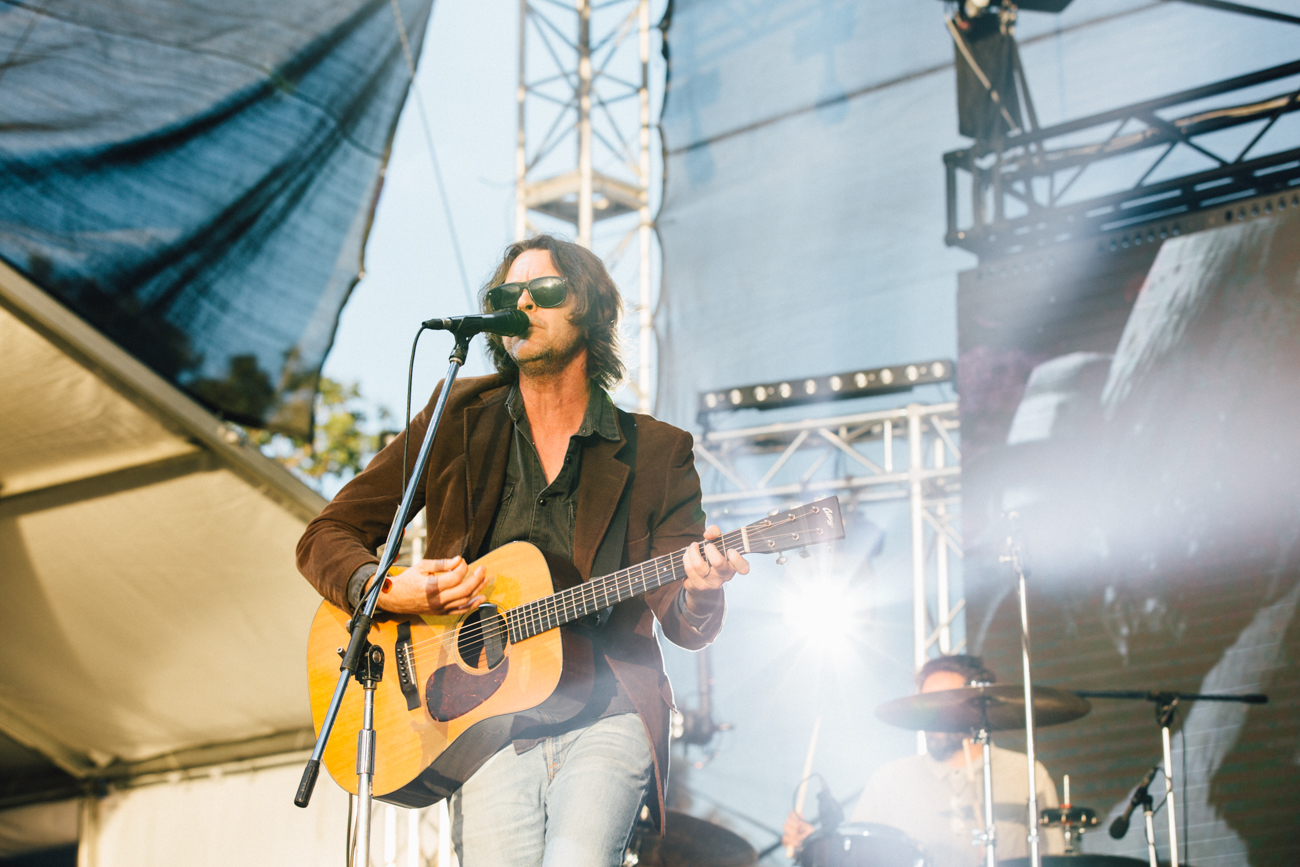 The only international act on the lineup, Anna of the North, took to the stage to a raucous applause. By now, the sky was orange, the setting couldn't have been more beautiful to match the Norwegian's gorgeous indie-pop tunes. Taking cues from Banks and Vera Blue, Anna of the North had the crowd in her hands and, although her visuals may have been somewhat lacking for a night time set, it still paled in comparison to her soaring voice and ultra charming pop antics. Here's an artist to lookout for and, by the sounds of things, she might be back down under sooner rather than later.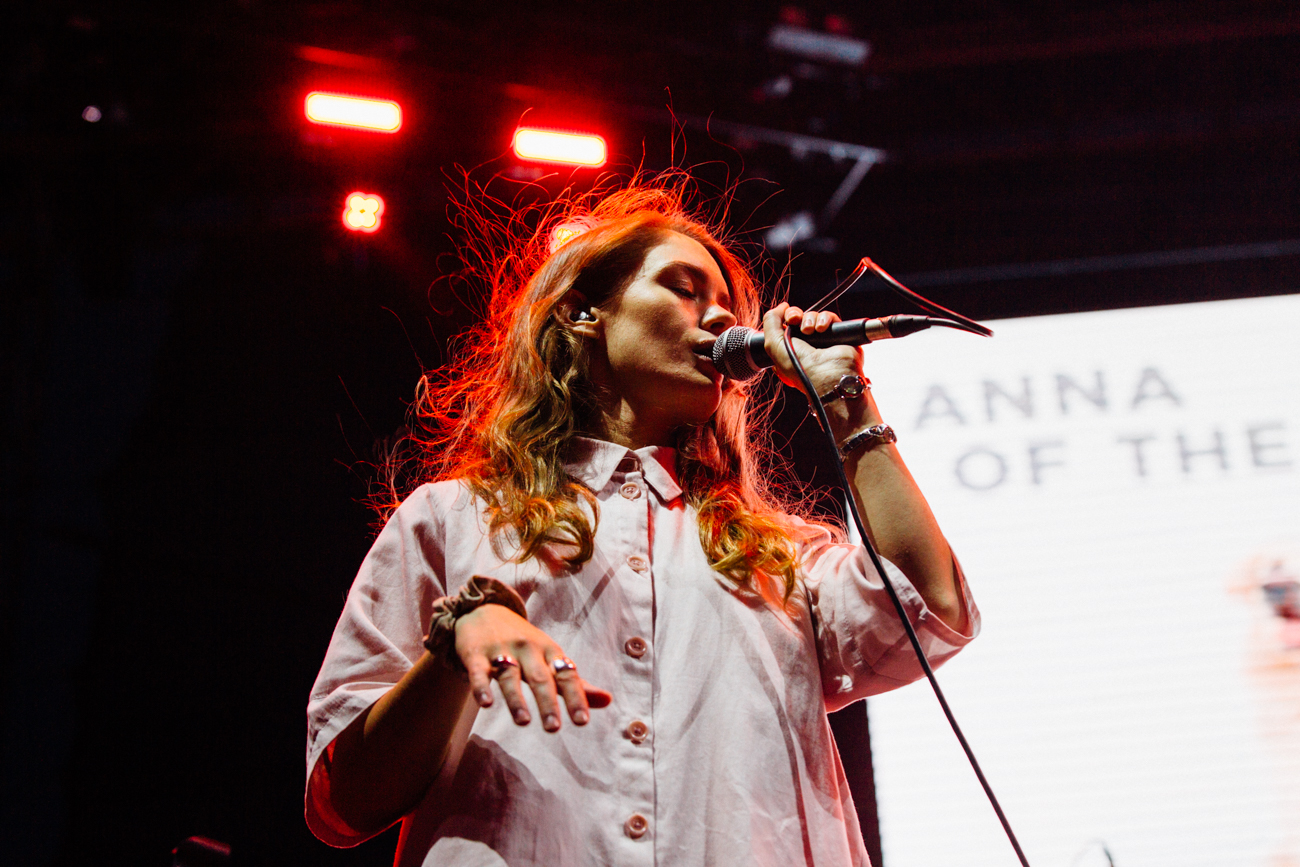 The previous day to MMVAF, news broke that Gang of Youths' new album, 'Go Farther In Lightness' has hit #1 on the ARIA Charts. With that being said, it was time for the band to discharge and celebrate with the people who got them there: the fans. With a set dominated by new tracks, with some oldies thrown in for good measure, the band were in fine form. With a national headline tour just days away, MMVAF was as good a time as any to warm up and set the precedence for just how high Gang of Youths can soar. It's been said many times before but David Le'aupepe's voice has truly never sounded bigger, better and louder. What a way to dominate an audience and captivate fans old and new.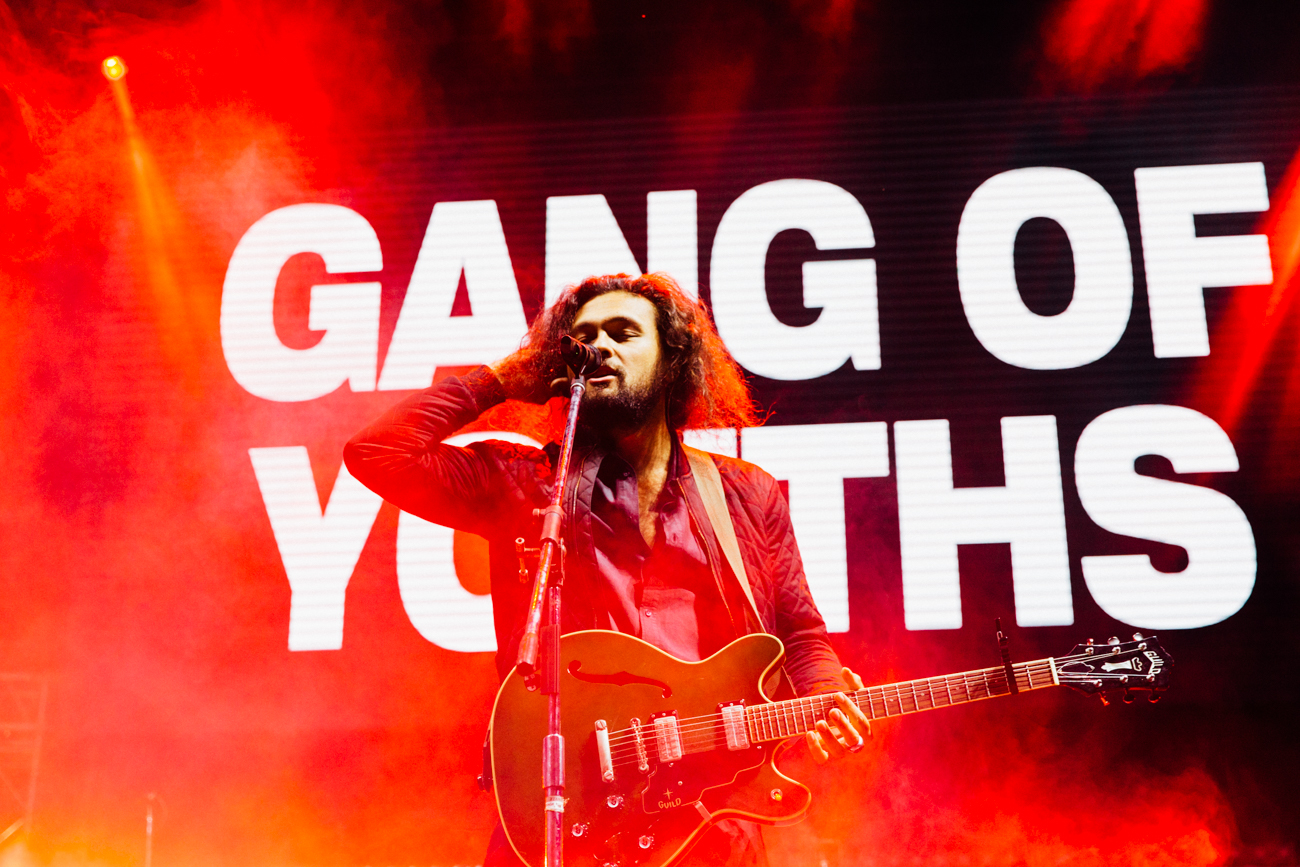 Two acts remain on the main stage for MMVAF, but it wouldn't be a fully accomplished festival with a trip to the small, somewhat secluded second stage titled, 'The Love Suite'. Decked out throughout the day with DJs, it was Willaris. K which ripped me hallway through Gang of Youths' set to see one of Australia's finest rising producers. Filling his set with IDM hits and pulsing electronic hits from the underground, it wasn't until the final moments of his time on stage where he brought out his hit, Alchemy. The crowd, myself included, responded in fine form. 'The Love Suite' got a little mangled with some excellent footwork from the crowd.
Anticipation grew to unprecedented levels. The Presets were about to make their live return. It's just over two-and-a-half years since the duo played any form of live performance and the MMVAF crowd were waiting with baited breath. Arriving on stage as if they hadn't been away from the limelight in two years, the Presets began with Push, Fall and Ghosts—three of the biggest tunes from their most recent record, 'Pacifica'. 'Apocalypso' got a look in throughout the set with This Boy's In Love, My People and a ripping alternative live performance of Kicking and Screaming. The Presets were well and truly back but with a 50-minute set and no new material to show, I couldn't help but feel just a slight sense of dismay. The duo have a handful of festival shows around the country and, if their MMVAF set was anything to go by, the shows will be incredibly heavy and fun, but a sign that the Presets may still not be ready to release new music.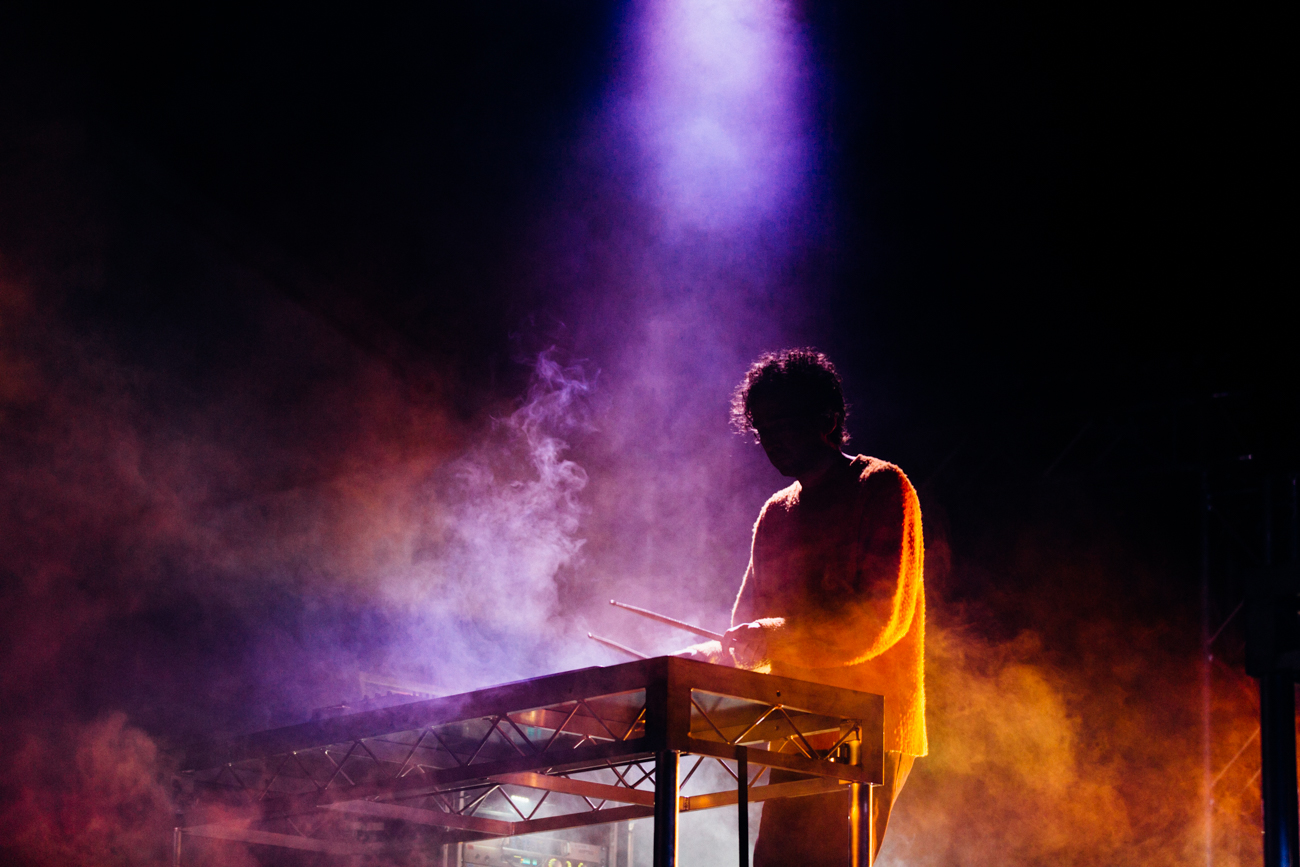 Ripping the main stage a new one, the Presets were hard to top. But if there was anyone person who could follow them up, let it be Alison Wonderland. A light show to send Crystal Castles packing, and enough energy to get anyone's feet moving after an already huge day of dancing, Alison Wonderland had every single person in the main arena moving, shaking, jumping and feeling accomplished that the end of the day had arrived. Dropping a plethora of her own tracks into her DJ-cross-live show, the producer even threw in mixes of Disclosure, Kanye West and Flume in for good measure.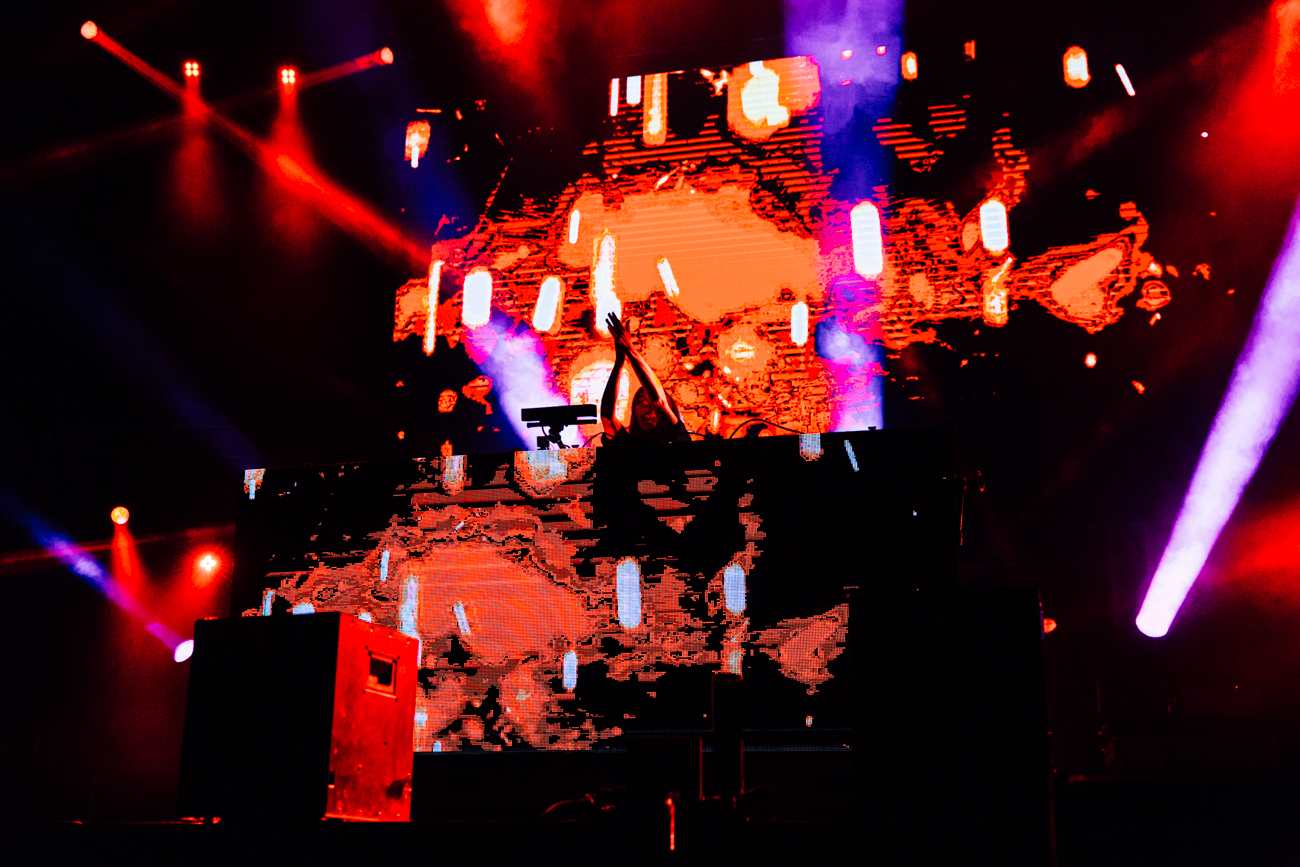 Memories of MMVAF are good ones. The Sunshine Coast festival, which draws punters from all over Queensland, now has a permanent member to its annual bash.
View our full gallery of Maroochy Music & Visual Arts Festival HERE.