Live Review: The Murlocs w/ Nice Biscuit & Stone Witches @ Miami Shark Bar – 06.08.2017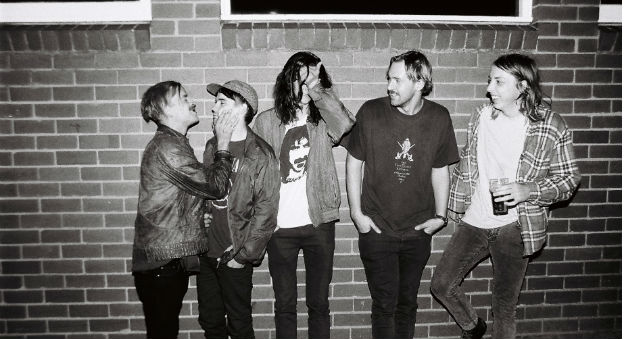 This was always sure to be a top night. What a cool line-up The Sharky has served up for us once again. Local lads Stone Witches wasted no time bursting on to the stage and launching into their thunderous set, with Doctor Miracle, Formation and All My Toys, barley taking a breath. A cosmic onslaught of psychedelic proportions. No banter, no bullshit. Just in-ya-face crazy good pysch rock, charging through the tracks like a psychotic yet controlled locomotive. Uniform Men, Push, Synergy. Echoes of Devo's Whip It in the mix somewhere. Long hair flailing, strings ripping, drums thumping as they bring it home with Efficient and You're the Boss. Yes Siree.
Can't believe that I've never seen Brisbane outfit, Nice Biscuit before, and hardly even heard of them. They blew me, and everyone around me, way away. Goddamn it, they are good. Two female vocalists, Billie and Grace, dressed the same: blue hair and all-white clothes—fluffy mini skirts, bell-sleeved blouses, white stockings and chockers and white Go-Go boots. Stunning. And even white pom-poms on the tambourine. They are not just scrumptious eye candy. These girls can sing like angels, harmonise beautifully, play tambo and marrackas at the same time and strum some mighty sweet acoustic guitar. Shades of a dark desert highway, cool wind in the air.
A quote from San Mei guitarist and keyboardist, Lewis, who was rocking away next to me, "How's that acoustic guitar? Man I haven't seen an acoustic guitar on stage like this in like forever."
The boys might fade a bit into the background visually but hell, sonically, they are tight as. Oh man, and now one of them has whipped out a harmonica. Sweet Jesus. Captain, Nostalgia, Trendy, Boogie Board; the harp and harmonies are spine tingling. I tried to catch the guys and gals to ask about the band name. Is it pronounced as it looks, as in nice/lovely? Or is it named after the actual biscuit which I thought was always pronounced that same way until I worked at Coles for a stint—a career highlight—and found out it is in fact pronounced, Neese. Or as in "Nice," France. Whatever, nice is almost too nice a word to describe this group. They are unique and outstanding.
The boys from Geelong, The Murlocs, have been hovering around, soaking up the atmosphere. Then they approach the stage dressed in navy-blue work-coveralls, as a track by Merle Haggard—or somebody—announces their arrival.
I got to hear these guys just the week before at Splendour. I was slogging away "working" on the Artist's Gate as their sound wafted down from the Amphitheatre. A tough gig. Last time I saw the band, and maybe it was the first time I saw them, was at the inaugural Gizz Fest at the Brightside, two years ago. I was there early and just sort of blended in with them and the King Gizz guys as they were setting up, doing sound checks, mucking about. Had a long chat with Cal about god-knows-what. They're from Geelong and I'm from Bendigo so we're almost neighbours. And I was the Keeper of the Gaffer Tape. So two years later the boys are smashing it all over the land.
Tracks Shit Storm, Oblivion and Compensation get the mob going schizo. What is it about Ambrose's voice? It's bewitching. And then he whips out that harmonica and we're all mesmerised. Old Locomotive, Snake in the Grass (there was actually a snake, probs lots, in the grass at Splendour in the Grass—they sent in the Snake Man. Didn't hear if he caught it or what). Space Cadet and Domino Effect have the joint sweating up a storm. I'm at the front of the stage. Something is dripping on me. Is someone sweating on me or spitting or spilling their beer over me? I look up. There is condensation from all the raging body heat dripping from the stage ceiling. Now that's rock 'n' roll. As the lads rip us away with Domino Effect –yes, Noble Soldier and Wolf Creep. I've been thoroughly shaken, stirred, sweated and  dripped upon. Praise be.