Live Review: The Piece Brothers @ Oxford Art Factory – 21.09.2017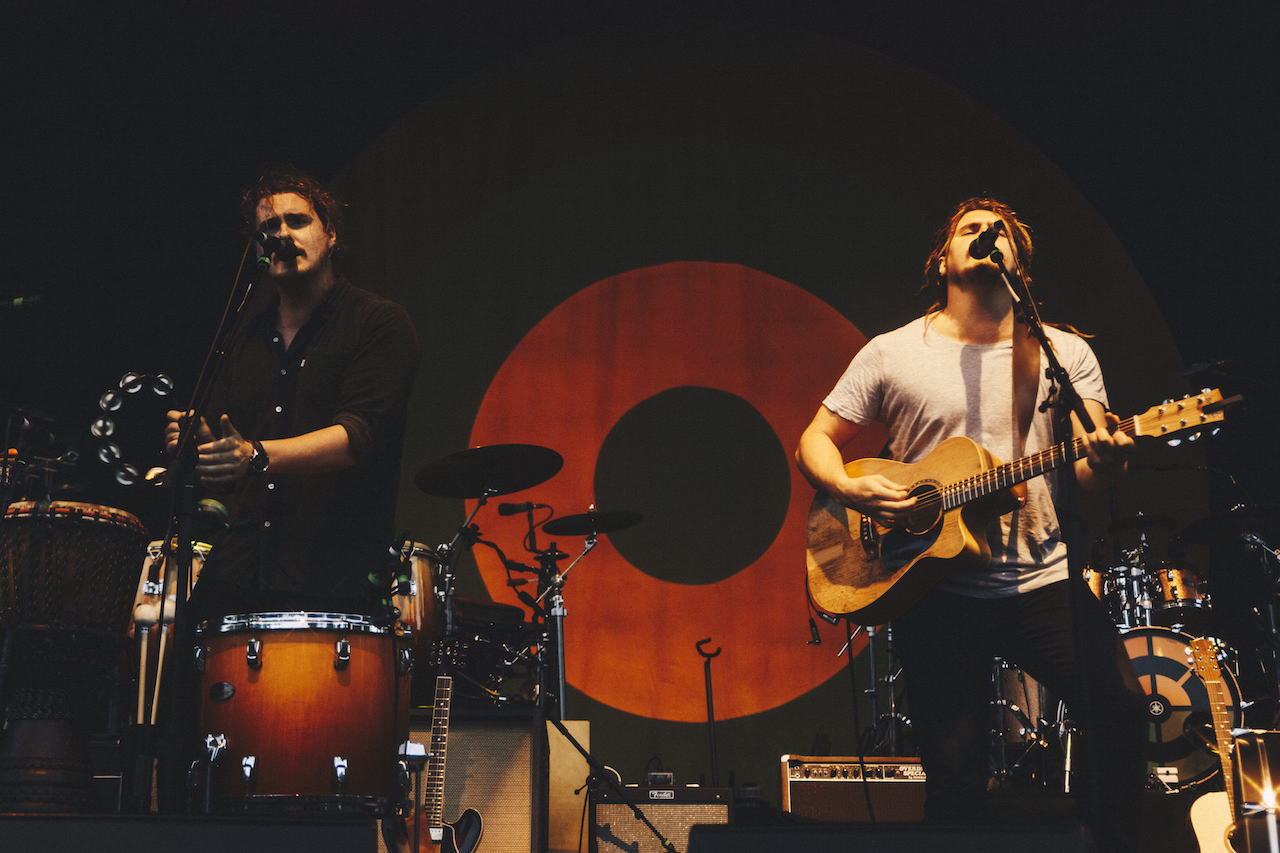 The first time I saw the Pierce Brothers, they were playing outside the Zara on Pitt St—that infamous spot where every passerby tries to avoid the hooligans, ethical protestors, and sketchy magicians that attempt to attract attention to their maniacal acts. The brothers, however, made the entire street stop and stare.
Oxford Art Factory was no different—what started as a calm, Jack Johnson turned Tash Sultana evening, thanks to supporting acts Asha Jefferies and Rueben Stone, became a raw, genuine show filled with theatrics that only the duo could pull off.
The brothers, Pat and Jack, started their set with an electric set of crowd favourites including Take a Shot, Black Dog, and Take Me Out. Of all three, Take a Shot made the most impact on on myself, and surely the public due to the lighting and mood within the venue.
Thus began the duos renowned audience interaction, in which they receive an A+ from me. From singing and playing guitar in the crowd, leaping around with the crowd, drinking a beer, drumming on the handrails of the venue, and a bit of boogie-down dance moves—the crowd acted as if they were groovin' in a house party while being entertained by two mates.
The middle of the set drifted into a softer tone, with Brother and Overdose easing the crowd right before the big finale. This included a touching solo by Pat—or Jack, are you twins, too? As there couldn't be a song about a brother without one for a sister—Genevieve appealed to the masses considering its emotional aperture within the brothers' music.
After hearing of Genevieve's plight with her health, the evening took a spin with a more expressive tone and dramatics with Golden Times (even the didgeridoo made a surprising appearance). As the hour and a half set ended, the audience cried for an encore, in which Pat and Jack obliged. We were treated to a piece still unfinished and the Pierce Brother's newest single, The Records Were Ours—sure to be a hit on triple j.
If you are unsure whether this is a musical act for you, the Pierce Brothers' sound emanates a mix of Kings of Leon's Sex on Fire and Mumford & Sons before the hipsters began to worship them (no, I liked them first!). With a grand tour across Australia and Canada well underway, these two are not to be missed. Warning: they may tell you one too many stories that go a little something like, "that one time in Amsterdam."