Live Review: Pissed Jeans w/ Batpiss and Kitchen's Floor @ The Foundry – 09.12.2017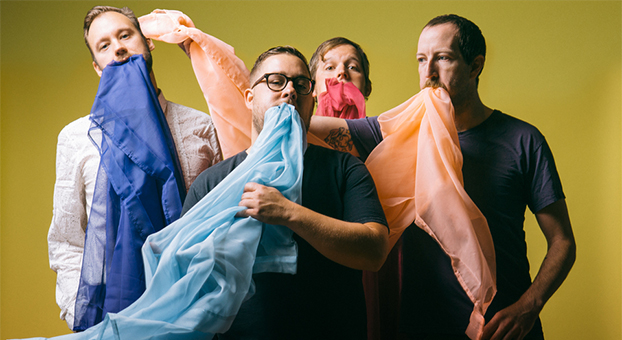 "This Is Brisbane History!" Matt Kennedy shouted at the start of Kitchen's Floor's Sundowner, and with this having been Pissed Jeans's first ever performance in the city of Brisbane, the statement took on a new meaning.
As far as line-up matchings go, the choices of both Kitchen's Floor and Batpiss to support Pissed Jeans on this date were well matched. Two of Brisbane's best and noisiest bands who share similar inspirational heritage but interpret it in their own unique way. Though while the pairing may have been good sonically, it was notable that the line-up was entirely male. Feminist anger runs as a lyrical theme through Pissed Jeans's latest album, particularly on the not-so-subtle I'm A Man, so it did come as a surprise that these all-male line-ups were a staple of their entire tour. The bar is low indeed.
Watching Kitchen's Floor live can be just as entertaining watching the faces of audience members as watching the band themselves. Their lo-fi slacker rock can come across as shambolic on stage, causing some to wonder if they've ever done this before.
Matt Kennedy's riffs are atonal enough on recording, but live he's just happy to hit whatever strings he may, with the open strings sounding out as a drone over the song's core. Don't let this looseness fool you though. The combination of catchy lo-fi rock with witty and insightful lyrics draws reasonable comparisons between Matt Kennedy and a young Stephen Malkmus.
The music is a reflection of insular, despondence at the changes happening around him with a desire to cling on to the past. The music is rough around the edges because that's how it's supposed to be, and those who can see that are the ones who are rewarded most.
For those who prefer their riffs tighter and more direct, Batpiss were the next to take the stage riding high off the release of their album Rest In Piss this year. It's an album that has divided the bands sound in two, with that divide coming across stronger live as you can almost calculate the divide based on who's singing that particular song. The thrash punk of those songs where Thomy Sloane's powerful voice is the centrepiece of tracks from their debut album Biomass and the more morose sounding tracks that bring to mind latter-day Fugazi, Shellac or Slint with Pauly Portal at the centre.
Lead single Weatherboard Man was a sign that there were new things to come from the band, where the Slint influence was clear, and resulted in one of the best songs of the year. Unsurprisingly it sounded amazing live too. The band's performance was tight and precise, with songs like Black Paint and Tell Them My Name Is X drilling home that the sonic expansion of the band's sound.
The main event though was undoubtedly Pissed Jeans. Touring off the back of their fifth album Why Love Now, this tour marks their first time in Australia. Despite the band firing on all cylinders, the sound was disappointingly imbalanced as the band started. Ignorecam was barely recognisable amongst the sound with the guitar near inaudible and Matt Korvette's voice half-delivering the vocal-chord-shredding main vocal melody.
Thankfully these problems eventually get sorted out and by the time the band get to Cafeteria Food and the band seem happier as a result. Matt Korvette is a delight as a frontman, unable to remain still for a second on stage and delivering between-song commentary wittier than most of this city's comedians. I wondered if he toned down his vocal delivery live, wondering how he could possibly sing that way night after night, but sure enough he belts out each line with the guttural style that underpins so much of their music.
This is certainly a band who can't be accused of taking themselves too seriously, and the chemistry between them all is infectious. Matt spends most of his time writhing seductively, pulling his vest up before finally taking it off for the encore. Drummer Sean McGuinness even threatens to break into The Offspring's Come Out And Play at one point in retaliation for having the drum opening of Cathouse mocked by Matt.
Though the songs come mostly from the band's latest album, there were more than enough older songs to keep the audience happy. The responses are particularly massive for Bathroom Laughter and False Jesii Part 2 with The Bar Is Low receiving a similar level of love.
As is the way with most great gigs, it felt like it was over before it begun, with the band leaving a trail of destruction in their wake. Hopefully it won't be too long before they return.