Live Review: Pond @ Corner Hotel – 21.09.2017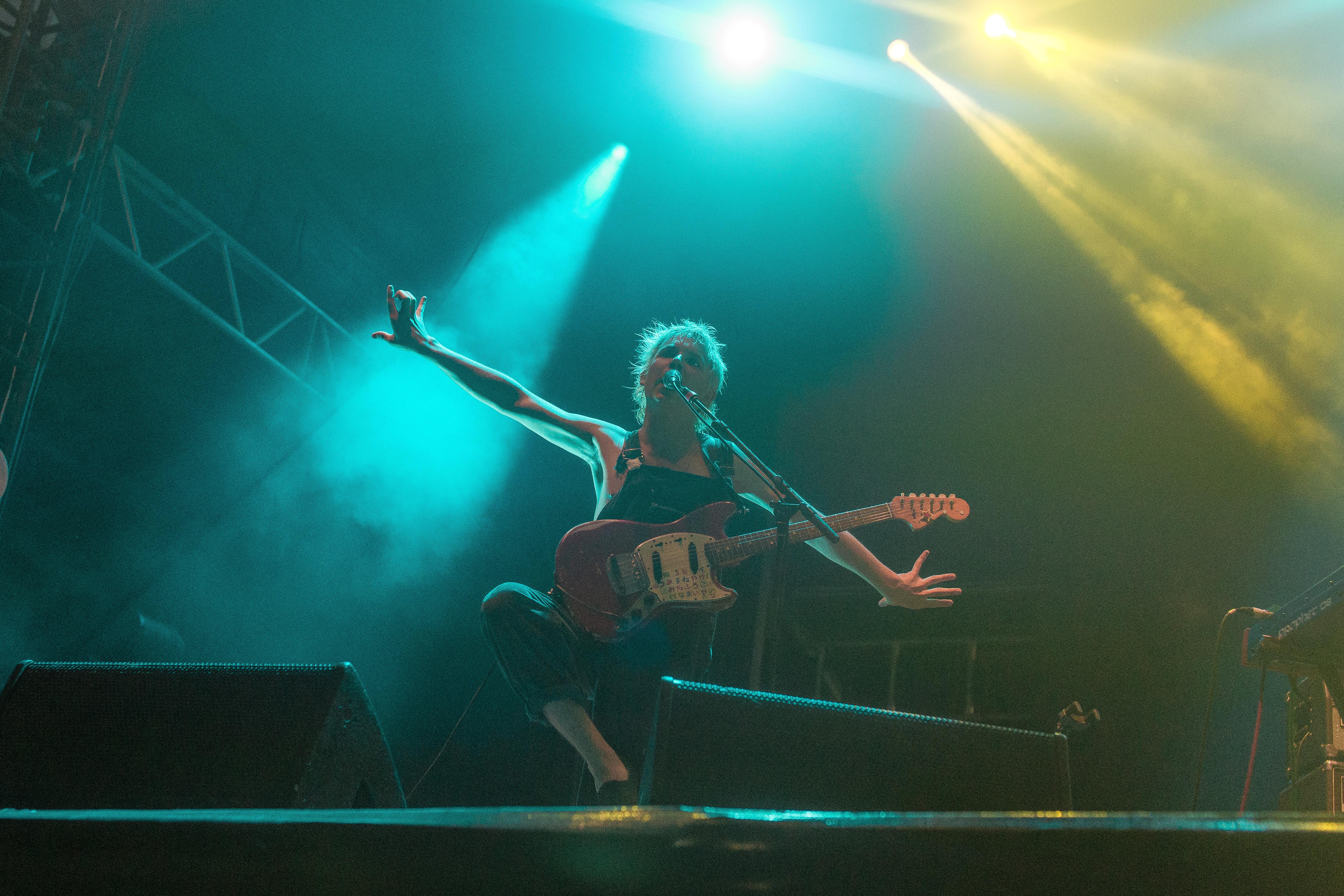 When Pond first started in 2008, the band was almost always described in the media—and still is—as a Tame Impala side-project: a harder brand of psychedelic rock that was a little more self-indulgent and a little cheekier. There was always the sense that it was all just a bit of fun and that Tame Impala was the real deal. Since then, Pond have toured world-wide, headlined festivals, frequented best-of lists and just recently, sold out three back-to-back headline slots at Melbourne's The Corner Hotel. They've also released a whopping seven albums that traverse an array of different sounds and more than prove—in fact, demand—that Pond deserve to be taken seriously, even if their lives shows are still a hell of a lot of fun.
Over time, Pond's sound has changed in subtle, but distinct ways. The emphasis has shifted from guitars to synthesisers, the concepts behind albums have become more ambitious, and the band has experimented with anything from psychedelic funk to house beats to prog rock. These changes have had a clear impact on their live show, which in the past seemed a lot more chaotic and spontaneous. While the energy was still positively frenetic, the band's sound was much smoother, more controlled and drenched in effects.
It seems these days that everybody is trading in their guitars for synths, but Pond managed to get the balance just right for their live set, which featured older psych rock fan-favourites like Don't Look at the Sun or You'll Go Blind Again, as well as a host of newer, synth-driven songs that verge into New Romantics territory, such as on Sweep Me Off My Feet and Paint Me Silver.
There was also a good balance between high-energy songs like Elvis' Flaming Star and the band's somewhat operatic ballads, like perfect set opener 30000 Megatones and Edge of the World Part 1. If there was a stand-out track from the set (as well as on the new album itself) it was certainly The Weather—a majestic, slow-building number that makes the best use of Pond's best elements: Albrook's powerful vocals, Jay Watson's sweeping synth strokes, Shiny Joe Ryan's catchy riffs and the band's masterful use of effects to tie it all together.
A nice surprise was the Shiny Joe Ryan penned All I Want for Christmas (Is a Tascam 388), which perfectly captures Pond's offbeat humour, and strikes a good balance between synth and guitar elements. Unfortunately absent from the set was Jay Watson's funky, house-inspired banger Colder Than Ice from their recent album, which seemed like it would have fit in nicely. Perhaps the band considered it was a little too similar to Watson's solo material and would distract from the focus on Nick Allbrook as the face, and undeniably, the heart of Pond.
The onstage theatrics of Pond are another key part that makes their live shows so exciting and fresh, led by the wonderfully weird Nick Allbrook. This show saw Allbrook dive into the audience multiple times, all the while maintaining his powerful voice and never once losing his cool. A particularly special moment was when Allbrook dialled back the zest long enough to pull out his flute for †. The other members of the Pond stood back and let Allbrook do his thing, which was more than enough to rile up the sold-out Corner's crowd.
While a confident frontman and a handful of catchy tracks are usually enough to make for a good live set, Pond really stand out as a live band because the conceptual underpinnings of their albums transports the live experience to an entirely different place. The songs feel big and tell stories in both their lyrics and composition, with distinct beginnings, middles and climatic endings that gives their live show a sense of momentum. It feels less like a rock concert and more like some kind of strange, but wholly mesmerising theatre experience that almost verges on being religious. And in our modern-day, apathetic, secular society, perhaps the excitement and adrenaline of a Pond show is just what we need—at least the 750 punters who turned up at The Corner would certainly agree.