Live Review: RATATAT @ The Tivoli 2/12/2015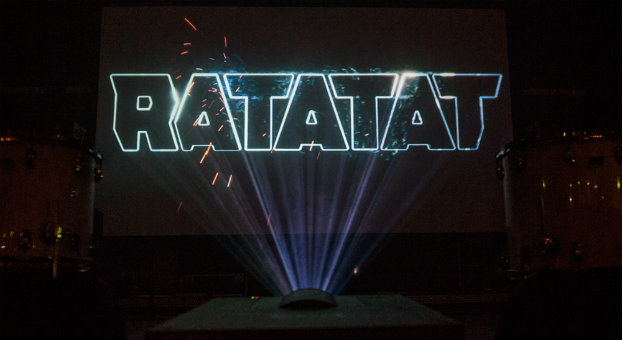 Its been a long time between drinks with our Brooklyn Electronica-rock elitist's Ratatat four years actually, Big Day Out 2011. Mike Stroud and Evan Mast have touched down to headline Meredith Music Festival, but not before some thoughtful sideshows for the East-coast.
The crowd was placid on a chilled Wednesday night in the Valley, sipping on beers, bantering and awaiting the duos entry. Anticipation began to build a little too high as the wait lengthened, turning slowly to anxiety, but was as hastily diminished with the fade in, glowing letters that read 'Ratatat' sprawled across the stages' back screen.
Opening with the gooey and dripping chords of well-known bubbler 'Cream On Chrome', the Tivoli came alive! The crowd roared and simultaneously, limbs started flailing and the boogey began. The stage was cluttered with random rythm and percussion instruments ranging from electric drum sets, beat drums, keyboards, soundboard, and of course, Ratatats most recognisable element, the electric guitar.
The pair dueted effortlessly together, with their guitars showering the crowd in a verbatim of experimental electronica. The signature light show reflected the true essence of Ratatat, beaming lasers from every each angle, creating a roof of glowing glory for the first level, it was impossible not to reach and penetrate the rays, as your spirit fingers, hips and head got lost in the encompassing wrath of the duos back catalogue of songs including 'Falcon Jab, 'Mirando', old bangers 'Loud Pipes' and feisty 'Wildcat' from their LP3 and LP4 album.
Imagery was stunning, as a kaleidoscope of trippy avian projections filled the screen and strobed to the beat of the drums, keyboard and guitars that were being ravished and tantalisingly shred. 2015's Magnifique brought us 'Abrasive', and saw the two exploring indie-rock sounds before triumphing a screeching 80's metal toned guitar, 'Seventeen years'  showcased the hook-worthy accordion and dance favourite 'Night Club Amnesia' brought out the dance demigod in the youngish crowd.
Constantly pushing the envelope of experimentation, Ratatat continue to achieve and soar, with their infectious marriage of the strangest samples, they left the crowd sweaty and heaving for an encore. Truly unique and innovative, their scales, hooks and sonic appeal will forever lay aroused in our hearts.