Live Review: You Me At Six w/ Columbus & Hellions @ Eatons Hill Hotel – 22.09.2017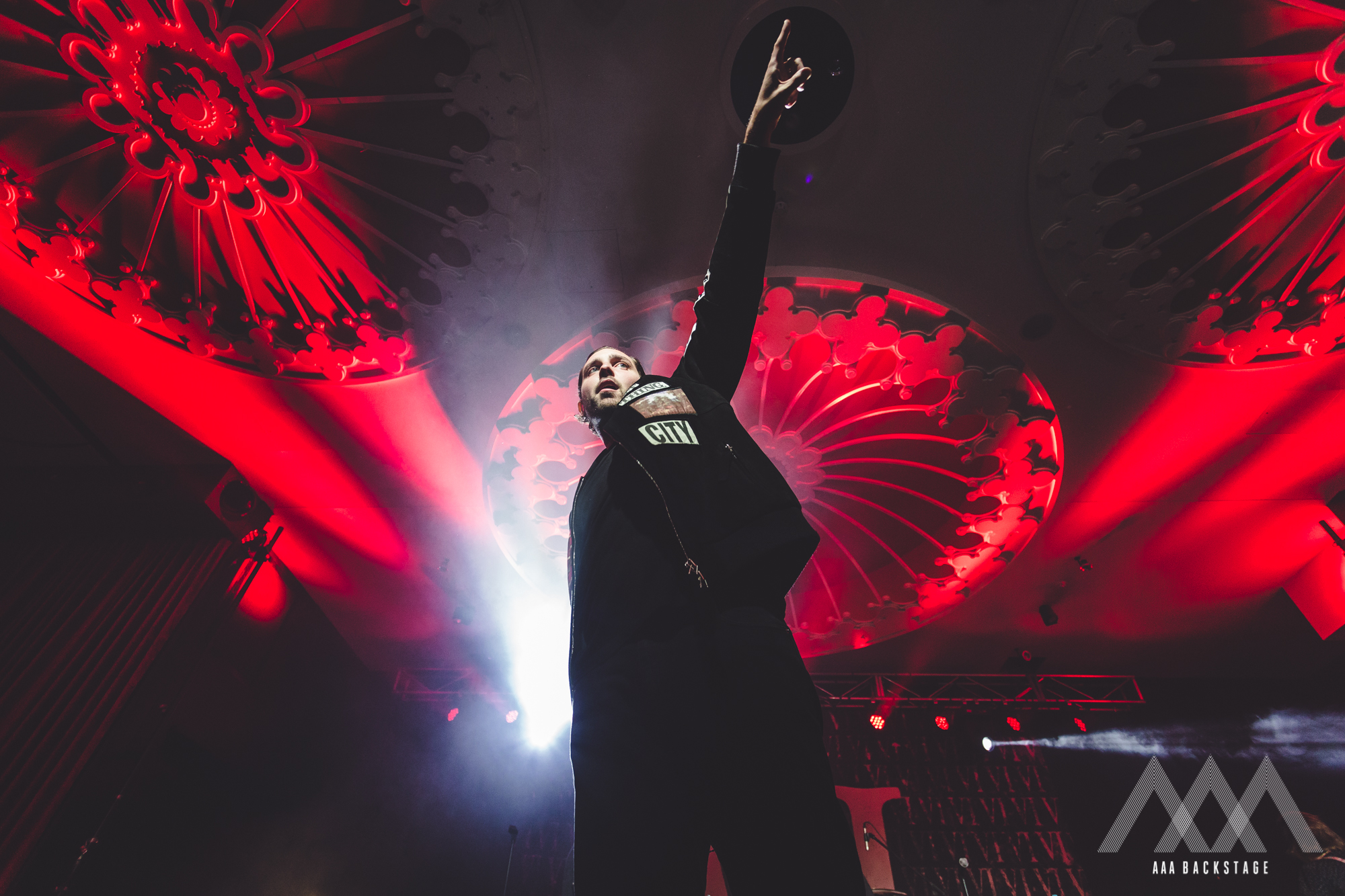 On Friday night, Eatons Hill Hotel was treated to a plethora of punk music with performances from Columbus, Hellion and You Me at Six. The venue is reminiscent of Brisbane's small, intimate music venue, the Tivoli Theatre.
The crowd waited in anticipation for the show to begin as everyone milled around the stage. The first band on the bill was local lads Columbus opening with the song Summer Dress from their album, 'Spring Forever'. A bit of a catchy tune but just not catchy enough for this crowd it seems. I gave the band the benefit of the doubt that maybe the crowd would be more immersed in the atmosphere a few more songs in.
The lead singer, Alex Moses, tried to involve the crowd by saying, "lets have a dance!" as they erupted into a fan favourite song called, Daffodil. With its catchy riffs and up beat tempo, the more I listened to it the song has a punk pop sound like that of blink-182 from the late '90s. They managed to get the crowd moving a little but it just didn't seem to hold their attention but this didn't seem to faze the local lads as they powered on through their set taking it in their stride.
Songs like Replace Me and Next to Me had some strong riffs, but Moses' vocal range seemed to be very flat and off key at times and just lost the crowd. He tried to retain control by directing the crowd to, "put your hands in the air," in the song, Next To Me. For a few moments this was good and the control was there as everyone put in their hands in the air but this momentum was soon lost. Even with songs like Say What You Want, with its catchy sing-along chorus, just wasn't catching this moment at all.
Honestly, credit due to these guys, they have some catchy well written tunes and some great riffs and their changes within songs were great. As a band they seem to work well together and know how to energise each other but they just weren't transferring that energy onto the crowd.
After a short interval, Hellions from Sydney arrived on stage and the whole vibe changed. The crowd were pumped to see these guys as it was evident from the screams and cheers that erupted. They opened with their song Thresher off their album 'Opera Oblivia'—this song has a distinctive melodic sound that just makes this song kind of stick, and a catchy, sing a long chorus.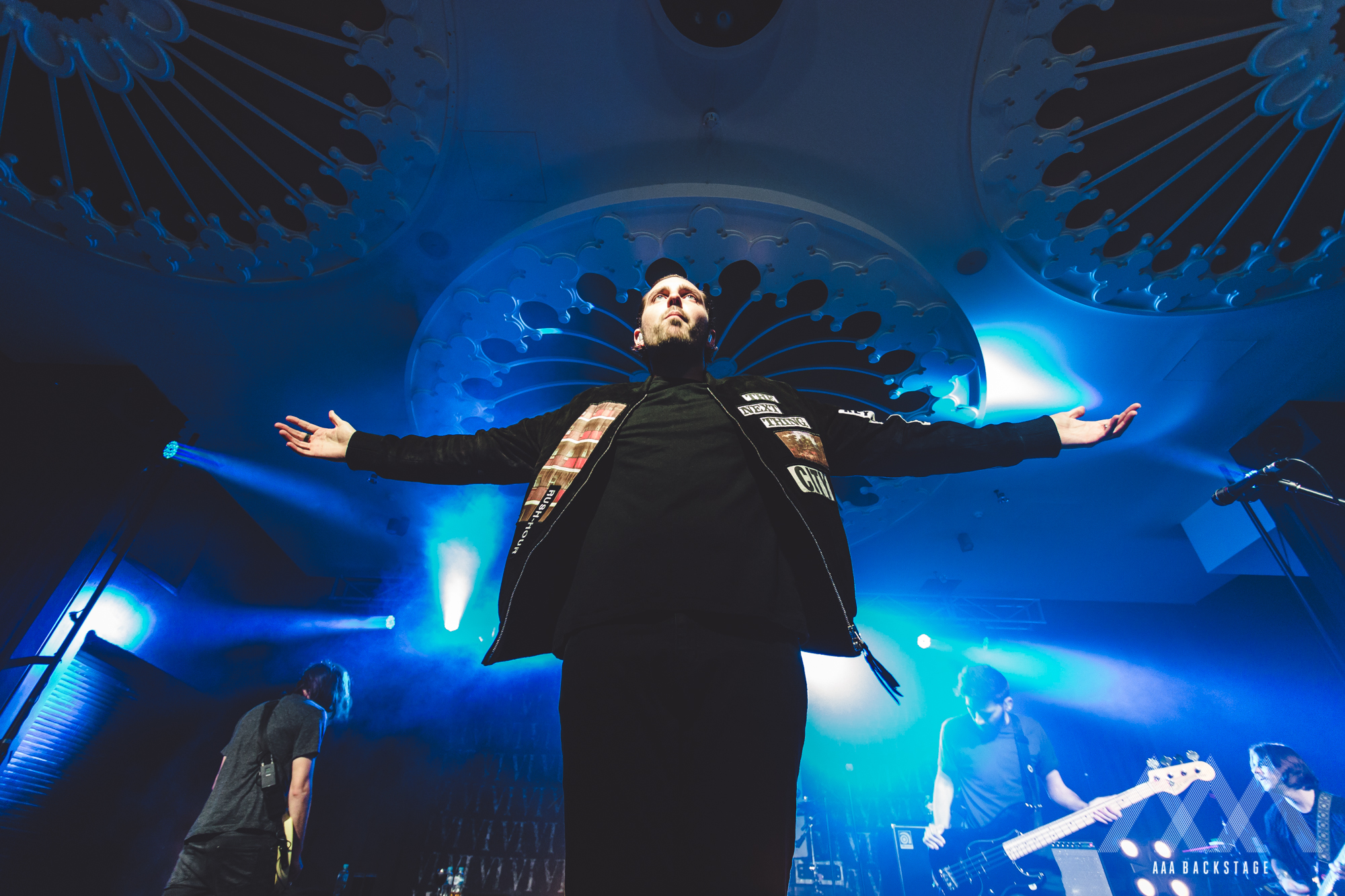 The actual meaning behind the name Hellions is rowdy or mischievous people and well let me just say they definitely achieved the rowdy element.
From start to finish these guys had the crowd engaged and involved, every moment front man Dre Faivre felt he was losing control of the crowd he stopped to make sure checking on their welfare asking the crowd, "How we feeling? Are we still feeling good?" Regaining that control with a hell yeah in response to his, "let me hear you say hell yeah!" when asking if everyone was having a good Friday night. He involved the crowd from actions requesting to, "put your hands in the air," through to singing lyrics back to him. This band really blew me away with not only their music but there performance and energy they brought.
The energy from the band members really amazed me, Dre Faivre really knows how to utilise the stage to his advantage using every bit of the stage he could to exert his energy. The guitarists also used the stage to their advantage putting on their own show in the background jumping around just as much as their front man and exchanging sides of stage with each other running from one side to the other and head banging in unison.
This amazing energy transferred onto the crowd with sections of the crowd engaging in head banging and fist pumping through to the singer encouraging the crowd to get really involved and form a circle pit in fast pace songs like Nightliner Rhapsody and Bad Way had the crowd in a mad frenzy with its heavy hitting lyrics and guitar riffs. Their sound is a cross between Eminem meet Slayer. Hellion work in these two distinctive sounds so well together and the crowd certainly agrees from the avid response they were receiving.
Songs like 25, a ballad type song, showcased the strong vocals from Faivre and melodic guitar riffs with its heavy haunting vocals and heavy drum sets. Sung like an English football anthem it had the crowd where it wanted them, through to thought provoking songs like He Without Sin and Quality of Life that rang out like primal screams within the venue with the entire crowd in full voice and hands in air. Hellions had the crowd at their mercy; it was definitely a sight to see. Strong riffs and a unique sound this band really showed the way for the Australian hard core punk movement.
The final, and main band, of the evening all the way from the United Kingdom—You Me at Six was the band everyone had waited to see and they definitely did not disappoint! As the band walked on stage it was evident from the crowd as they went into a frenzy with a loud roar and screams that echoed through the grand ballroom.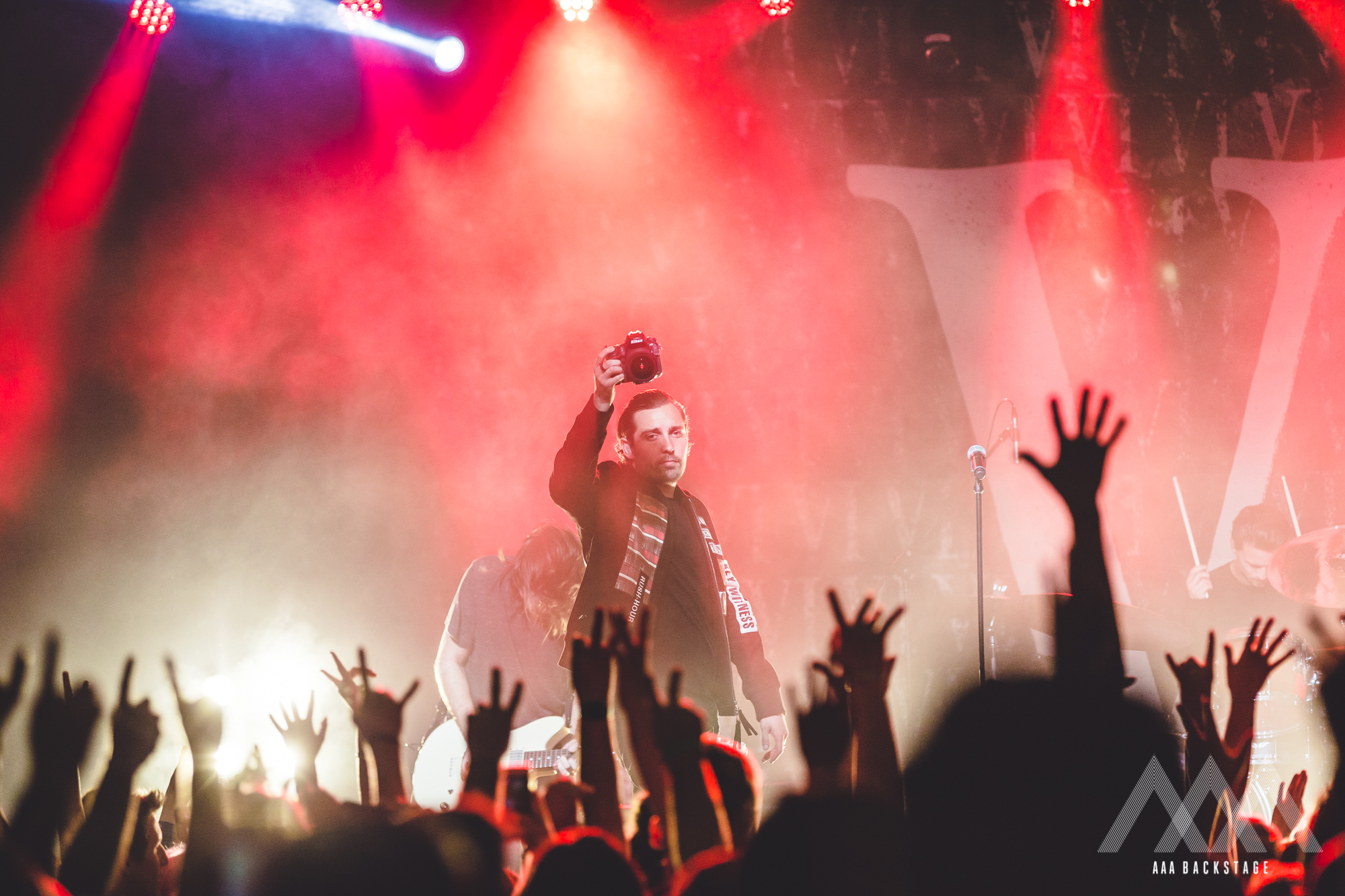 Songs like Fresh Start Fever off their 2014 album 'Cavalier Youth' absolutely lifted the roof off with the strong vocals from front man Josh Franceschi energising the crowd as they jumped to the beat and sang along throwing their hands in the air. Following up with some of their older stuff, the song Loverboy, continued to add energy to this already pumped crowd. With its unique sound and catchy lyrics, it had the crowd mesmerised as they sang along like a choir in full voice from start to finish.
Taking it up a notch in tempo was the song Swear that had the crowd pumped and jumping around again in full voice. As the catchy lyrics, "na na na na na na na," reverberated through the venue with a the beat that's similar to tunes from the band Madness. Moving onto slow songs like Give off their latest album 'Night People', reeled the crowd in with its melodic and slow rhythm as it gradually builds up to a power ballad with a strong vocal performance by Josh Franceschi, the crowd hang on his every word.
Another song off their new album was their debut single Night People. Listening to this it reminded me of a powerful protest song with its powerful, strong vocal and repetitive lyrics in its chorus.
A song that was a crowd pleaser and really captured the moment was Take on the World. Josh jokes about his dislike towards Donald Trump and how this song radiates that. With such strong emotive lyrics this song really hits the heart strings as it's sung with such passion coming through the vocals of Franceschi. Taking a break from the tunes Josh casually chats to the crowd about his love of Australia and how much he loves Brisbane, winning the hearts of all of us locals, before he continued back to the music.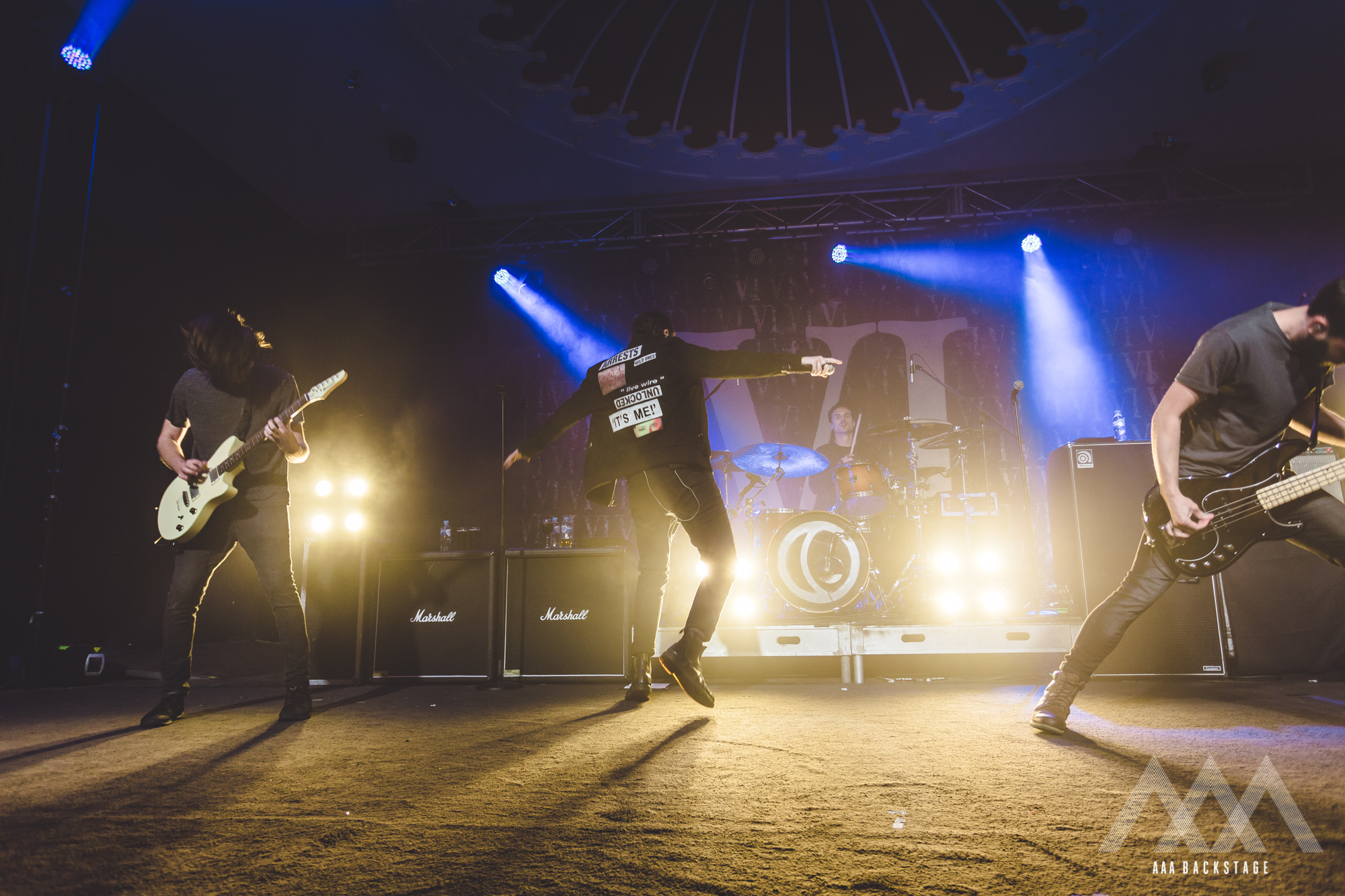 Stripping it down to just vocals and one guitarist was the song, Too Young. This song allowed Josh to really showcase the brilliant voice that holds this band together and as the crowd stood silently, still mesmerised, hanging on every word Josh demonstrated an amazing voice performance the crowd was in ore.
Taking another break he talks about how they're only playing songs off their new album for the rest of the set and how they want us to our enjoy ourselves so that means audience participation as he explains that's what we're all about. He wanted the people of Brisbane to get someone they love on their shoulders for the next song. This showed just how strong an influence he held over the crowd as he leads into the song No One Does It Better—a striking love ballad. As you looked around you saw a sea of people on other people's shoulders. It really captured the atmosphere and looked amazing.
Ending the set with the hard hitting rock anthem Room to Breathe, the crowd went off! Linkin Park came to mind listening to this. I don't know about needing room to breathe but this crowd was definitely left breathless. What a way to spend a Friday night—just no words.