Live Review: State Champs & Neck Deep @ The Triffid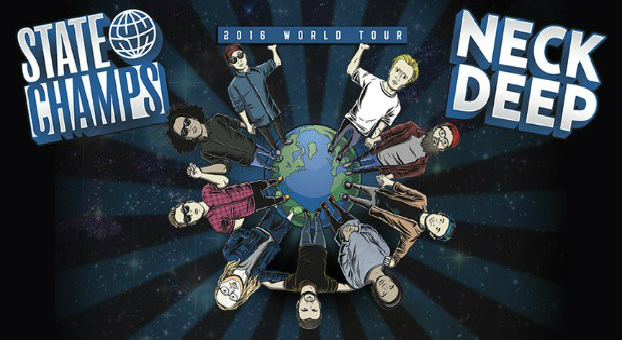 Every now and then nostalgia hits, and we can't help but wish we could re-live some of our favourite gigs we've attended, thankfully Neck Deep and State Champs heard our prayers and provided us with a flashback to their 2014 Australian tour together.
Announced back in October, it was revealed the two pop-punk bands will be embarking on a co-headlining world tour together in 2016 with Australia being the first stop. This time however, both have new albums under their belts and were ready to make this tour bigger and better than the last one.
Kicking off the second Brisbane show at The Triffid were Sydney four-piece With Confidence who can be considered Australia's next success story. Having toured supported the likes of As It Is, The Maine, Real Friends and You Me At Six, the band are the newest addition to the Hopeless Record's roster. Under the label they have recently released a video for their new single We'll Be Okay which they played for the first time on this tour.
A selection of songs were played from both of their EPs 'Distance and Youth', such as London Lights and 'I will never wait' while throwing the crowd a cheeky cover of Blink-182's Feeling This. While we hate to compare, With Confidence are essentially are younger and goofier version of All Time Low and we can't wait to see their careers take off.
While they were the headlining band last time, Neck Deep played first and that's exactly what the crowd wanted. If you aren't a six foot tall guy wearing either a Real Friends or The Story So Far shirt, you had no chance at getting anywhere near the stage as the moment the band stepped on stage to kick off their set with Losing Teeth things got really rowdy. While you would think things would be slightly calmer at a pop punk show, think again. There were circle pits, crowd surfers and plenty of flying shoes that let the angsty pop-punk loving guys let their emotions out, especially during the most popular song of the set A Part of Me.
Neck Deep released their second album 'Life's Not Out To Get You' in August last year and while they did play a selection of new songs such as Serpents (written by lead singer Ben Barlow after he played a scary video game), Gold Steps,and the ever emotional December, they didn't leave out the bangers from their older material.
Having come a long way since being the main support band for the 2014 tour, State Champs were the last band of the night to play and sent the night off with a bang. Their set began on a high note with the first single Secrets from their new album Around The World and Back Again. While it was revealed by lead singer Derek Discanio that while they almost cancelled their appearance at the show due to sickness, they decided to play anyway and despite having a rough voice he played through the set perfectly.
Unlike Neck Deep, no acoustic guitars made an appearance on stage giving everyone the chance to rock out to what was mostly new songs such as Perfect Score and All You Are Is History. However, the drunk chants of a few guys towards the back were heard and they finished off the night with an old favourite Elevated.
We can only hope that these bands return to our shores again soon and maybe in 2018 we might get another flashback show.
Check out our Live Gallery HERE