Live Review: Steel Panther @ Eatons Hill – 20.05.18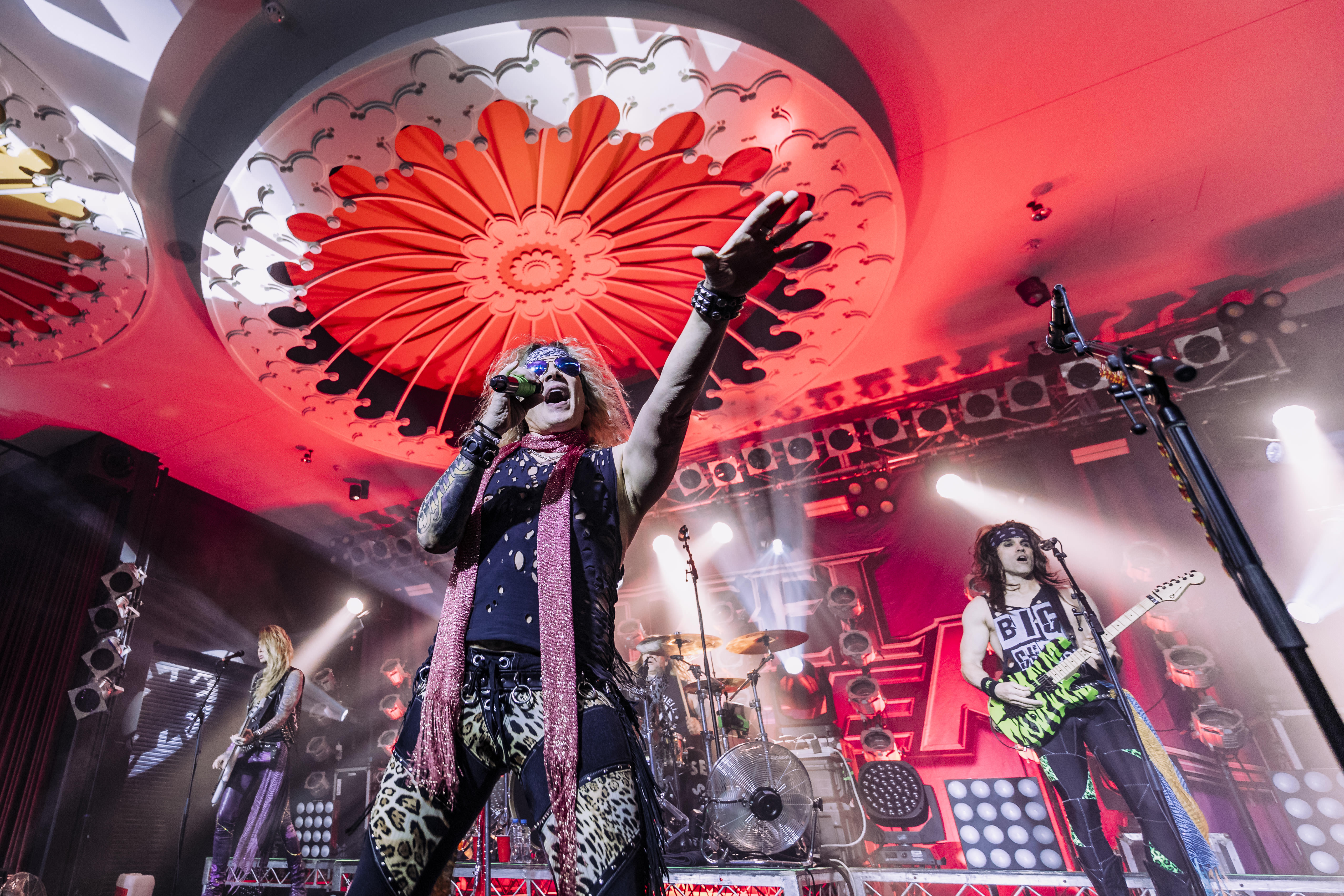 Where to even begin… If you know anything about Steel Panther, you'll know that the Californian four-piece are the epitome of sleaze and all things metal. It's been about two years since Steel Panther last graced Australian shores but luckily for us the glammed-up sex gods made their way Down Under (pun intended) with their 'Sunset Strip Live!' Tour. We made our way to Eatons Hill Hotel to catch all the rowdiness and believe us, it was rowdy!
Eatons Hill quickly packed to capacity as an eager crowd patiently waited for the madness to begin. Drummer, Stix Sadinia, really set the tone for the night during his entrance by fixing his manhood before settling down behind his kit as the rest of Steel Panther took the stage with an array of inappropriate hand gestures. Coming out strong, Steel Panther absolutely blazed through Eyes of the Panther and Goin' in the Backdoor to get the ball rolling. The banter amongst the band is probably one of the highlights of the show as front man, Michael Starr and guitarist, Satchel lead the onslaught of backhanded compliments and sexual innuendos. Of course, no Steel Panther show is complete without a healthy dose of flashing from some of the more eager young women—nothing but good, family entertainment!
After about fifteen minutes of general smack-talk and introduction to the band, Starr led his sleazy compodres through a banger-filled set including Asian Hooker, Just Like Tiger Woods, Poontang Boomerang and Gloryhole. Aside from all the acting and jokes, each member of Steel Panther are genuinely exceptional musicians! Satchel blew minds with his effortless guitar solos while Starr showcased his impressive vocal range and killer falsettos. The staging was amazing with an incredible light show and multi-tiered stage risers that allowed the band to roam freely. You cannot tame Steel Panther!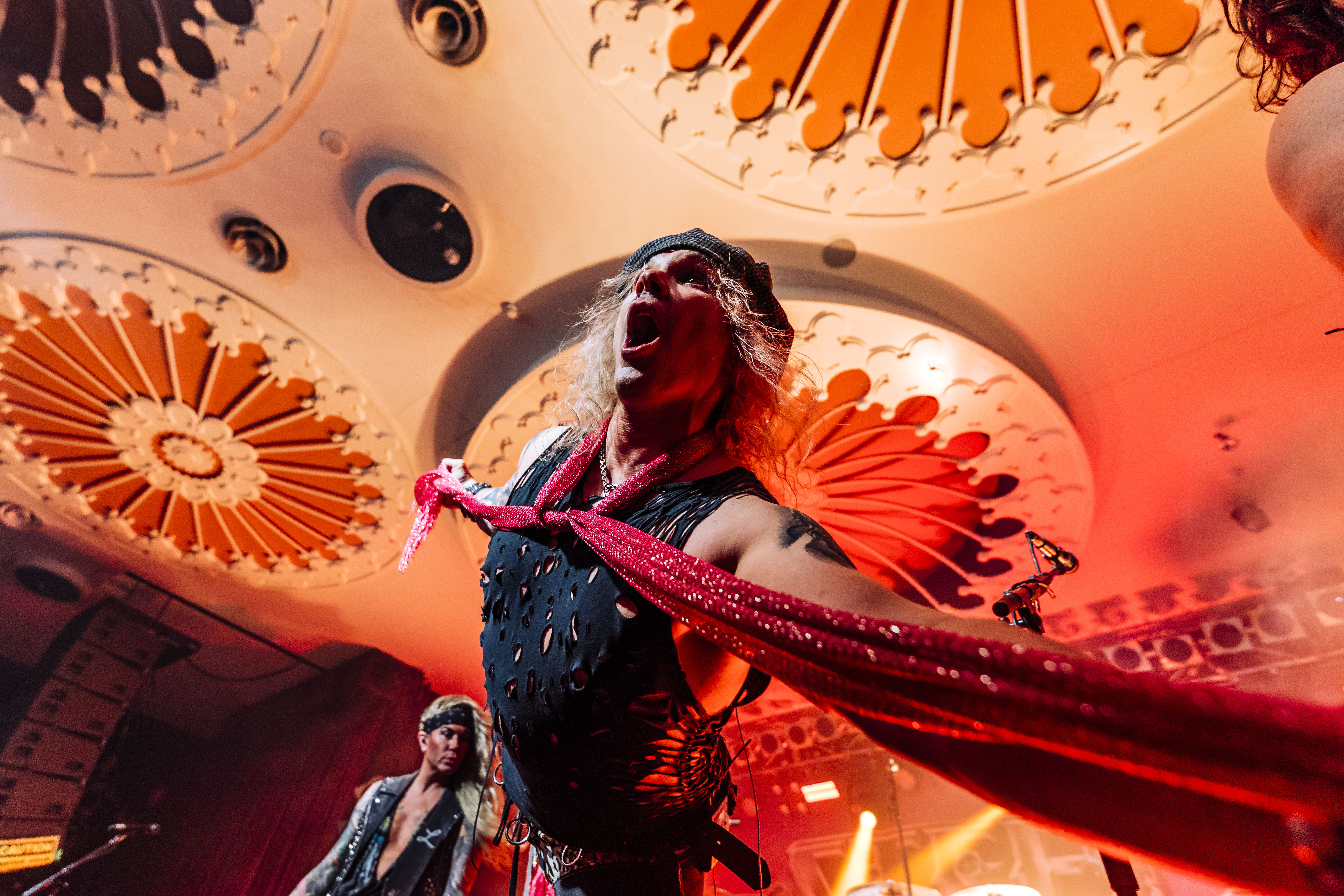 Crowd involvement has always been welcomed by Steel Panther as they called a girl up on stage. With the acoustic guitar brought on and Stix swapping his drum kit for some shakers, Steel Panther serenaded their way through Girl From Oklahoma and Community Property showcasing some impressive vocal harmonies. These slower, more heartfelt tracks served as a nice break before the rowdiness ensued and things got turned back up to eleven. Satchel declared that he was sure, "everyone in the room would want to kick Justin Bieber in the nuts," before erupting into Death to All But Metal to the cheers of the entire room.
This marked the end of Steel Panther's originals segment of the show however they were just getting warmed up. "This is the part where we usually take a break," said Satchel. "We'd usually go off stage and do cocaine but we don't need a break. F#ck the break!" Bassist Lexxi Foxx proceeded to join Michael Starr on their imaginary motorcycle pretending to start the engine as Satchel flawlessly nailed the whammy intro to Mötley Crüe's Kickstart My Heart. The energy in the room was electric with just about every person singing along as they tore through Rock You Like a Hurricane by Scorpions and absolutely nailed an incredibly accurate and hilarious impersonation of Ozzy Osbourne's Crazy Train. The instrumentals were performed with absolute perfection and some lyrics were altered to include more sexual references but we really wouldn't expect anything less from Steel Panther.
As the rest of the band left the stage, Satchel was let loose on a whirlwind guitar solo extravaganza, which left us in awe. Lightning-fast fingers blazed across the guitar neck as he played through some of the most iconic guitar riffs in history including Smoke on the Water; Master of Puppets; Sweet Child of Mine; Run to the Hills and incredible rendition of Iron Man complete with epic crowd chants. The solo was brought to an end with some one-handed guitar tapping whilst Satchel drummed with his other hand. This really was the sort of climax Steel Panther are all about. "Make some more noise for me," exclaims a very humble Satchel who credits his guitar playing abilities to the immense amount of cocaine he took prior to the show. At this point we weren't even sure how this man could do the things he does but either way we were impressed!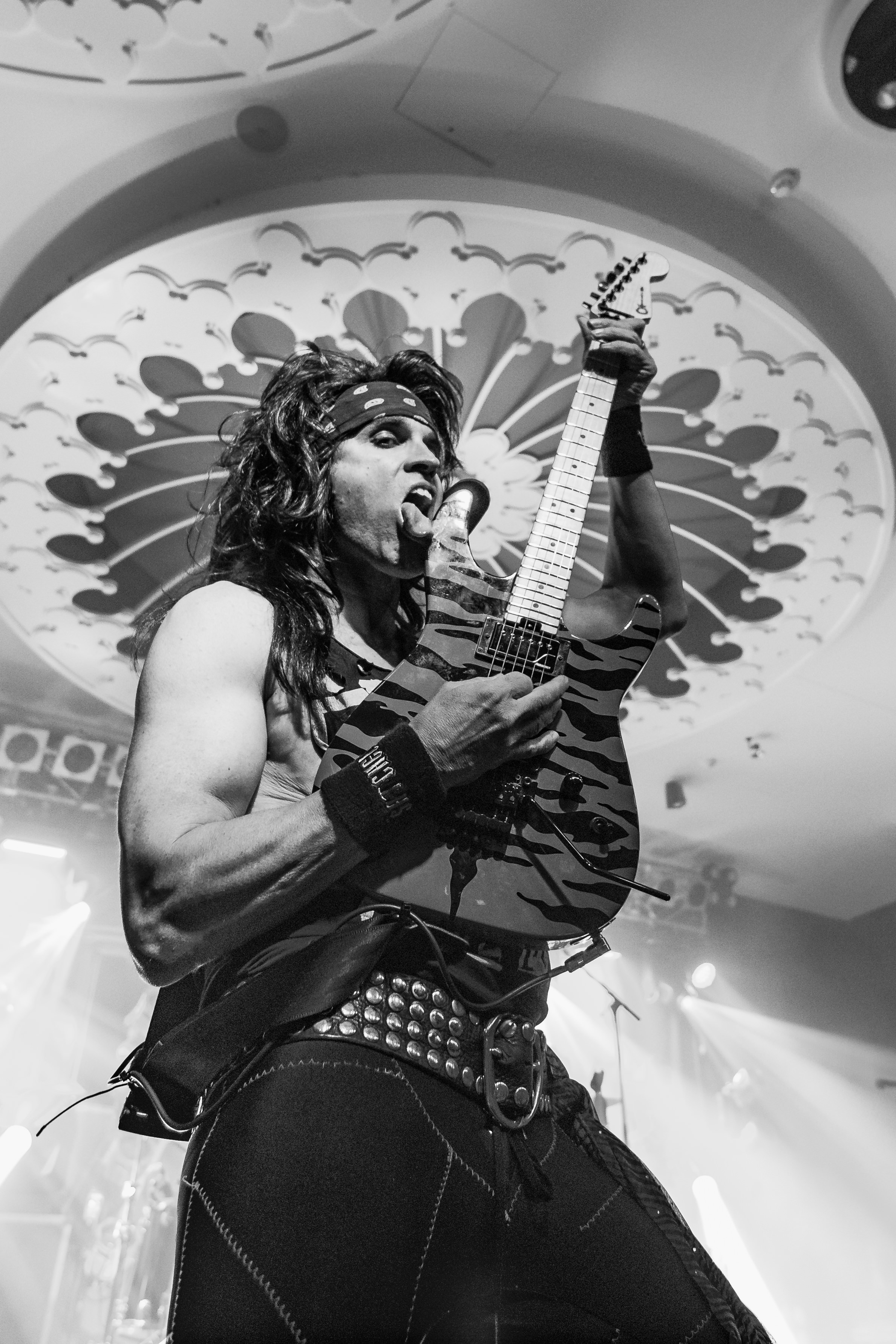 The rest of Steel Panther returned to the stage and brought a few surprises with them. The original Gun'N'Roses drummer Steven Adler emerged to a roaring crowd tailed by his band's vocalist, Constantine Maroulis, and bassist, Sean McNabb. Together this powerhouse group of musicians played through Sweet Child of Mine and Mr. Brownstone off of the highly acclaimed album, 'Appetite for Destruction'. Between Constantine and Michael Starr, we've never heard dual vocals like this in our lives! We were shown a completely new take on these classic tracks and honestly Eatons Hill witnessed something rather special that night. This part of the show seemed to serve two purposes: Not only was it insane to have Rock'n'Roll royalty onstage playing with Steel Panther but it hugely helped justify the cost of tickets. At $99 a head to see a show with no support acts some might consider that rather steep however when you're getting entertainment at this level for over two hours I'm sure everyone would agree that this was money well spent.
Apparently, Steel Panther couldn't get enough of Brisbane's beautiful girls and invited them all up on stage. As about thirty girls flooded onto the stage, much to the band's delight, we were blessed with their cover of Living on A Prayer complete with talkbox intro. It was a struggle to find the band amongst the sea of dancing girls however it really provided a festive atmosphere, especially once they heard Def Leppard's Pour Some Sugar on Me. Starr seemed to make the most of all the attractive girls dancing around him and we were quite impressed that he managed to focus enough to deliver his signature huge voice on this legendary anthem.
Steel Panther wrapped up the glorious evening with a stellar rendition of Poison's Nothing but a Good Time, which pretty much sums up the entire show. We really were entertained and the smiles and laughter were essentially permanent with the genuinely epic performance that Steel Panther and guests gave. The minute the quartet left the stage the encore chants began and of course Steel Panther were happy to oblige, delivering probably their most feel good song, Party All Day. With the Crowd singing back every word and a see of jumping fans this really was the perfect way to end this larger than life show.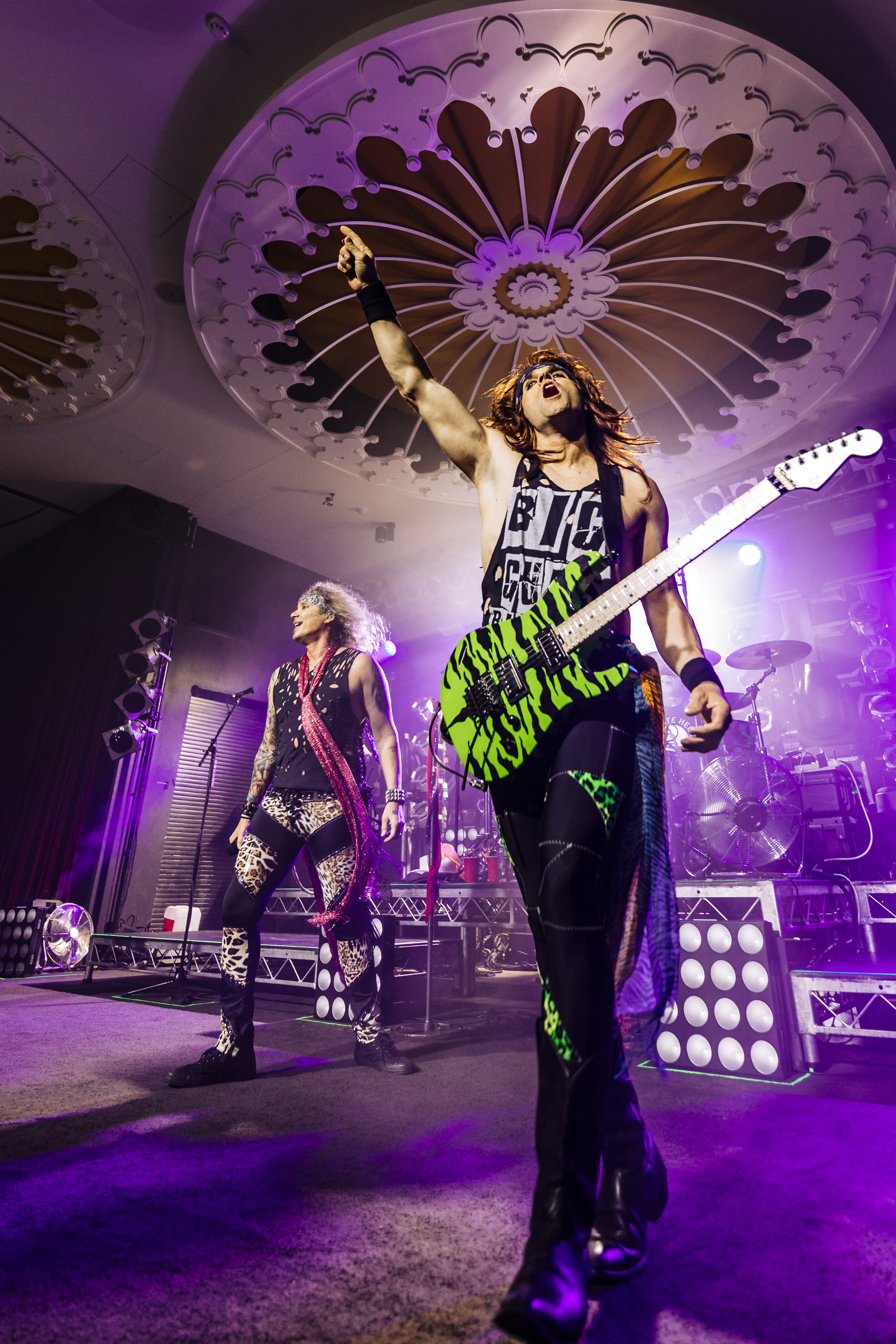 This show confirmed a few things for us. Firstly, we definitely need more steel Panther in our lives. Secondly, looking past all the jokes, sexual references and messing around, Steel Panther are one of the tightest yet most malleable live acts you can see. Always ready for any situation, this band can turn almost any scenario into a hilarious and seamless transition into one of their killer songs and blow your mind with their musicianship. While your mother probably wouldn't approve, even though the band would disagree, you NEED to see a Steel Panther show at least once in your life.
Check out some of our photos from the evening HERE!