Live Review: Stereophonics @ The Tivoli – 29.04.2018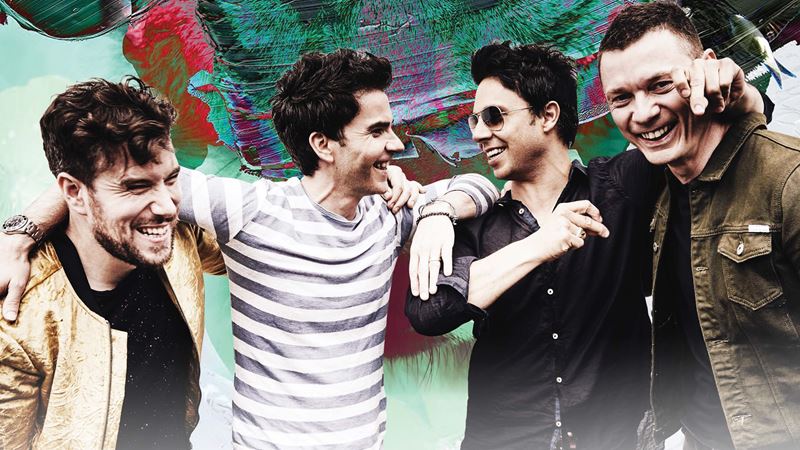 On Sunday night, Brisbane was in for a treat with Welsh band Stereophonics ripping up the stage for the second time at The Tivoli on their 2018 'Scream Above The Sounds' tour.
Halcyon Drive was the first to take the stage—an up-and-coming alt-rock band from Melbourne. They've released two EPs to date, their debut effort, 2014's 'Cruel Kids', and 2016's EP 'Untethered'. Previously playing at the 2015 Caloundra Music Festival and BIGSOUND last year, I was keen to see how much these guys impressed. It was their time to shine again this time getting to tour with Stereophonics.
The crowd took a while to warm to them. I had likened some of their sounds to fellow Australian band Birds of Tokyo; they also had a distinctively folky sound to some of their tunes, maybe a bit of John Butler Trio coming through.
This band had incredible energy utilising the stage to their advantage as they jumped around, even their drummer fully immersing himself in the music. This energy didn't really transfer onto the audience until halfway through their set in songs like an earlier single of theirs called The Birds, released late last year. It had a distinctly dance motive to it and seemed to be a favourite bringing the crowd to life. I think these guys will go far and are definitely worth a shout out to go see.
Finally, the band of the moment took the stage. Stereophonics were here and in full voice, with the distinctive, raspy, Bob Dylan-sounding vocals of frontman Kelly Jones echoing through the theatre, as they opened with the song Chances Are off their new album 'Scream Above The Sounds'.
The opening sounding like a theme going into battle, with it's almost ACDC-like guitar riff coupled with electronica. It soon had the crowd jumping around to its heavy hitting guitar riffs and drum beats and Kelly's strong vocals being showcased brilliantly early in the performance.
Following was their first single from their new album a song called Caught by the Wind and this only energised the crowd even more. The sounds from this song brought back memories of some of their old school tunes and had quite a sing along chorus and positive message. The energy in the room was electric from the start to finish bouncing back and forth from band to crowd.
The Tivoli is always a great venue for gigs as it gives a sense of intimacy to the gig as opposed to some of the festivals Stereophonics have played. The hazy dimly lit theatre gave it almost an intimate pub like atmosphere. It almost felt like our own private gig we were being treated to.
Front man Kelly Jones rightly impressive, belting out vocals sounding just like off their albums. They always say you know a good singer by the way they sing live and Mr Kelly Jones did not disappoint an amazing voice that should never be underestimated.
The set list from Sunday night was a mix of a lot of back catalogue stuff spanning from their beginnings in the late 90's up until now, always a great treat for the hard-core fans of the band with some of their new stuff from their latest album thrown in as well.
Early in the set Kelly mentions it's been 20 years since their first album titled 'Word Gets Around' released back in 1997 and breaks into one of the hits from the album, a song called  A Thousand Trees , an epic song back then and even now was no exception. Surprisingly most of the crowd knew this one and it was evident from the choir like voices that rang out through the theatre. The song titled Traffic, a gritty classic pub sing – along song was also played off their first album and was also a crowd pleaser. It sorted out the veteran fans from the newcomers.  Kelly was rightly impressed by the crowd reception. The song Indian Summer was to follow and wow what an impressive performance, the whole band immersing themselves in the experience.
Songs like Have a Nice Day and Maybe Tomorrow had the crowd going , helping front man Kelly Jones singing the lyrics back to him even when not prompted, the crowd were determined to let him know their appreciation and knowledge of  this epic band they had come to see by continuing to sing along without the aid of Kelly. They also broke out classics like Superman, Handbags and Glad Rags, Step on my Old Size Nines and Graffiti to the delight of the crowd.
The Piano was brought out on stage and the fairy lights that adorned the stage turned on as we watched an intimate stripped down performance of Handbags and Glad rags showcasing Jones's raspy but crisp vocals again and the crowd again (as they did through most of the band's performance) helping him by singing along at every moment they got.
Songs like I wouldn't believe your radio with its distinctive folk sounding anthem got the crowd in frenzy! Like another classic sing along pub anthem the crowd sang at the top of their lungs bellowing out the chorus 'you can have it all if you like!'
Following with the song Just Looking was another crowd favourite starting with its distinctive guitar riff building to heavy drum beats it had the crowd again in full voice, almost resembling the anthem from a football match, hands in the air and fist pumping as they yelled at the top of their voices again, 'I'm just looking, I'm not buying, I'm just looking it keeps me smiling'.
Opening with the distinctive sound of synthesizers, there was no guessing what was to come as the band lead into the famous and electrifying Dakota. I think we all knew this was on the cards but they certainly saved the best for last, with the crowd in full voice, Kelly had the crowd eating out of his hands for this song.
What an epic performance by this veteran band. 20 years and they've still got it; their distinctive sounds can hold an audience and captivate them until the end. These guys never fail to put on the best ever show. If you haven't seen them yet you're definitely missing out on one hell of a performance from a great old school British band.