Live Review: Tyler Hilton and Kate Voegele w/ Your Man Alex Smith @ New Globe Theatre – 08.12.2017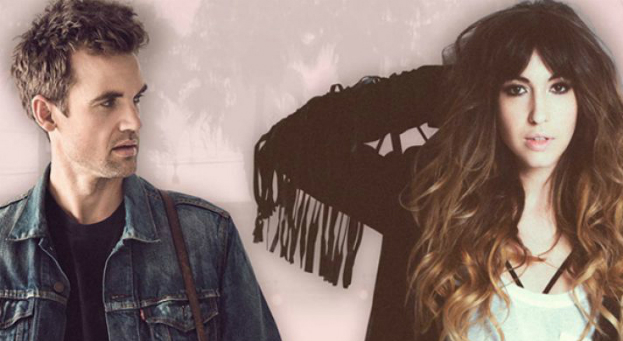 It may have been five years since American TV drama One Tree Hill left the small screen but last Friday night proved the show's beloved characters continue to live on in the hearts of Brisbane fans. The small, intimate interior of the New Globe Theatre was flooded with buzzing punters, more than ready for the talented offerings of Tyler Hilton and Kate Voegele, who played Chris Keller and Mia Catalano respectively on the hit series. As this was the duo's Australian debut it was no surprise fans had high expectations for the evening.
Brisbane jokester Your Man Alex Smith began the night with his energetic brand of Meatloaf-esque indie rock, wrapped in an eccentricity reminiscent of Seth Sentry. In between his self-deprecating humour he regaled the charmed crowd with quirky tunes from the surprisingly upbeat Tragedy to a slow-building power ballad with Disney-inspired theatrics.
Smith delighted fans by announcing his new EP 'Guilty' could be purchased at the merchandise desk, prior to the launch next week. He then preceded with the title track, displaying his serious side with anguished lines like, "Where is the salvation I was promised?"
The set ended with a boisterous acoustic rendition of Journey's Anyway You Want It, which took an unexpected turn when Smith was forced to stop halfway due to a fainted audience member. After hilariously backtracking, he continued the track with twice as much spirit and the help of the crowd singing at the top of their lungs. "You're all wonderful," he beamed. "I feel like we've bonded!"
Deafening cheers and a chorus of "happy birthdays" exploded through the room as a bleached-haired Tyler Hilton and birthday girl Kate Voegele strolled on stage, acoustic guitars in hand. Accompanied by pianist Reni Lane, they launched into John Waite's Missing You, followed by classic Voegele throwbacks No Good and Sweet Silver Lining. The trio's tight performance was an incredible display of powerhouse vocals, heartfelt execution and undeniable chemistry.
Both Hilton and Voegele expressed their amazement and gratitude to the fans for selling out the show. When an enthusiastic fan asked them to come back next year the reaction was unanimous. "We're already booking the flights!" Voegele said.
Seeing the twosome play each other's songs was thrilling especially as they covered a satisfying number of tunes showcased on One Tree Hill including When It Comes, It's Only Life and the rocktastic Loaded Gun where Hilton took on the persona of a drunk western with killer growls, slurred vocals, and a truckload of swagger.
In between songs the co-headliners bantered and joked, treating the crowd like an old friend by discussing everything from Aussie fire alarms and leeches on heads, to Netflix stories and Aussie accent face-offs. When an overzealous fan yelled out for Hilton to take off his shirt, he promised it wouldn't live up to their expectations. "You think you want to see it but it's like a young Will Ferrell," he quipped. "Or cooked toast!"
Hilton gave the crowd a taste of his upcoming album with the weary-bound single –Overtime; while Voegele started a slow-burning inferno in Shoot This Arrow, a track she had just released that day. After requesting that everyone had something boozy in their hands, Hilton broke out into a round of Happy Birthday, with the crowd singing along to Voegele's blushing surprise.
Hilton dedicated Ryan Adams's When The Stars Go Blue to everyone who gave One Tree Hill 5 stars on their Netflix. Unfortunately this was no one as the show isn't on the Australian site; nevertheless the Ryan Adams cover melted hearts and created a nostalgic moment most OTH fans were eager to film on their phones. The crowd fell into a hush reverence as the duo then performed their beautiful rendition of Leonard Cohen's Hallelujah. There was something truly magical about the way they surrendered to the words, their voices blending and complementing each other.
The show ended on a festive note with Christmas classic Baby It's Cold Outside. It was an entertaining transition to see Voegele turn on the coquettish kitten charm and Hilton adopt a 'suave manly man' persona as the crowd soaked up every moment.
The intimate, stripped-back setting was such a refreshing reprieve from more sizable shows filled to the brim with props, gimmicks and special effects. Hilton and Voegele's unique vocals were clearly the star of this show and the only thing needed to make the night amazing. This was evident from the massive grins and excited chatter of fans leaving, presumably to begin a One Tree Hill marathon to help wait out the year for the duo's return.