LIVE REVIEW: $UICIDEBOY$ @ Max Watts – 05.05.2017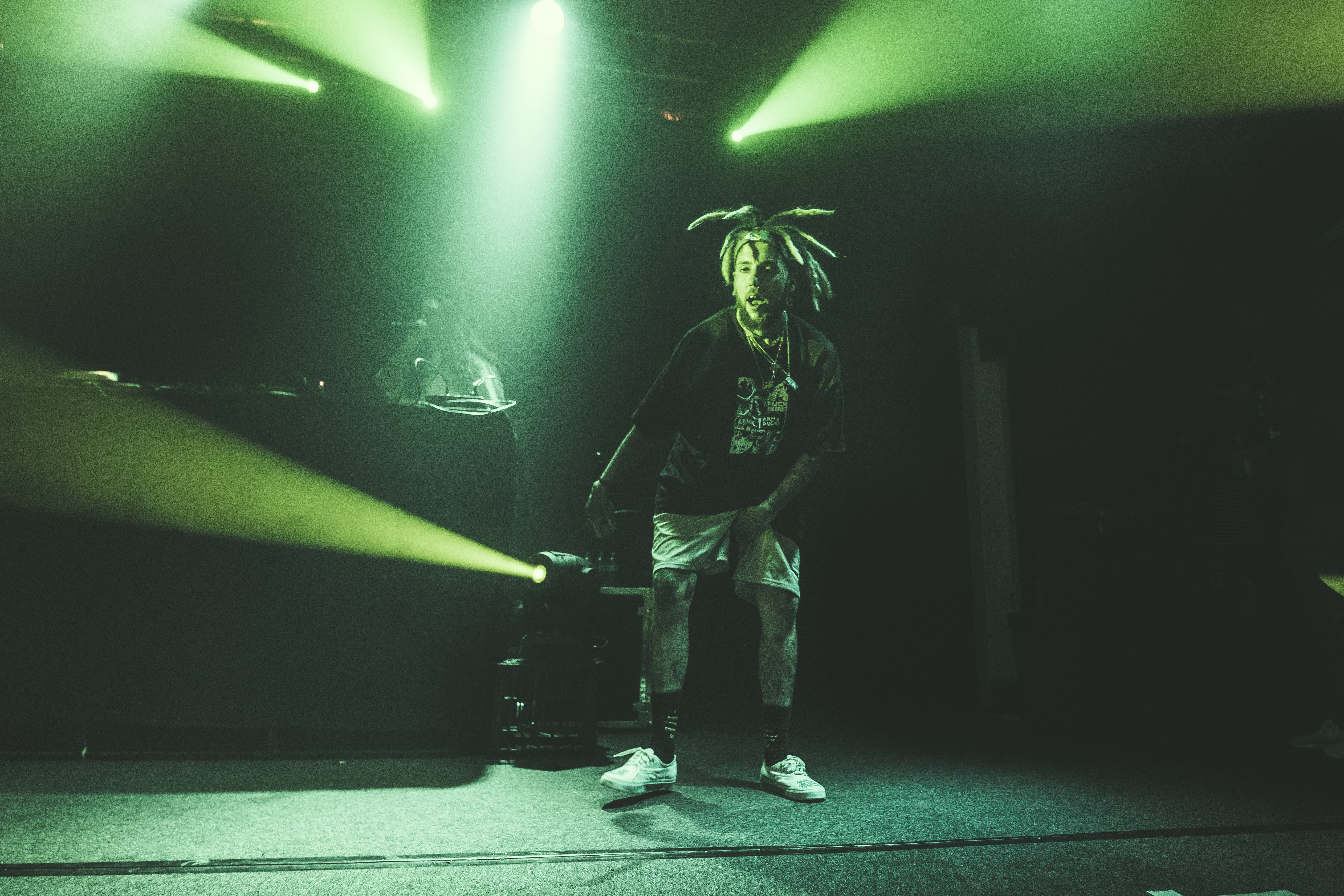 Brisbane is not exempt from its share of starred international talent, especially when it comes to travelling US rap groups. However, I'm sure it is not used to having the venue changed 3 times before landing the perfect area to house one night of madness. That is what Max Watts blessed $uicideBoy$, and 300 young, ecstatic horrorcore hip hop Brisbanites with this Friday evening to kick off their first ever Australian Tour.
Since the release of $uicideBoy$'s first 61 track studio album, Australia has been itching to get their hands on some live madness from them and they did not disappoint. Making the 8pm packed crowd wait over an hour with a DJ mashed hip hop set; playing tunes from Kanye, Kendrick Lamar, PushaT and many new wave rappers only heightened the crowd's excitement. Triple that excitement when two unassuming long haired figures are escorted through their fans to the back room behind the stage, throwing peace signs to the roaring crowd.
I'm sure what came next was not foreseen by anyone as the lights cut and the two rappers stumbled out on stage. They began endearing us with the loudest bass and an intense flickering light show, backed with lyrical wordsmithing and transgressive stage performance.
Immediately bouncing into the set, not wasting any time by proceeding in to Kill Yourself (Part II), Diemonds and Mount Sinai. The crowd was held captivated and in awe, while exhausting their legs from jumping through the entire set.
The boys rocked out for the next half hour, seamlessly with the sound and lighting crew as they encased 'Max Watts' performing area with an array of psychedelic lights, almost forcing everyone into a sub dimensional realm of trance. One that $lick $loth & Ruby Da Cherry themselves, too were encased in. Taking a much-needed break after their new track: Planting The Roots Only To Fall Out The Tree, Ruby calling out "Y'all got me fucked up! Imma need a hit of that shit right there" pointing to several clouds of smoke rising. At this point my strategic place on the mezzanine had been shrouded in a thick smell of sweat and narcotics.
Combining their signature robot zombie dance moves and leg kicks, eerie synth drops and articulately cramming what seemed like 30 words into a 3 second bar, the duo began to galvanize the crowd's minds. Skill is a word not used enough on these horrorcore hip hop connoisseurs.
The team flawlessly pulled out the well awaited bangers from their Debut album 'Songs That We Won't Get Sued For But At The End Of The Day We All Gonna Die Anyway' presenting sheer satisfaction in a room full of sense heightened, jumping youth. Ruby then pulls a classic and sprays several bottles of water while jumping to every beat of the next four back to back jams.
Shaping out the end of the set with masterful precision by whipping out Memoirs of a Gorilla, Paris and Southside Suicide, they then managed to somehow return for a sit-down encore of AM / PM, strategically allowing the crowd to dull down and take in what happened in the mayhem of the last hour.
For any fan, the VIP meet and greet was the easiest $75 purchase of the night. The duo's innate ability to surround the room and create a sense of family through their engagement with the crowd, astounds all average limits. Cramming 21 songs off their 61-song album while sporting several mosh pits, a wall of death and a shirtless stage dive from their very own DJ, Ruby and $lick $loth provided nothing but an hour of intensity, technique and beauty into a very underrated hip hop scene.