Live Review: Vera Blue w/ Golden Vessel & Matt Gresham @ Black Bear Lodge
Selling out any performance venue is an impressive feat for a fresh-faced artist, and The Voice alumni Celia Pavey a.k.a. Vera Blue did just that with her first national EP tour. The lodge was yet to fill up when her first support Golden Vessel a.k.a. Max Byrne stepped casually onto the stage, launching into atmospheric synthesisers before the pre-show murmuring died down.
Sounding like a mixture of Disclosure, Chet Faker, and Flume, the opening number Can't Stay was a winner. Soothing vocals were a match for the subtle production, growing cleaner and stronger as the track thickened into a dance number. Armed with only a synth desk, an electric guitar, and a loop pedal, Golden Vessel squeezed a big sound out of a small set. The tracks blended together seamlessly, the intricate production creating a sound that was both familiar and subtly unique.
Two-time X-Factor contestant Matt Gresham was up next, and for a burly guy with a stack of arm tattoos, he delivered an impressively pure, Matt Corby-esque falsetto. For the first half of his set he was clearly nervous, but his voice, gentle one moment and hard-hitting the next, was faultless. His nerves gave the opening numbers, especially his single Small Voices, an extra sense of rawness and passion.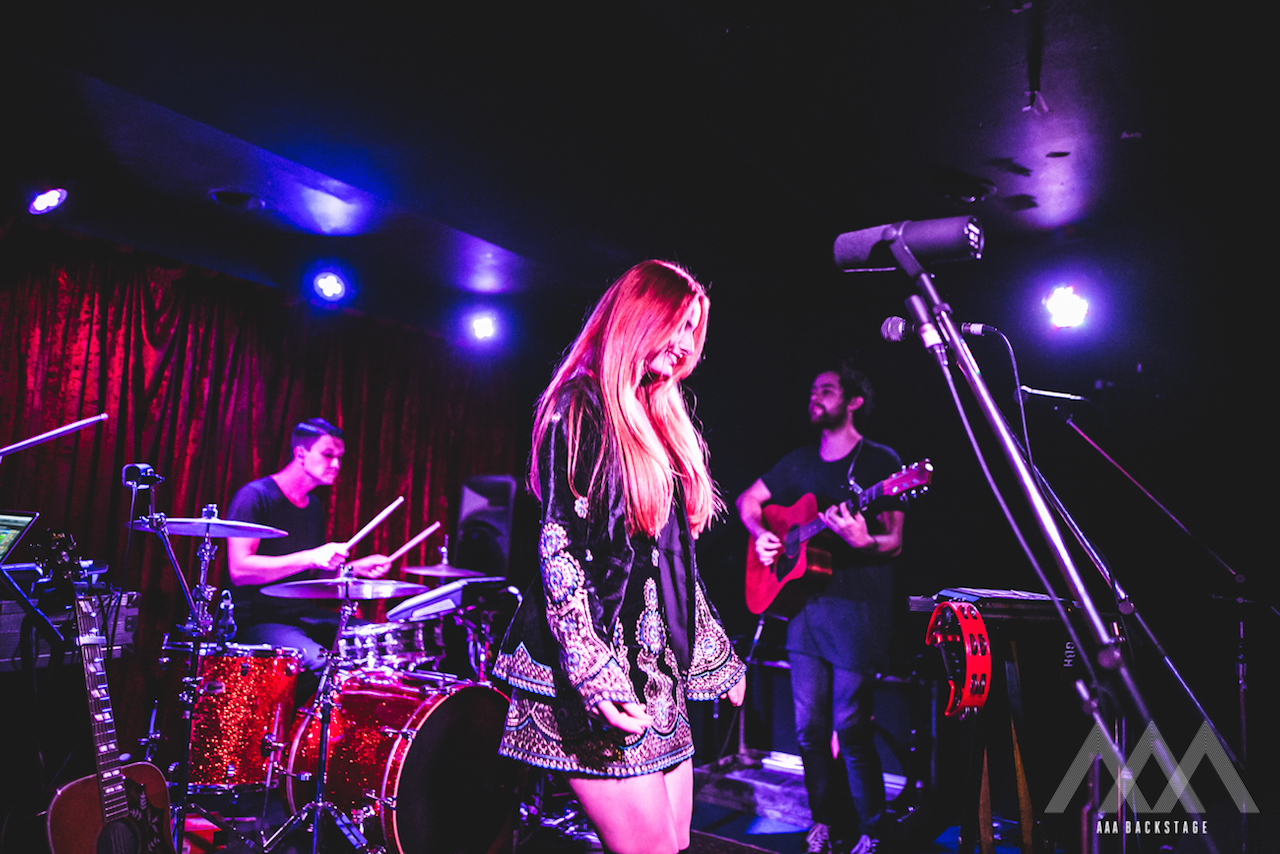 Halfway through the third number, Gresham's stage confidence caught up with his voice, sparking up the performance as he began to make eye contact with the audience. Lover was a performance highlight, brimming with so much emotion that it almost left him in tears. He finished strong with the powerful vocals and catchy melodies of his yet-to-be-released tune Survive On Love, and few in the crowd were able to resist dancing and tapping along. With one short, emotionally honest set, Gresham had won himself a room full of new fans.
After an unusually long soundcheck, Vera Blue's band appeared onstage. Swelling, pitch-bending synth started the performance with energy and volume, leading into the familiar acoustic opening melody of Settle. Blue stepped out nonchalantly, nudging her way through the crowd towards the stage. Flicking her impressively long red hair in time to the beat, she didn't waste any time getting into a performance rhythm. She had the room in the palm of her hand with her incredible vocal acrobatics as she launched into stratospheric high notes during the song's bridge.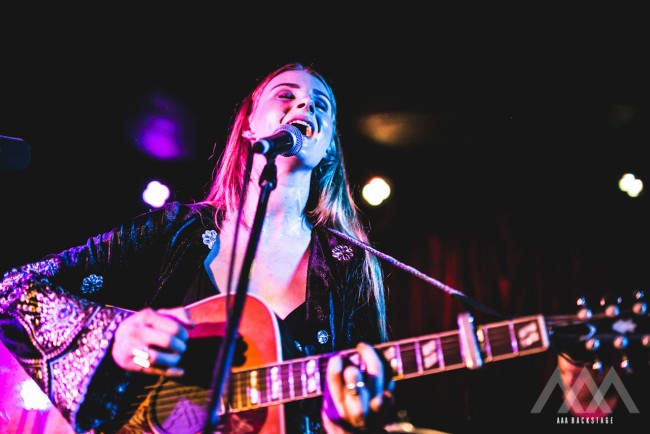 Blue's cover of Feel Good by the Gorillaz was an undeniable performance highlight, providing an opportunity to show off her vocal ability, talent for arranging, and smooth touch on the synthesisers all at once. Her trademark high notes completely revamped an old song, building through to the end of the second chorus where the drums and synth exploded with energy.
Being packed tightly inside the venue didn't stop the crowd from dancing along to Turn. The prerecorded, multilayered harmonies on the track were impressive in themselves, but more impressive was the way Blue slotted her own vocals amongst them in perfect pitch.
Despite sound complications leaving her struggling to hear her guitar over the synth, she battled through and stayed impressively in tune through Patterns, the last track from the 'Fingertips' EP. Her guitarist came to the rescue halfway through the song, plugging her guitar into another amp, and although she was visibly shaken by the sound slip-up, the crowd cheered louder than ever as the song finished.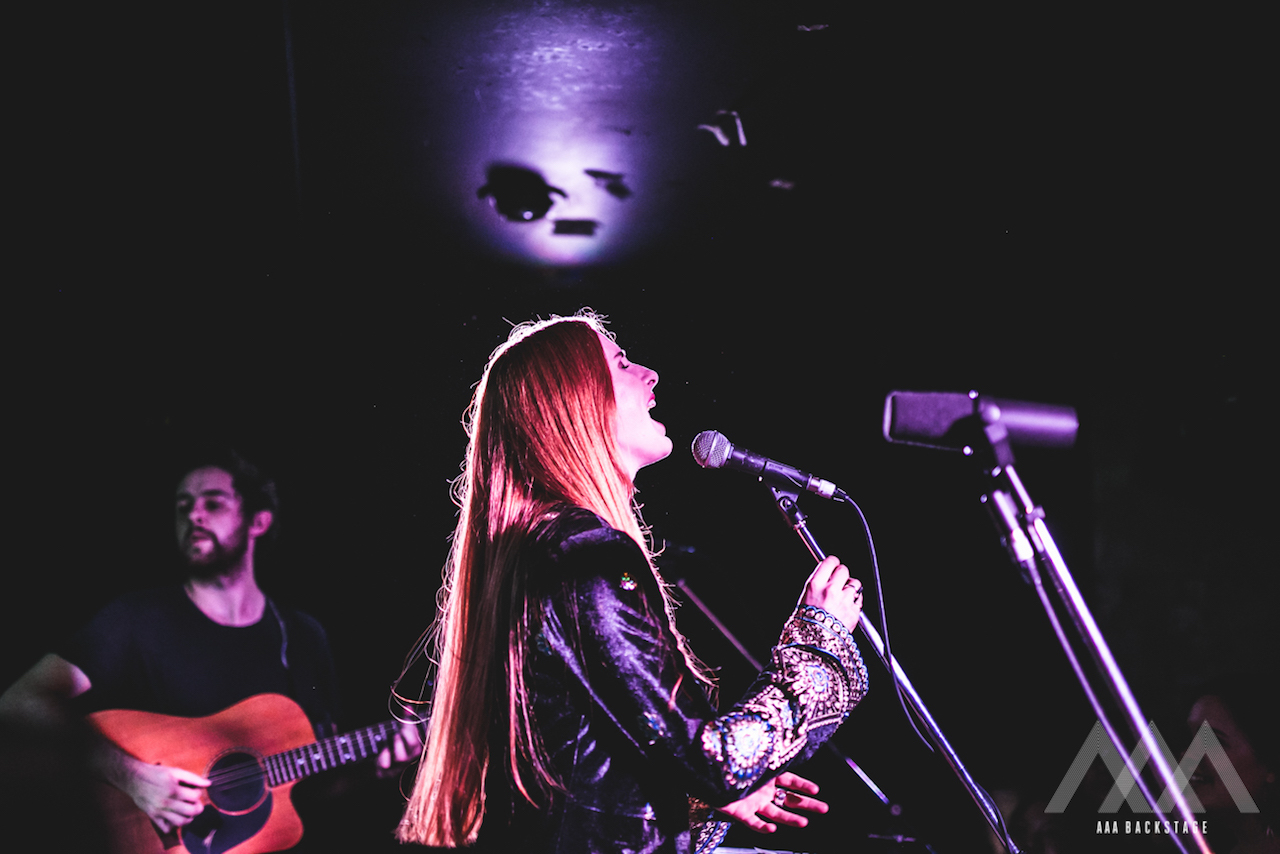 Blue's Like A Version cover of Jack Garratt's Breathe Life translated perfectly into a live setting, and she looked so comfortable with the song that it could have easily been one of her own. She followed up a strong cover with an even more powerful performance of the remaining songs from her 'Fingertips' EP. Still in shock after the microphone drama and close to tears, her performances of Private and crowd favourite Hold were packed with extra emotion.
Blue's encore solo cover of Ani DiFranco was the perfect end to an emotional performance, stripping back the layers of sound to highlight the purity and honesty of her voice. The song was so raw and different that it became like a spiritual experience as she closed her eyes, allowing the sound of her own guitar to wash over herself and the audience. It's Settled – Brisbane loves Vera Blue no matter what goes down on stage, and what's not to love?
Check out our Photo Gallery from Vera Blue's Brisbane show HERE