Melbourne Festival Announces Lineup & David Bowie Tribute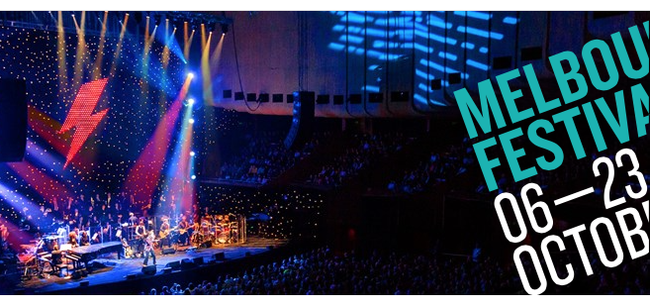 This year's Melbourne Festival is lining up to be a great affair, with acts from around the world coming to the cultural capital as part of the city's contemporary music program for 2016. Not only that but one of the main features at this year's fest will be a huge tribute to the late David Bowie.
Featured on the lineup are singer-songwriter legend Paul Kelly, and Irish-French musician Camille O'Sullivan who will perform together, celebrating the words of W.B. Yeats and other Irish poets in 'Ancient Rain'. iOTa, Tim Rogers, Deborah Conway, Steve Kilbey, and Adalita will also be at the festival, performing 'David Bowie: Nothing Has Changed', which will be backed by the Melbourne Symphony Orchestra.
Also at the festival will be Dead Can Dance's Lisa Gerrard, the Philip Glass Ensemble, Grant Lee Philips, and a performance of Clinton Walker's 'Buried Country' documentary by a cast of singers and songwriters. The Melbourne Symphony Orchestra will also perform 'Star Trek: The Ultimate Voyage' as part of the 50th Anniversary Tour of the series.
The festival starts on Thursday, 6th of October, and with many more acts yet to be announced this is sure to be an experience not to miss!
Melbourne Festival 2016 Music Lineup:
'David Bowie: Nothing Has Changed' — iOTA, Tim Rogers, Steve Kilbey, Deborah Conway and Adalita
Paul Kelly & Camille O'Sullivan — 'Ancient Rain'
Philip Glass Ensemble — 'FILM LA BELLE ET LA BÊTE'
Lisa Gerrard
Grant Lee Phillips
Gwenno
'Buried Country' — Roger Knox, Auriel Andrew, Luke Peacock & more
Joshua Redman & Brad Mehldau
'Star Trek: The Ultimate Voyage' — Melbourne Symphony Orchestra
Cate Le Bon
Julianna Barwick
Robbie Thomson 'XFRMR/MESS'
Le Terrible Orchestre de Belleville — 'The Triplets of Belleville'
Brad Mehldau
Ensemble Offspring — 'The Secret Noise'
Zubin Kanga — 'JOHN CAGE'S SONATAS & INTERLUDES' & 'Cyborg Pianist'
Melvyn Tan
+ more to be announced
Melbourne Festival 2016
THU 6 OCT – SUN 23 OCT
Various Venues, Melbourne
Get Tickets HERE
Tickets on sale 9am Friday, 5th of August