Mental Health and the Music Industry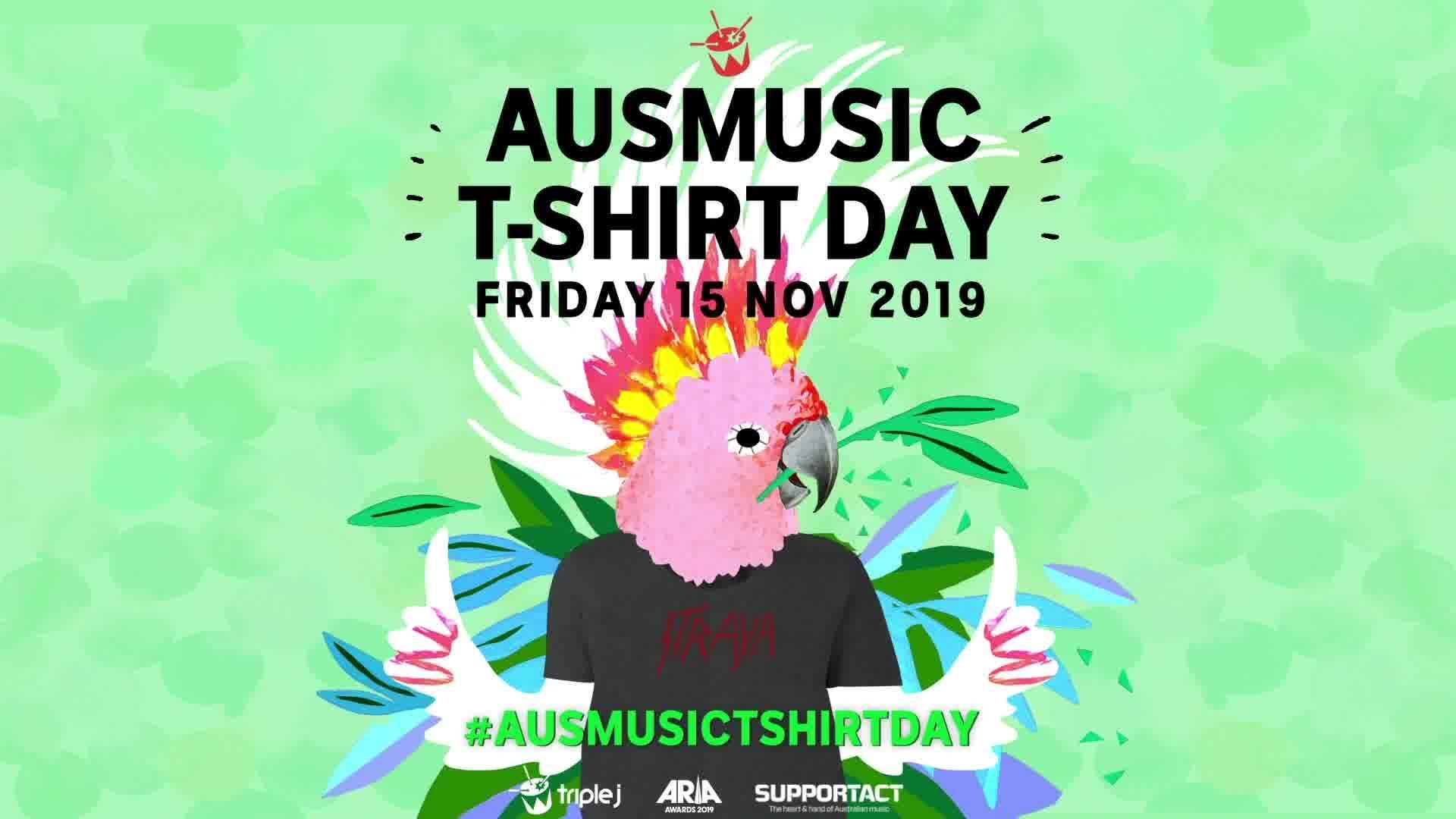 In the midst of November, we approach the annual Australian Music T-Shirt Day (November 15), brought to us by Triple J, Aria and Support Act-an organisation that provides support and financial aid to those in the music industry regarding mental and physical health. Being a part of the celebration this year means being part of a community banding together to lend a helping hand for those doing it tough. It is the time to put on our best Aussie band shirts, raise funds for those struggling in the industry and shine a light on the importance of mental health advocacy.

To me, the importance is paramount because it is such a broad and personal experience, under such a large umbrella. Our top priority should be to help and support these people in the spotlight who constantly have their mental health be put on the backburner. Speaking out about the issue now is essential so we can connect and empower others, remove the stigma and remind ourselves we are bigger than our mental health issues. In my opinion, we are moving in the right direction and with more advocacy, funding and discussion, mental health stigma, discrimination and assumptions will be a thing of the past.
In light of this, I wanted to delve a little deeper into the word of mental health in the music industry. I wanted to learn more behind how mental health affects musicians personally and musically, the link between creativity and mental health, the stigma surrounding mental health and why it is so important to create more open discussions around the issue.
I have collaborated with local Brisbane and Gold Coast musicians who were willing and kind enough to share their views and experiences regarding the topic. 
Why is removing the stigma of, and creating conversation about mental health so important to you?
"Mental health is just as important as physical health, and mental illnesses can affect everyone. It is important to have open discussions and shine a light on the importance of mental health because raising awareness of it can literally save lives." -Rosie Jacobson
"Because talking and expressing your feelings is all a part of the healing and coping process. When you push all those feelings deep down inside, they can go unchecked but they will always find their way out subconsciously and result in negative behavior and life choices. So, if we openly discuss our mental health issues with trusted friends, we realise that lots of people struggle with their own and it's quite a normal human thing. The stigma exists because it isn't openly discussed. People who are dealing with mental health issues quite often do not want to burden others with their problems…. but if they reach out, they'll realise they're not alone and that another's perspective can make a big difference." -Benny Williams
"I've suffered with it all my life and I think a lot of it right now is misguided, using the depression tag for a lot of stuff.  I think a majority of people don't actually know what it really does, they just use it as a term, 'I'm sad about this, so it means I'm depressed.'
When I was growing up and going through it, it's kind of instilled in males that we aren't supposed to be the ones having emotions-and not to say we have it any harder than women, but that's how it was for me." -Bo Antrobus
"Removing stigma is crucial because I think it will remove a lot of fear people have regarding opening up about having these issues. It will help everyone feel less alone, knowing that others are experiencing the same thing. I hope it will remove the feelings of shame and weakness that people feel because they have a mental illness. The rates of mental illness are so high, almost everyone has some kind of issue. It's ridiculous that it's still so under represented & stigmatised as a weakness." -Wade Felsch
Do you think there is enough conversation about mental health in the music industry? Is it lacking or are we moving in the right direction?
"It's easy to say we can always do better, and that's true. However, our experience in the music industry surrounding this issue has been truly affirming, we are definitely heading in the right direction. Songwriting is less self-deprecating, more uplifting and supportive in nature. We're much less vicious with our expression in recent times and that is an incredibly progressive reflection of where we are heading." -Callum Robinson
"Personally, I feel we are moving further and further into the right direction. A good few years ago, singing or talking about being upset or depressed in your music was considered "dark & emo", but now it's definitely become something that's so important that it's at the front of campaigns and advertisements and fundraisers." -Cody Tyler
"I think we are definitely moving in the right direction towards openly discussing mental health. I see a lot of panels at events like BIGSOUND and QMUSIC etc. meetups which aren't shying away from any heavy topics plus promoting togetherness which takes the isolation away from suffering. I think musicians themselves as well are beginning to be more open about the things they do are have suffered from. There have been a bunch of albums recently that do not shy away from heavy topics or areas that are usually kept private. I think the most beneficial for me and my experiences lately was Montaigne's 'Complex' which dealt with topics from body image, chronic pain and the way that affects your life, her sexuality and her experience with domestic abuse. Then of course albums like Camp Cope's 'How to Socialise and How to Make Friends' (particularly 'The Face of God') and Stella Donelly's 'Beware of the Dogs' speak volumes for women's issues as well as highlighting issues for women in the industry as well as everyday life. Then there's acts like Julien Baker or Sorority Noise who don't shy away from any part of their suffering or grief, which is both confronting but also may make a listener feel less isolated in their deepest, darkest feelings. I think we are definitely headed the right way and starting the right conversations and the best thing we can do as an industry in a community is to continue to be as open, honest and confronting as we can to completely strip the stigma away and increase the community and normalisation of suffering to take the isolation out of the experience. I am a huge believer that there is no more of a powerful way to recover than by sharing stories and letting yourself and others now that you/they are never suffering alone- someone will always know how you feel or be living proof that recovery is a possibility. -Emily Hollit
Is there anything that could be done now in the industry that would help create that conversation and normalize it in everyday life?
"I think we need to open up the platform more. There seems to be a separation between bands and fans and I think that has to be kicked over a little bit. Obviously, bands are creating content about these things, and so I think we should be able to open up – I do it myself with Diskust. All of our fans know they are able to come to us if they have any problems and at least have someone to chat to. Also keeping in mind that we have to look after ourselves." -Bo Antrobus
"I think from a business perspective, donations from ticket sales or merchandise to mental health awareness or suicide prevention charities would both raise awareness and make a difference. From a personal standpoint, I think if artists can stand up and be honest about what's affecting them it would make a big difference to the fans that look up to them. -Rosie Jacobson
"We could always host more events that support mental health charities. The biggest changes come at the individual level, treating each other with kindness and respect. At the end of the day we're all equal & should be treated as such. A small gesture of kindness might make a world of difference to a person & has the ability to change their world. I think that's what the heavy genre of music is supposed to be about, togetherness & never feeling alone. Bring it up, talk with someone about it. Actually, ask someone how their mental health is going & listen to them. Check back with them about it again & make it a normal subject of conversation, make It as normal as talking about your physical health." -Wade Felsch
"It really boils down to our government and councils. There is already serious neglect from our leaders regarding mental health. The arts have suffered by the hand of gentrification, killing our venues and damaging our community. This, in turn, affects the livelihood of artists and redefines what it means to be a "struggling artist" in any medium. We have incredible resources such as QMusic who do so much great work for our community here in Brisbane, if they can stay afloat and continue their hard work into the future (which I'm certain they will), I'd urge more industry pros to follow in their footsteps. Less profit, more love for music and the people we share it with." -Benny Williams
What is your stance regarding the statement 'creative people are more inclined to suffer from mental health issues'?
"I'm 50/50 on that statement. I've seen some close friends in music go through some really, REALLY dark stages. but I've also seen it happen to people outside of the respective "scenes" I associate with. Personally, I found that being a Creative individual/Musician can aid with my depression, but that's not always the case with everyone else." -Cody Tyler
" I think there is definitely so much truth to this statement. Creative people often fall in to careers that are beyond difficult to become financially stable off yet also are in such a public position that people are both hypercritical of you yet also project one image of what they think you should be. Music, as well as all forms of creative art, take up so much time and money to create and a lot of art is a projection of our own emotions and vulnerability- which makes our increased subjection to scrutiny and criticism that much harder. I think the amount of 'yourself' that is put in to creating art is such a unique position to have your vulnerability critiqued is difficult in such a hard to express way." -Emily Hollit
"I'm no expert, but I would tend to disagree. I think creatives are more inclined to share their suffering and wear their hearts on their sleeves, art is inherently selfish. However, I don't think they are more likely to suffer from mental health issues. Alcoholism, domestic violence and character flaws of many non-creatives are driven by depression, stress, anxiety, the list goes on. It would be vain to assume that our creative disposition makes us more susceptible to mental health issues.  More than half of all suicide deaths in 2018 (54.8%) occurred between the ages 30 and 59. ( https://www.lifeinmindaustralia.com.au/about-suicide/suicide-data/suicide-facts-and-stats). These statistics are not defined by the creativity of victims. They are reflective of the issue though. Our age bracket in the music scene of artists is predominantly individuals aged in their early teens to their mid 30s. Most of the conversation is happening with millennials. The stats show that the marginalized aged bracket of men upwards of their 30s are the ones to commit suicide the most frequently, meaning, the issue is far more pressing with the generation and sexual orientation that was raised to fear the conversation… 'man up" and all that. Relatively speaking, the statistics apply similarly to women, however, on a much smaller scale, possibly because historically, women were encouraged and even satirized for being more expressive emotionally than men. There is still little information from these sources surrounding non-binary, trans and gender-fluid individuals." -Callum Robinson
Being in this industry there is so much pressure, rejection, criticism and insecurity to deal with on the daily. The constant strives for success and inability to healthily deal with 'failure' is sometimes also met with unfavorable external factors i.e. alcoholism and drug dependence which can lead to or enhance mental illness'. Especially due to the fact this is an environment heavily surrounded by, and often encouraged to engage in substance abuse contribute into the 'tortured artist' stereotype.
'The tortured artist' is undeniably one of the biggest tropes in the music industry and a fragile one at that. There has been controversy over whether or not the music world is creating a generation of depressed teens and the exploitation of mental health in music. Whether it be the romanticisation of mental health or the popular cultural reference to the '27 club.'
Contrasting studies have shown that an abundance of drug and alcohol use does lead to new experiences above the 'normal' level of the human psyche, thus creating more informational matter to write about (Trynka 2011.) However, the scientific research has been adamant that substance abuse has a negative outcome of the creative process in the human brain (O'Dair 2016)
As much as creating and writing music can be a release, it is not the be all end all cure. We must acknowledge that various catalysts feed into this negative mind space within the industry. We must separate 'creating great art' from mental health and other connected problems. We need to recognise mental health not as a sign of weakness or failure and learn to take back our identity instead of letting mental health define us and others.
Music is, for most people, one of the biggest things in our lives so why not get around amazing community initiatives like the Aussie Music T-shirt Day and mental health advocacy actions.  It's not easy making that first step, reaching out and asking for help, but I assure you once you do it, it will be like a weight has been lifted off your shoulders. The people you surround yourself with and who love you don't think you're a burden, they want what's best for you, and so should you.
I would like to extend my thanks to those people who got in touch with me to be a part of this project.
Rosie Jacobson: Vocalist – In Eyes
FB http://facebook.com/ineyesmusicgc
IG https://www.instagram.com/ineyesmusic/
Music https://open.spotify.com/track/035DZB7ixhO55HHJvUzkqV?si=u4e2ucT0TKuimI4ob5R91w
Bo Antrobus: Vocalist – Diskust
FB https://www.facebook.com/DisKustband/
IG https://www.instagram.com/diskust/
Music  https://open.spotify.com/artist/0qUQPJAt9bLuMXMQsG1C6S?si=I_QdHGieQNersdLfhEkQBg
Emily Hollit: Artist – Malina Claire
FB https://www.facebook.com/MalinaClaireMusicx/
IG https://www.instagram.com/malinaclairex/
Music https://open.spotify.com/artist/6qKceBpVroqrLLVZf3oZpv?si=sYW3BC2TQaqxlgmCYPZ16A
Benny Williams: Artist and producer
FB https://www.facebook.com/bennydwilliams/
IG https://www.instagram.com/benny_d_williams/
Music https://youtu.be/oSbBH9M72AE https://open.spotify.com/artist/0lj6NNmdJOLGIyR7g3Vyrq?si=_yauCbRLSyCCuzzHlxlidg
Callum Robinson: Vocalist/guitarist – Semantics
FB https://www.facebook.com/Semanticsband/