Music Festival Q & A: Sunhaus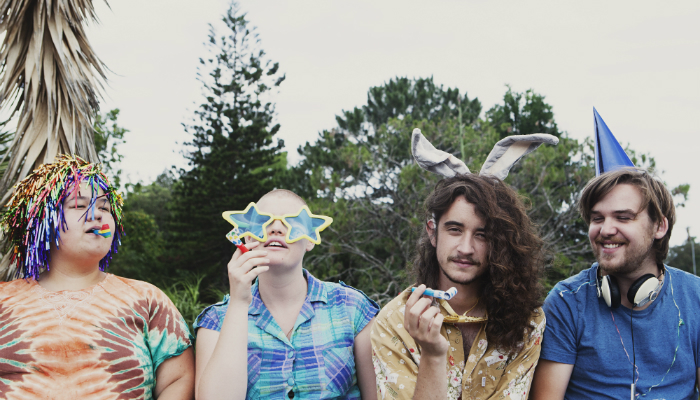 Brisbane truly is the sunshine state, at least in terms of cracking new bands. New kids on the block Sunhaus have released their care-free heartfelt debut single Realignment, a track that's an instant winner and sure to be 0n our office playlist for months. We asked the quartet how to best approach music festivals and the story behind their debut single.
If you could start your own music festival, what would it be called and what would it look like?
Moosic – a festival in the countryside with cows roaming around, because cows rock and the country air is the best smell around.
What's your ultimate music festival lineup?
Death Cab For Cutie, Mountain Goats, The National, Frightened Rabbit, Pixies, The Cure, Daniel Johnston, and Sonic Youth (if they ever get back together). Each of them has their own timeless awe-inducing elements, and there's nothing more satisfying than watching your teachers play. Also, Dave's bass guitar is named after Kim Gordon, so it'd be neat to see some hi-fives. 
If you could headline any music festival in the world, which would you choose?
SXSW, Glastonbury, or Splendour In The Grass. So many brilliant artists that we appreciate and admire perform at these festivals every year, and it would be life changing to share a stage and a jug of beer with them.
Do you hit the pit as hard as possible or stand at the back and just watch?
We often try to seem like we know how to dance, but it usually ends up with limbs in every area of the room at once. In a means to avoid the potential anger and/or sliminess in a mass of people hurling their bodies around at you, and everywhere else, we tend to disco at a distance. Punk rock am I right?
Performance wise, what's the worst thing that could go wrong during a festival set?
A crowd that is disrespectful to each other would be our greatest fear…causing injury, groping, aggression. Performance-wise, maybe blowing your voice out on a high B, Nobody wants to know what that sounds like! However on a less jocular note, it would be feeling like we didn't put everything that we could into a performance. Collectively, we are emotional and expressive people, and as musicians, those traits are massively drawn into what we write. To perform mechanically is simply not something that satisfies us.
If three beers a day keeps the stress away, what's the perfect amount of alcohol to consume over weekend music festival?
A cheeky beer or six, and then some breakfast. Just kidding. Staying relatively sober for festivals is actually quite rewarding, and less regrettable. I mean, like everything else it's all down to perspective – if you want to forget whether or not the music was worth the savings, drink a carton, or if you want to remember the tear rolling down Brian Wilson's right cheek as he sings the third verse of I Just Wasn't Made For These Times at 73 years of age, drink a little less.
For the uninitiated, how do you describe Sunhaus' sound and live shows?
Sunhaus is honest and unafraid to share everything that they are with the audience. We do not write for emotions to only be felt in words, but for the instrumentation and structures to have an equal impact. We've also really honed in on harmonies, synth and pedal effects, which has added a vast range of elements to our sets. Bright, emotive performances, blended with passion and precision is what we aim for on a consistent basis.
We're loving your latest single Realignment, what's the story or inspiration behind the track?
Realignment is a song about adoring the absolute of somebody, with a drunken state completely accentuating that. The unrequited love is the strongest of all, and this song expresses the hope in that moment of that positivity prevailing.
Lastly, what's the rest of 2016 hold for Sunhaus?
We are planning on releasing a six song EP in October and touring that through Brisbane, Sydney, and Melbourne. Before that we're doing an East Coast tour, and most shortly we are playing at The Back Room (Brisbane) on the 29th of May. We have a few surprises up our sleeves too!