New Info On The Rage Against Machine/Public Enemy Rumours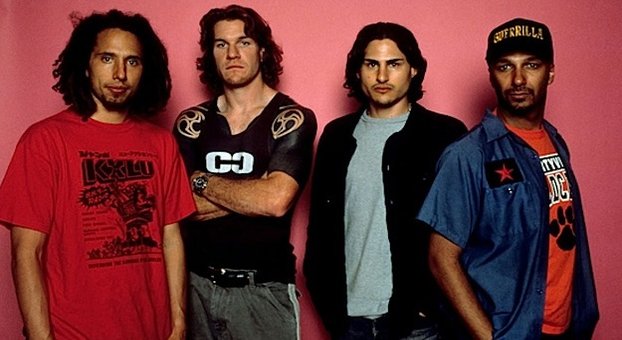 The internet was in a flurry earlier this week with rumours of a Rage Against The Machine (RATM) reunion doing the rounds. This rumour started up after people caught wind of a website called ProphetsofRage.com – which shows a page with a countdown until May 31, with the hashtag #TAKETHEPOWERBACK.
RATM fans put two and two together, added in a little bit of wishful thinking, and decided that because Take The Power Back is a song by the band, and Prophets of Rage is a song by Public Enemy, it MUST mean that Rage Against The Machine are reuniting and going on tour with Public Enemy!
Sadly, this wasn't the case. Well, not exactly at least. It has since been reported Prophets of Rage is a new supergroup which will feature ¾ of RATM (everyone except vocalist Zach De La Rocha), plus Chuck D from Public Enemy, and Cyprus Hill rapper B-Real.
This surprising new rap-rock group are allegedly set to tour together, with mention they'll perform songs by all three bands. Whether they will create new music together or just be performing covers is currently unconfirmed. The band are scheduled to play their debut show for Hollywood's Palladium on Friday 3rd of June, with rumours of a possible 2016 Summer tour also floating around.
This is still some pretty sick news, but a lot of fans were bummed out due to the false sense of hope for a full RATM reunion. For those unfamiliar with the band, Rage Against The Machine first formed in Los Angeles in 1991.
The following year saw the band releasing their self-titled debut album, both a critical and commercial success, and led RATM to skyrocket into the mainstream with singles such as Killing In The Name and Bullet In The Head. RATM became well-known for writing songs about oppression, government control of the media, and revolution, and caught the attention of disenchanted youths worldwide.
Only time will tell if Prophets of Rage is a tasteful nod to the legacies of it's members bands, a new vehicle in which to discuss the social issues still occurring within the US, or a poor attempt at reigniting the revolutionary flames of youth. We're hoping it's not the latter!