Olympics Theme Q & A: SIMON SIMON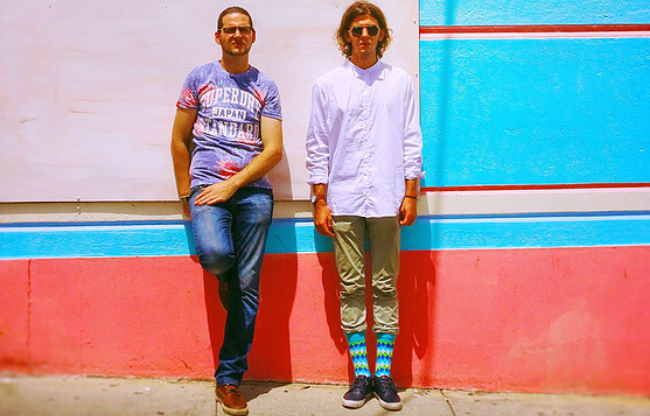 SIMON SIMON is the psych­-pop musical love­child of Simon Svoboda's heavenly vocals and Joshua Rivory's synthesiser-heavy production. Drawing inspiration from Radiohead, SOHN, and Sigur Ros, SIMON SIMON create an intriguing blend of strings, postrock, and electronica. We asked the two gents how they'd use the Olympics to further their music and why you should get down to their single launch in a few weeks!
The Australian team is desperate for numbers in their synchronised swimming team, which band member has the prowess and style to fill the void?
Simos because of his mad limbo skillz and sick sock collection.
Of all the Olympic events on show, which sport would make for the best music video for your band?
Definitely equestrian sports because they are perfectly mundane, but still a good vibe.
Which band member thinks they could beat Usain Bolt in a 100m sprint on the beach?
Josh because he's a beat machine and an arrogant mother*cker.
In the Olympic village, who goes too hard in the buffet, and who walks around like they're the biggest thing since sliced bread?
Both. We love a great buffet lasagna, but be weary of the salad bar.
It's competition day, Australia gives you free reign to compete in any sport you like, what do you choose?
Polevaulting, because we like to vault poles!
How do you mask forgetting the national anthem's lyrics whilst singing on the podium?
Start singing Royals by Lorde. In for a penny! In for a pound!!
For the uninitiated, how do you describe SIMON SIMON's music?
Sun-bleached, rainbow psych-pop.
Your previous release Please has some serious Radiohead meets Tame Impala vibes, who are the main influences behind your music?
Radiohead and Tame Impala need a mention, but also SOHN, Kishi Bashi, LCD Soundsystem, Sigur Ros, and Vulture Circus.
Lastly, why should people come to your single launch at The Zoo?
Because there will be free water. Plus good vibes, three sexy supports, cooked out tracks, and a Young Henry's drink special on a Friday Night!
SIMON SIMON Nothing To Say Single Launch
w/ Isaac Cavallaro, Kieran T. Stevenson, and First Beige
FRI 10 JUNE
The Zoo, Brisbane