Paul Dempsey Makes Morphsuit Couple Lose Their Minds In "Idiot Oracle" Video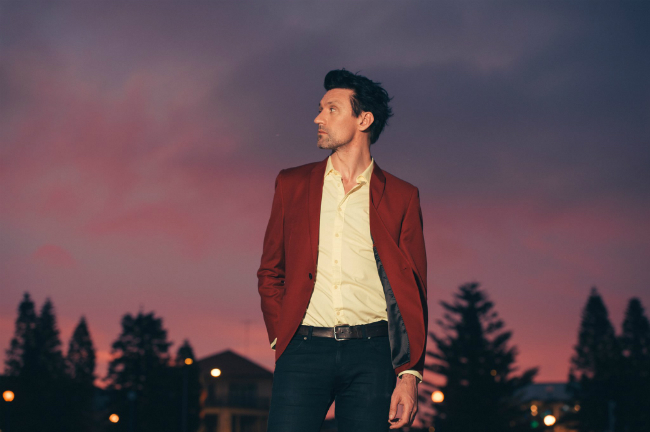 Legendary Aussie singer-songwriter Paul Dempsey has returned with his latest single Idiot Oracle off his recently released third album 'Strange Loop'.
In classic Paul Dempsey style, the song revolves around his acoustic guitar accompanied by his soothing vocals and heartbreaking lyrics. By the time the chorus hits there's a slight piano jingle that is complimented by his own 'looped' harmonies.
The Idiot Oracle music video gives you what you always wanted; a glimpse into the life of a couple rocking morphsuits, trying to go to bed in the woods. It starts off with Dempsey strumming his guitar (which then turns into a bundle of sticks, then an old school air guitar), on a constant loop that revolves around said couple.
As the song progresses the couple seem to get pissed off by the constant discrepancies of either Paul Dempsey serenading them whilst wearing a crocodile head or the dancing woman with lobster hands. Either way, this leads the couple to have an outer body experience alongside Dempsey who, in literal terms, loses his head.
Idiot Oracle is a song about love and despair, and despite the quirkiness of the video that is shown by the couple as they start off happy, dancing, and end by what seems to be the woman dying and lingering over the man, then him also dying and being one with the galaxy or possibly as an oracle.
If you also want to be serenaded by Paul Dempsey check him out on his upcoming 'Strange Loop' album tour, dates below!
Paul Dempsey 'Strange Loop' Tour
SAT 6 AUG
Theatre Royal, Castlemaine
FRI 12 AUG
The Trffid, Brisbane
FRI 19 AUG
The Metro, Sydney
THURS 25 AUG
The Gov, Adelaide
FRI 26 AUG
Astor Theatre, Perth
FRI 2 SEPT
The Corner, Melbourne (Sold Out)
SAT 3 SEPT
The Corner, Melbourne
THURS 8 SEPT
Workers Club, Geelong
FRI 9 SEPT
Grand Hotel, Mornington
SAT 10 SEPT
Meeniyan Town Hall, Meeniyan (Sold Out)
SUN 11 SEPT
Meeniyan Town Hall, Meeniyan
Get Tickets HERE