Live Review & Gallery: Brisbane Festival Closing Party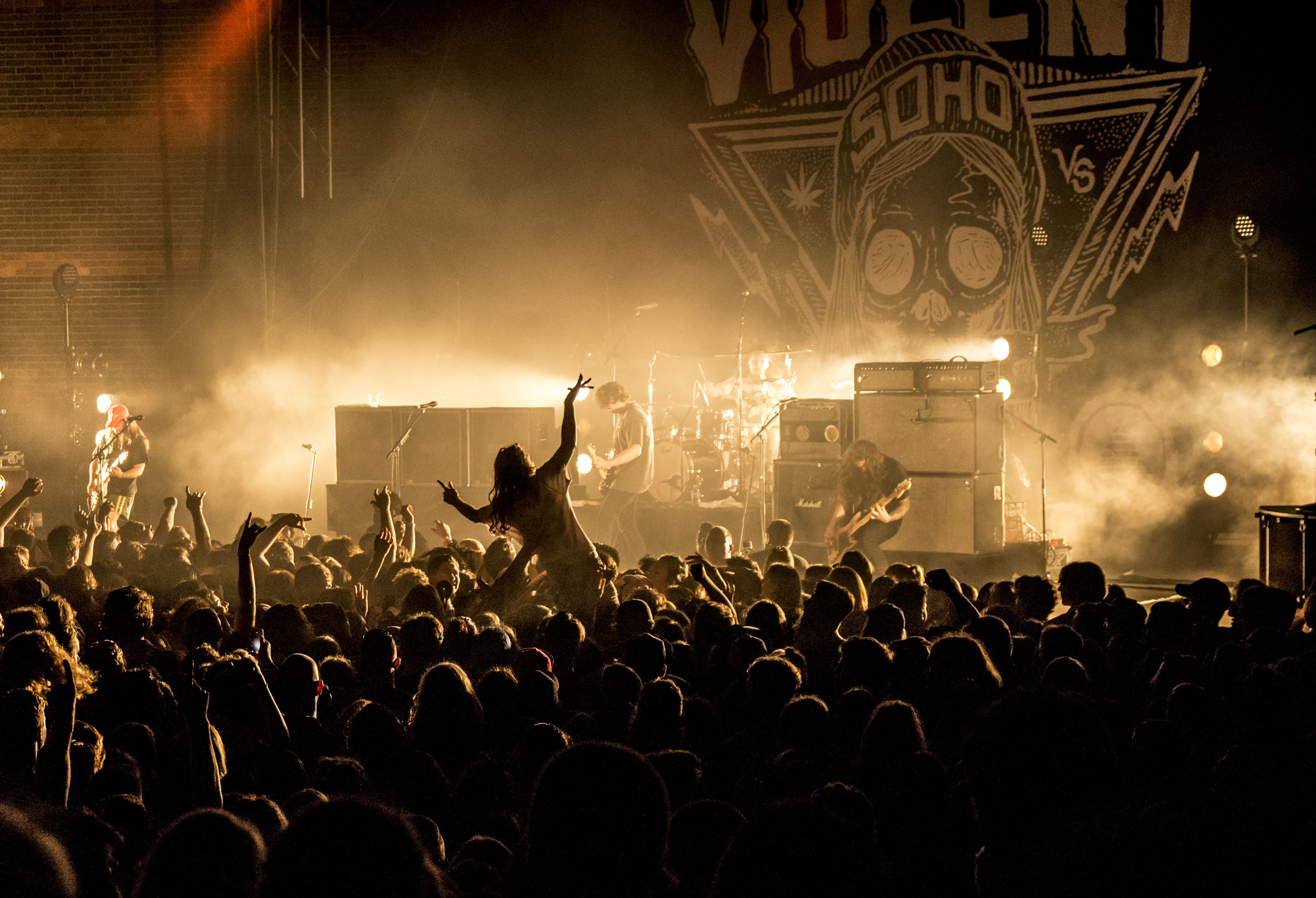 The sun shines down on you as you stand in line for the Riverstage, shifting your weight from one leg to the other. People around you are dressed like they're going to three different types of concerts; festival, punk and indie, but they're all chatting eagerly for the one. They let you through the gates, and you power up through, to see the welcoming sight of the grassy hill.
During the past month of the Brisbane Festival, the local music scene had flourished. With Ball Park Music and San Cisco performing at the opening night, and more acts performing all over Brisbane, it's only fair for everyone to be excited and keen for the Closing Ceremony.
And like typical Brisbane weather, you're sweating. You've got your party sunnies on and looking around at all the people who are dressed for Violent Soho, you're glad you went for the sneakers instead of the fancy shoes you were thinking about.
People are sitting down and chatting around you, waiting in the sweltering sun for the first band to come out.  And it feels like more than a pure coincidence when thick clouds cover the sun and Mane's deep and intense vocals fill the venue. Her music hangs in the air like a beautiful and eerie fog, and the people who are sprinkled around the grassy hill can't help but softly sway to the music. Though she had almost lost her voice, she powers through her set, each song showing up the last. Her almost modern-day circus sound makes your bones rattle and your ears ring, and despite the fact that you can feel her music all throughout your body, it felt like Mane is telling you a secret.
Then, almost as quickly as she came, the stage was empty again; Mane's atmosphere still hanging over the Riverstage. Even though there are dark clouds in the near distance, the sun has come back out and sitting down on the grass, it feels as though you're at a picnic. Just a really intense one. Tired Lion stands behind a few mixing decks, playing a generic mix of pop punk music, which at first feels jarring compared to the smooth and eerie sounds that filled the venue previously. Rain starts to sprinkle, and then you're reminded of who's to come next.
A bright blue screen with the words, "I've been disappointed lately," light up as WAAX come on and people start running down to the stage. The band itself has such an intense sound that is just topped off with Marie Devita's crazily hectic vocals. She dances and sings as though she is being possessed by her own music and by 3.25pm, so is the crowd. Everyone around you moshes to the point of you being squashed. Heads banging and arms in the air, the crowd and the band are in perfect harmony.
"WE USED TO PLAY AT RIC'S," she screams, and it feels as though your brain jumps around your head as you mosh as hard as you've ever done.
Rain falls harder, and the venue gets lit up by the soft pink hue of the Brisbane Festival. People start leaving the crowd because WAAX went too hard for them, and they know that Violent Soho will be very much the same, if not worse. Someone next to you is almost flattened by the amount of people around them, and you hear them say that their, "goal tonight is to get absolutely DESTROYED."
The Last Dinosaurs' DJ set has a bunch of old school rap and techno, and the crowd that's gotten significantly larger throws down to Fire Starter. The audience scattered on the hill starts to look like little poncho ghosts, waiting excitedly for the next act.
Synth sounds pierce the air, and Methyl Ethel is on. Their signature mix of keys and synth, as well as distorted guitars create an atmosphere that only they can leave behind. A ray of light pierces through the dark clouds and highlights the band amongst the dark stage. One of their songs has you pausing for a moment, noticing that the keys are playing at a different time signature to the other instruments, and the only way to describe that feeling would be creepily eerie and diegetic. Ubu had everyone dancing, throwing their hair around and shaking their heads.
Then they left the stage, and I OH YOU DJs had people still dancing to Shooting Star by Bag Raiders. More people join the crowd at the bottom of the concrete as you eat a cheese kransky. You're enjoying watching the crowd, until you realise that you've seen too many mullets for you to be this comfortable. You're getting prepared for the angelic vocals that are yet to come.
Nothing can really describe the feeling you get when you see Meg Mac walk onto the stage in her own tailored suit. Her strong vocal riffs light up the crowd and you know that it'll easily be one of the most memorable moments of the night. Maybe you've seen her before, or maybe you haven't, but you know that her range and vocal ability live shows up all of her recorded discography. Lightning flashes in the background over the river, as Meg Mac's ethereal vocals fill the air. Every Lie comes on by the third or fourth song, and you know that would've made a better entrance because it holds such strength and power behind it. The fog machine's overworking itself, in order to give this powerful singer, the supernatural look she needs. She covered Tame Impala's Let it Happen again, and more of the audience starts dancing to the upbeat rhythm.
Then Brisbane Festival shows you why you enjoy fireworks. Sure, you've seen it before, but while standing in the middle of the packed grassy hill, you see the Riverstage light up with bright and sparkling oranges, blues, purples and greens. All of your favourite eighties and nineties TV themes play as the sky explodes to the beat and rhythm.
But the crowd goes insane when Violent Soho's distinct flag slowly pulls up behind the drum kit. The band hadn't even started playing yet, and everyone was pre-moshing; warming themselves up for the big act. For a crowd that was so mellow for Meg Mac, they went off when the first chord was struck. Australia's modern rock band has got the audience wrapped around their fingers. You thought that you've seen headbanging before? Think again. These men on stage have hair long enough to compete with Vikings, and with that they showed the crowd exactly what they are made of. Some of the songs start with a simple bassline, and you scream the lyrics at the top of your lungs with the audience, starting the song for the band. You crack up laughing with your mates as guys start to be pulled from the audience for trying to crowd surf. And again, when you see a crowd surfing bin. You get excited with the audience when the band casually reminds you that they're from local Brisbane, and you lose yourself completely in the music. That's why you don't see them put an extra microphone stand on stage and why you get confused when you see the band pause for a second.
That's also why you absolutely freak out when Bernard Fanning walks on stage so casually, and he and Soho play "These Days". You hear someone scream out, "HOLY SHIT IS THAT YOU BERNIE" and you realise it's you flipping out. What a cover. You're dazed.
And what a way to have a final knockout punch than for Violent Soho to finish up with Covered in Chrome.
You're buzzing, talking about everything that had happened with your friends, your adrenaline still pumping from every single act that you had seen that night and you're craving more. The Brisbane Festival Closing Ceremony was exactly what you wanted it to be.