Live Review & Gallery: Good Things Festival Melbourne 2018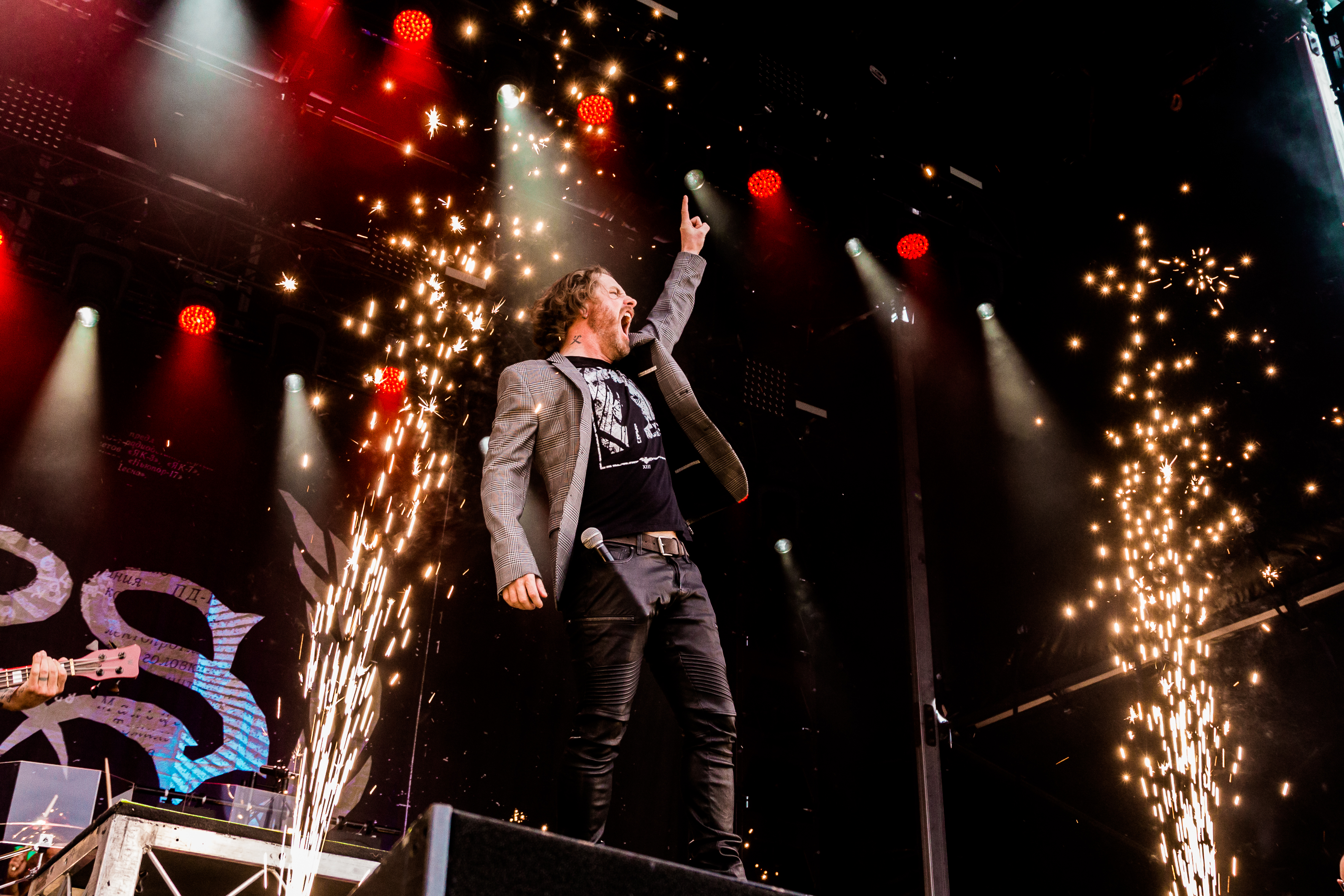 With a stellar lineup featuring The Offspring, Stone Sour, All Time Low, Babymetal and more, its no wonder that fans had been anticipating Good Things Festival for months, and after what felt like forever. With Melbourne weather reaching tops of 38 degrees, we were in for a rough day, but that didn't stop the thousands of fans from coming out to enjoy their favourite bands.
After a venue upgrade, the festival was held at Flemington Racecourse. There were rides, food trucks, bars, and two main stage areas, as well as mist tents set up to keep patrons cool. Overall, the area was quite small, and the standing spaces at the stages were nice and cosy, which helped everyone feel much closer to the front of the stage without having to jump into the pit.
Kicking off at 11:30am, the heat was already getting to everybody and the first few acts were enjoyed from afar, under shade. Stuck Out took to the main stage, while Ecca Vandal played on Stage 4. At 1pm, Waterparks rocked the main stage, doing their best to hype fans up in the heat. Things started to pick up when Japanese kawaii metal band Babymetal took to the main stage in their first ever Australian live performance. An equal mix of weird and wonderful, Babymetal delivered solid vocals and their choreography was tight and beautifully over-the-top. They engaged with their audience and had fans jumping around for the first time all day. Their performance was something that I felt privileged to witness.
In the evening, Aussie band Tonight Alive took to Stage 3, followed by Mayday Parade on Stage 4. Both bands delivered solid performances, and the GA area overflowed. This was probably the first time that everyone seemed to really be getting into the festival spirit, as it had cooled down and even started to rain slightly. Both bands had considerable energy which reflected onto the crowd as people crowd surfed, danced and sang to every word.
Afterwards, it was time for All Time Low to hit the Main Stage. Drawing a huge crowd, they put on a fantastic performance, with lead guitarist Jack Barakat getting sweaty bras thrown at him throughout the set. The audience was quite laid back, with most people securing their places for Stone Sour and The Offspring, but everyone seemed to be enjoying themselves. Closing with their hit, Dear Maria, Count Me In, All Time Low went out with a bang and it was time for Stone Sour to grace the stage.
The energy when Stone Sour took to the stage was unlike anything I'd experienced that day. It was clear that this was the moment that most people had been waiting for. With an hour-long set, they played tunes from five of their albums, with most of their set coming from their 2017 album, Hydrograd. Frontman Corey Taylor didn't disappoint at all, not letting the heat hold him back from delivering an energetic performance. Fans were left buzzed and wanting more, which hyped them up perfectly for the headlining act.
Across the venue on Stage 4, Dashboard Confessional was playing to a humble but energetic crowd. Performing The Places You Have Come To Fear The Most as well as fan favourites, they gave a wonderful performance and definitely gave it their all despite the clash with Stone Sour and The Offspring.
The day came to a close with The Offspring performing their album Smash in full on the Main Stage. Already on a high from the previous act, the crowd was wild from the beginning. Playing for over an hour, their set featured twenty songs, including a six-song encore. Crowd favourites were Come Out and Play, Self Esteem, Why Don't You Get a Job?, Pretty Fly (For a White Guy) and the closing number, The Kids Aren't Alright.
With the downfall of Soundwave festival in 2015, Melbourne hasn't really had anything that even comes close, until now. Good Things is the answer to heavy music fans' dreams, and despite the weather, it was a major success. Fingers crossed that we'll be seeing a 2019 announcement soon!