PREMIERE: HHAARRPP + JNXYZ Collaborate On Entrancing Electronic Mini Music Films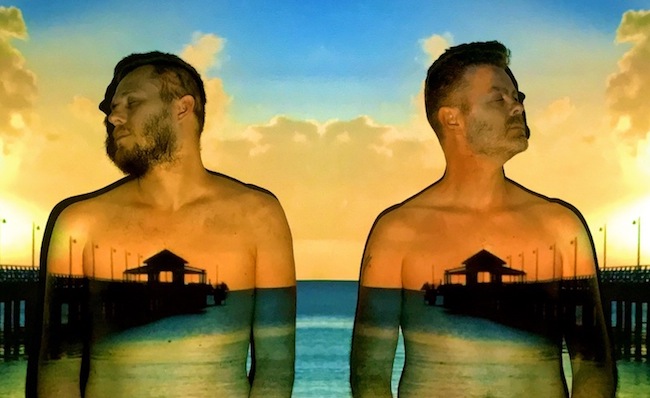 In an inventive take on traditional music video design and styling, Brisbane electronica artist HHAARRPP has teamed up with filmmaker JNXYZ, to release two new soothing tracks alongside music mini-films.
The pair of music-films entitled Blood Moon and Lines In The Sand are only the first of many planned for this collaborative duo, and are looking to be a promising new form of musical presentation. Shot just north of Brisbane, using only single-take footage, the videos depict a sunrise over a mirrored Shorncliffe pier, providing an ambient landscape to accompany the cinematic and yet completely relaxing atmosphere created by HHAARRPP's music.
The first of the two films, Blood Moon, showcases a stunning view over the pier, as the breaking of the dark cloudy sky unveils a beautiful morning's sunrise. HHAARRPP's calming electronica music begins peacefully and slowly, building up with the progressive layering of trickling and screeching effects. As the sun rises entirely, the time-lapse footage sees joggers, sightseers, and fisherman begin their mornings, and boats and birds appear on the horizon.
Seemingly the bottom half of the full image, the second film Lines In The Sand depicts the same Shorncliffe sunrise, this time from at the water's edge. The track itself finds its origins in samples from Sovereign Murders by Brisbane classical-pop band Nonsemblev, and was taken, reworked, and overlaid by HHAARRPP. Utilising the same mirrored effect from the pier image, Lines In The Sand shows the rocks and the shoreline as the entrancing rippling water laps the edge. The trickling water complements the orchestral base of the track, which escalates into an overlaid mix of instrumentation, featuring high pitched string work, pulsating electronics, and unlike the first film, deep vocals.
The two videos will be premiered at an extended sonic-film live event 'Infinite Dawn' in Brisbane during December, which will see HHAARRPP perform the extended version of each track. The short films will be transformed into marathon 30 to 60 minute sonic-scapes, as HHAARRPP mixes and morphs his tracks in what is expected to be a soothing and enchanting experience. As filmmaker JNXYZ says, "Our hypnotic and atmospheric take on the music video is also a type of ambient cinema… [it is] as much music for the film as it is film for the music."
Get a first-look at the videos below!