PREMIERE: Until Home Deliver Loads of Charm & Pop Anthems in Debut EP 'Optimistic'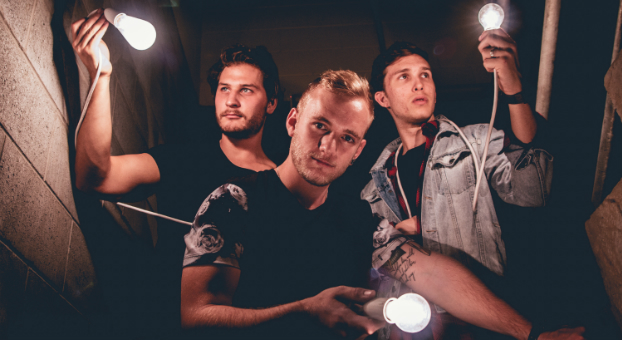 London's Wembley Stadium is the ultimate goal for many British rock acts (along with headlining Glastonbury), but it's little more than a nice pipe dream for most Aussies when doodling around with guitars and keyboards in their bedrooms and garages. After taking out the 'People's Choice' award in the final edition of the Brisbane's Indie 100 Project, Until Home jokingly say performing at Wembley is their new benchmark of success. Skip forward a few months and now armed to the teeth with arena-sized pop hooks and oozing with charm, Until Home have pretty much set the sky as their limit with the release of their debut EP 'Optimistic'.
Here at AAA Backstage we've been eagerly awaiting this EP ever since we premiered the trio's debut single Break My Fall at the start of the year, and honestly 'Optimistic' has exceeded all our expectations! Anchored by Michael Trapp's uplifting vocals, the EP is a warm upbeat medley of pop-rock guitar riffs from Matt Reisinger and creatively arranged production and bass by Clayton Mullins.
EP opener Every Summer sees the trio flirt with a darker pop sound while retaining their signature anthematic choruses and brilliant use of dynamics. The track's heavy percussion and brooding synthesiser verses set the tone for an angst-filled song about a failing relationship. Until Home say, "no matter how hurt you can feel you can still be deeply in love with someone despite it being nothing more than just a summer love for the other person".
"…the song's all about cheeky backing vocals and Trapp's soaring delivery of the all-too-relatable lyrics."
The song's simple vocal melodies mean you'll be subconsciously humming "Well you-ooo/Well you-ooo/ooo-weoowee-ooo/You've got it all figured out" for the rest of the day, while sporadic overdriven guitar riffs and booming synths gives the song enough grit for fans of both pop and indie-rock to sink their teeth into.
Taking inspiration from international superstars Imagine Dragons, Owl City, and Coldplay, the EP's lead single Break My Fall combines simple pop melodies, an irresistible groove, and a powerful anthematic chorus to produce an accomplished single and future fan favourite. The song captivatingly builds from a foot-tapping beat with smooth syncopated guitar strums before the gradually rising percussion explodes into an epic chorus of well-crafted pop-rock ambience, a four-note keyboard hook, and a friendly vocal melody that's hard to forget.
Trapp says Break My Fall is about, "the attempt to break the vicious cycle of hurting other people to protect ourselves. To fully receive someone's trust we have to learn that vulnerability is the catalyst, instead of self righteousness".
Kids will instantly have you reminiscing about your earlier years with Trapp's reflection on growing up, which is both nostalgic and relatable as he addresses the feelings of understanding sudden enormity of becoming a proper adult. Musically, there's some super fun guitar rhythms, but overall the song's all about cheeky backing vocals and Trapp's soaring delivery of the all-too-relatable lyrics.
The band say Kids was written around the time Mullins was getting married. "Engaged at 20 and studying opened his eyes to the harsh reality that growing older was not the freedom he imagined, but was instead filled with the unrelenting pressures of life and the feeling of being out of depth."
The EP's fourth track Ink is Until Home's most impressive and mature release to date. Trapp opens the song with Ed Sheeran-esque poise and delivery, before a surprising string arrangement and driving percussion build the song to an emotive climax. There are no groovy rhythms, irresistible pop hooks, or snazzy production. Instead Ink sees Until Home perfectly compose a truly moving piece of music.
"The song's rich pop harmonies, backing vocals, and subdued instrumentation sees Optimistic to smoothly cruise through your ears."
Amazingly Ink was nearly didn't make the cut for the EP, as the band weren't sure the song would sonically line up with the other tracks on the EP. "When we were in search of another song our producer asked if we had any other songs written and Michael showed him 'Ink'. All of our songs begin being written on an acoustic guitar so we are really glad to have 'Ink' on the EP because we think it shows our roots as songwriters."
Closing the EP is title track Optimistic, a song that if released on its own would possibly place Until Home in the 'boy band' genre. The song's rich pop harmonies, backing vocals, and subdued instrumentation sees Optimistic to smoothly cruise through your ears. A guitar-led bridge allows Reisinger to beautifully layer a smooth overdriven guitar solo, which hopefully in a live setting will be extended to give the (very handsome) guitarist some much deserved time in the spotlight.
Until Home say optimism is "often looked upon positively, [but] also has a destructive half brother that convinces people to make bad decisions based upon flawed logic. Unfortunately optimism wasn't going to fix Trapp's broken down relationships but being in denial felt easier then waking up and dealing with his own reality."
Until Home's debut EP 'Optimistic' is release Friday 10th of June. The Brisbane trio will soon be hitting the road in support of the release, bringing their energetic and uplifting live show to several haunts down the East Coast, all tour dates can be found below!
Listen to 'Optimistic' in full below and watch our two filmed interviews with Until Home (including an unplugged version of Every Summer) recorded just a few weeks ago HERE
Until Home 'Optimistic' EP Launch Dates
SAT 11 JUNE
The Bearded Lady, Brisbane
SAT 25 JUNE
Push Play Festival, Gold Coast
THURS 7 JULY
Grace Darling Basement, Melbourne
FRI 8 JULY
Mynt Lounge, Melbourne
FRI 15 JULY
The Beach Hotel, Byron Bay
More Info HERE