Premiere: Swimsuit Issue Unveil Their Much Anticipated Album, 'Burn For The Buzz'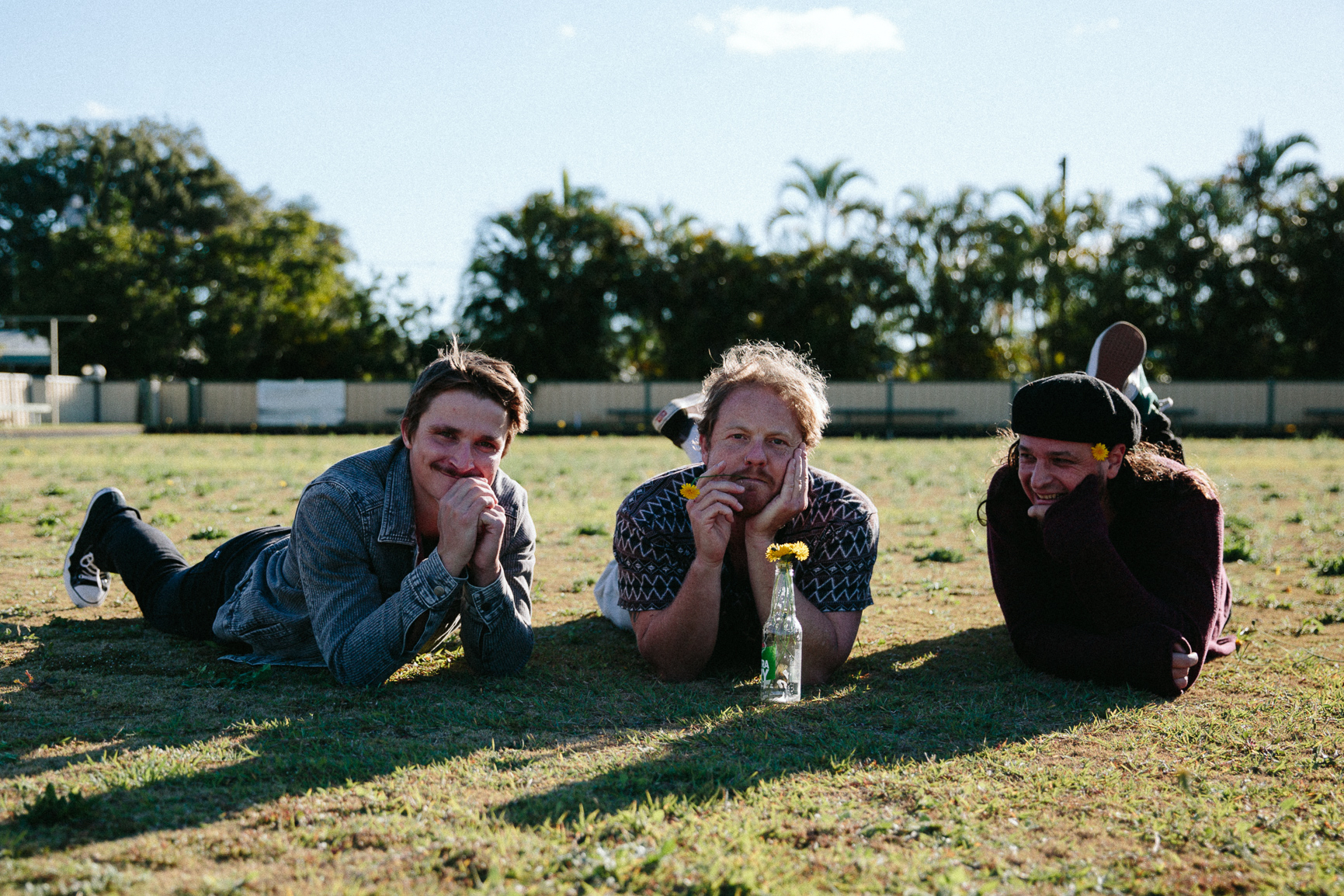 Sunshine Coast indie rockers, Swimsuit Issue will this week unveil their much-anticipated debut album, Burn Of The Buzz. The huge fourteen track album is set for release this Friday but you can listen exclusively right here today.
Burn Of The Buzz is stacked from start to finish. It features an all star cast of contributors including production help from Steve Summers and Paulie B while it also features musicians Dorah Jacson and Jye Perry Banks.
Not only are we blessed to bring the very first listen of the dynamic new album but we have an exclusive track by track walkthrough from the band.
Hit it with you –
That is a song which features guest vocals by Dorah Jacson and pedal steel guitar by Jye perry banks.
It is a song that I wrote when I was up the beach camping, I was lying down on the sand with headphones on listening to some old school country, nicely baked and reminiscing on some magical times that I spent with my fiancé travelling around Mexico and in Particular Los Cerritos where we sat on the rooftop of our condo every afternoon after a day surfing  looking over the point and the ocean while sipping tequila and cervezas and listening to old time music.
The song has a country influence, and it takes me back whenever I play it.
This is the end 
This is a song that I wrote one day when Tom and I had just started jamming. I came up with the progression and beat in Logic when Tom came over my house to throw some ideas around.
The music came together in 20 minutes and the line This is the end just came out naturally.
That night//morning I woke up after a horrible nightmare where I had lost my fiancée Amie to an accident. It felt so incredibly real it had me thinking of some beautiful memories. I couldn't get back to sleep so I went downstairs and started writing lyrics in the emotional state of feeling a sense of great loss and grief. I guess I wrote it as though it actually happened and I reference some of our favorite places that we have travelled together.
The Feeling 
This is a song that I wrote fresh into the relationship with my partner Amie. 5 months and 28 days to be exact. It is a really happy and fun summer song with a catchy hook!
I lived in a quite little street about 100mm from the beach with a little laneway at the end of the street. I wrote it in those early stages of a relationship when you get that great sense of excitement and elation. I remember after our first date where we went for a beach swim and a beer then I said goodbye and Amie hopped on her bike and started riding home and I thought ohhh yeah! I hope she likes me because I was very much into her.
When I recorded the original it was at home and Amie played the recorder and clarinet in the song. It was mixed into the whistle hook. The song was then shelfed. Just before we finalized the album I sent the song to Rhys and Tom just to show some other music I had written, I thought it was super cheesy! The guys loved it so we decided to get in the studio so that Tom and Rhys could redo bass and drums.
Shipwrecked 
This is another song I wrote for Amie! I wrote this one when we were first dating. I was going through a tough time mentally and was navigating through some dark and turbulent thoughts.
The song was to express to her how my life had changed since meeting her. It was musically inspired by the Ryan Adams track La Cienega Just Smiled and also the band Sparkle horse.
Where's our Head At
HAHA this song was the last one on the album. All studio sessions were finished, album was being mastered and it was considered finished.
I had a big day at work with a long all day zoom meeting. When we had a lunch break I picked up the guitar and the intro and verse riffs just kind of came to me. I quickly laid a beat down in Logic and recorded the guitars. I then set up a mic and freestyled the vocals and melody. The entire song was finished as a demo in 40 minutes just intime to get back to the meeting.
Rhys then added synth and bass. We didn't have time to lay drums down for it so Tyrone Bain who mixes our productions programmed the drums under Tom's guidance.
I was persistent and pushy as! To make sure this song made the album. The lyrics are raw and honest to me
True Love will find you – Dirty version 
Our version o the late Daniel Johnston song. We originally did it as an acoustic version but live we play it as a full band. I hear it as a shoegaze Jesus and Mary chain type vibe…
Golden Days
The music was inspired by 1979 Smashing Pumpkins.
It Is a upbeat happy song about realising that sometimes I need to take a step back, breath and realise that I have a great life and to live in the moment as this is living and these are the golden days right now! It could all be taken away for any of us at any moment.
Hey You
The first single from the album. It was tracked live and is 1 take!
It was one of the first songs that Tom and I wrote. Tome wrote half of the lyrics which were aimed at a particular type of person. He let loose with the energy of his drums and that led to a high energy aggressive guitar and drum led song! Royal Blood meets Gyroscope 
ADDICT
A song about my battles with various addictions and the struggle to keep them under control. The song was the 1st song that Tom and I wrote in Tom's garage in 20 minutes. The opening riff we jammed on and the rest just poured out!
My Mind 
Was first written as an old school country murder ballad. It is a fictitious story of a serial killer told through his own words, which give you an insight into his crazed mind.
I wrote it on acoustic originally and when Tom and I wrote the music for My Mind I thought that the lyrics were a perfect fir.
It's a short punchy punk rock song now.
AMIE
Probably the dirtiest, heaviest of the Swimsuit Issue tracks. It's a song dedicated to lust, desire, and wanting.  This track has a very Deftones feel to it, without being too aggressive, with an eerie underlying synth line.
This is the end live version
The live version of This Is The End is less cinematic and slightly more intense. With wicked pedal steel guitar instead of Saxophone, and guest vocals from Dorah Jacson. It's less melancholy, and more forceful. Danny's guitar solo rips in at the halfway mark, and you can feel the passion going into that.
True Love Will Find You In The End (acoustic)
While the full band version is a shoegaze, punked-up cover, the acoustic version is haunting, with an alt-country meets Massive Attack feel. Extra vocals from Dorah Jacson, and an overall feeling of hope.
Ocean Haze
A personal favourite of the band. This song evolved very quickly, starting with Tom's beat, and a wash of synths. Because there was plenty of room between the bass and sparse delay guitar, we added layers of strings, piano, and other pad sounds to give a dreamy feel. Love putting on headphones and listening to this track, closing your eyes and just floating.
Swimsuit Issue have raised the bar on this epic collection of music. To add to the good news of the forthcoming album, the band are also today announcing some big shows in their home state of QLD. Burn For The Buzz is available this Friday July 16 but you can listen right here, today.
SWIMSUIT ISSUE
UPCOMING SHOWS
Aug 22nd – Bed By Nine Festival (The Zoo), Brisbane, QLD
Sept 24th – Greaser, Brisbane, QLD W/ JaZZella + Jerm
Oct 16th – Eleven Dive Bar, Sunshine Coast, QLD
W/ Muules + Jerm + Happy Valley Band + Atticus Chimps
Oct 30th – Halloween Festival (Lefty's Music Hall) Brisbane, QLD W/ Big Blue Eyes + Forrest Run + Dorah Jacson + Rose Rogers + TBA
Nov 6th – Rock Beats Depression (Mansfield Tavern), Brisbane, QLD Nov 28th – Solbar, Maroochydore, QLD
W/ JaZZella + Erin Foster
For more ticketing and event info visit www.facebook.com/swimsuitissuemusic