PREMIERE: The Montreals Drop Bangin' Masquerade Video For "Indigo Club"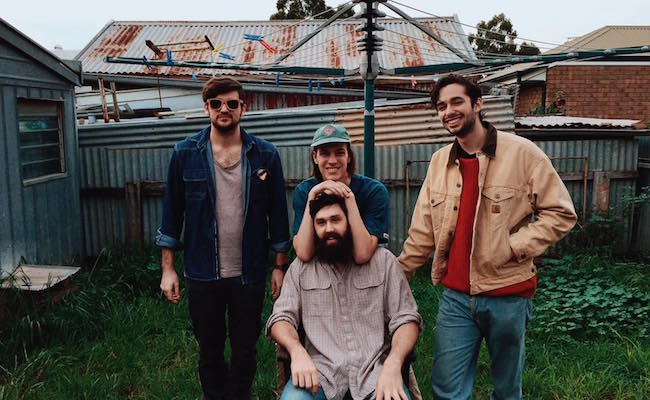 Turn up those speakers 'cause Adelaide indie-pop quartet The Montreals have dropped their very cool music video for single Indigo Club in preparation for their forthcoming debut EP! The Montreals formed late last year and have been travelling the country ever since in support of local indie-rock favourites Hey Geronimo and Last Dinosaurs.
As a track Indigo Club sits very pretty, a perfectly eclectic and catchy second introduction to  the upcoming EP since first single Lo-Fi dropped in August. The lush indie vocals intertwine perfectly with sweet electric guitar riffs throughout, making for an infectious pop tune.
"Lyrically, Indigo Club, was triggered by a drunken night in a swanky bar. I was swiftly kicked out and hit the sidewalk for some quality me time. The tune and video both loosely represent our glorious and not so glamorous youth culture, which we aptly channeled on the second day of filming. We were hungover, shoeless, and three hours late but still pulled it off!" said lead vocalist Stefan.
While The Montreals may be only three tracks into their career, Indigo Club exudes a Two Door Cinema Club-esque funky, sweet, and somehow also totally professional sound. As for the accompanying music video, a mysterious, sparkly mask belonging to "Indigo" appears on her desk, leading her to a secretive club filled with masked partygoers.
Once alcohol kicks in, she finds herself on the dance floor,  letting loose among colourful lights, a masked crowd, and a random conglomeration of props (expect angry chess playing and pool noodle dancing).
If Indigo Club and its intriguing music video are anything to go by, we can look forward to even more cheerful summertime tunes from The Montreals in future, and although no EP release date or tour dates have been announced just yet, we'll be keeping an ear out.
In the meantime, check out the Indigo Club video below!