PREMIERE: Yes Sir Noceur Turn Up The Surf Heat With "Turn To Fire"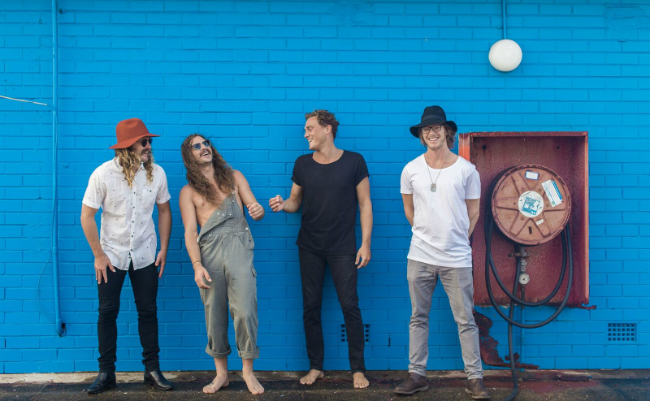 Did someone recently find a huge stack of old records from The Beach Boys, The Deltones, and The Atlantics in their parents' spare room and sell them really cheap to upcoming musicians? We're in the middle of a surf rock resurgence, or at the very least surf-infused rock. Bands like Skegss, Dune Rats, and all the way to King Gizzard and the Lizard Wizard have managed to incorporate smooth harmonies or twanging surf guitar into a few songs.
However, it's bands like the Gold Coast's Yes Sir Noceur have managed to turn this modern surf rock resurgence into a highly prized commodity. Fresh off the back of their debut EP and the sweet stash of singles they've been dropping, the Yes Sir Noceur fellas have teamed up with AAA Backstage to premiere their latest release Turn To Fire, and we couldn't be more chuffed with what they've laid down!
The song starts with soft wailing guitars and a jumpy drum beat before meandering through a beautifully sung verse shared between lead singer Marc Cowie and guest vocalist Aquila Young. The song then steps up to its own when the guitars kick in at full pelt. I hope you aren't planning on recreating the sound of this track in your bedroom, because we doubt you have enough effects pedals or the talent to employ them in this manner.
The track then alternates between the vocal mystique and beauty of the verses and the surfy attack in the chorus before hitting you with both, creating an impacting contrast. Don't let the song's fast-paced and energetic drum beat fool you though.
Once you feel the emotion in the vocal lines and the way they blend with the guitar lines, this is the kind of relaxing track that will have you kicking back to on a stormy summer's afternoon, watching lightning crack over the ocean.
The band describe themselves as the love child of a hypothetical "Beach Boys, Tame Impala, and Jim Morrison" one night stand, and it's easy to see where they're coming from in this release. They go from a 60s improvisational jam through a modern indie sound and back again, expertly blending psychedelia and surf…"Psych-surf?" "Psyrf?" – We're coining Psyrf.
Check out the fresh track Turn To Fire below, and if you, like us, want to catch these fellas on stage scope their live dates!
Yes Sir Noceur 'Turn To Fire' Single Tour
SAT 24 SEPT
Miami Shark Bar, Gold Coast
SUN 25 SEPT
Rattlesnake, Gold Coast
Get Tickets HERE