PREMIERE: Apply That Slow Motion Filter With Merpire's 'Holding Breath' Video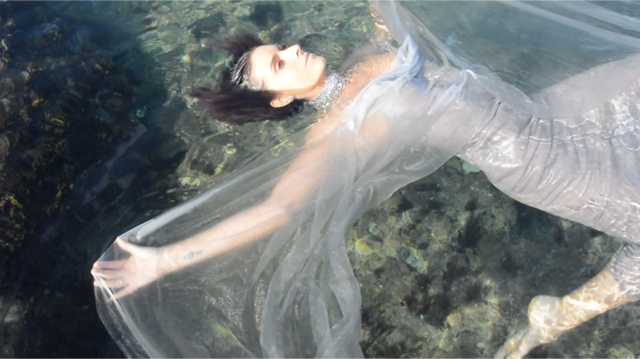 Merpire, simply put, is the new apex to stylistic pop music in Australia. Releasing her most accomplished single to date, Holding Breath, earlier in the year, the Sydney-born artist has now dropped the music video for the evocative synth-pop tune. AAA Backstage has been given the chance to stream the video, exclusively, before its official release.
Right off the bat, Holding Breath was produced by none other than Andy Bull! The single is Merpire's true embodiment of her approach to slow motion pop music that soothes and layers upon itself so gracefully. Let's not forget to mention Merpire's booming vocal range.
The video–a holistically directed art piece that perfectly matches the track's organic sounds. Filmed and directed by Cosmic Youth and Lâle, Merpire becomes one with nature, transcending time and space rather than disengaging with her music all together. Applying an almost Goldfrapp-filter of effervescence to her crisp, minimalistic appeal, the music video is a stunning accompaniment to the already gorgeous soundscape.
Merpire describes the shooting of the film clip as a true embrace of freedom through the minimalist cinematography:
"It was the coldest I've ever been, getting up at the crack of dawn to get some of these shots in the beautiful Blue Mountains, NSW," says Merpire.
"It was one of the most freeing, breath-taking days of my life. Going from clambering up rock faces to the tops of mountains to jumping in in to ice cold creeks and ocean pools in next to nothing was both challenging and rejuvenating. It really helped carry across what the song is about – the ups and downs, the shocks and the freedom that comes with heartbreak."
To celebrate the release of Merpire's Holding Breath, she'll be performing two very special, intimate shows in Sydney and Melbourne this July. She'll also be joined by a full band of acclaimed musicians including Neal Sutherland (Sarah Blasko), Luke Davison (The Preatures) and Sarah Belkner.
View Holding Breath below and scope Merpire's tour dates, too.
Merpire Live Dates
THURS 6 JULY
Oxford Art Factory, Sydney
TICKETS
FRI 7 JULY
Wesley Anne, Melbourne
TICKETS