Psychedelic Porn Crumpets Hit The Top Of Their Game With New Album, 'Night Gnomes'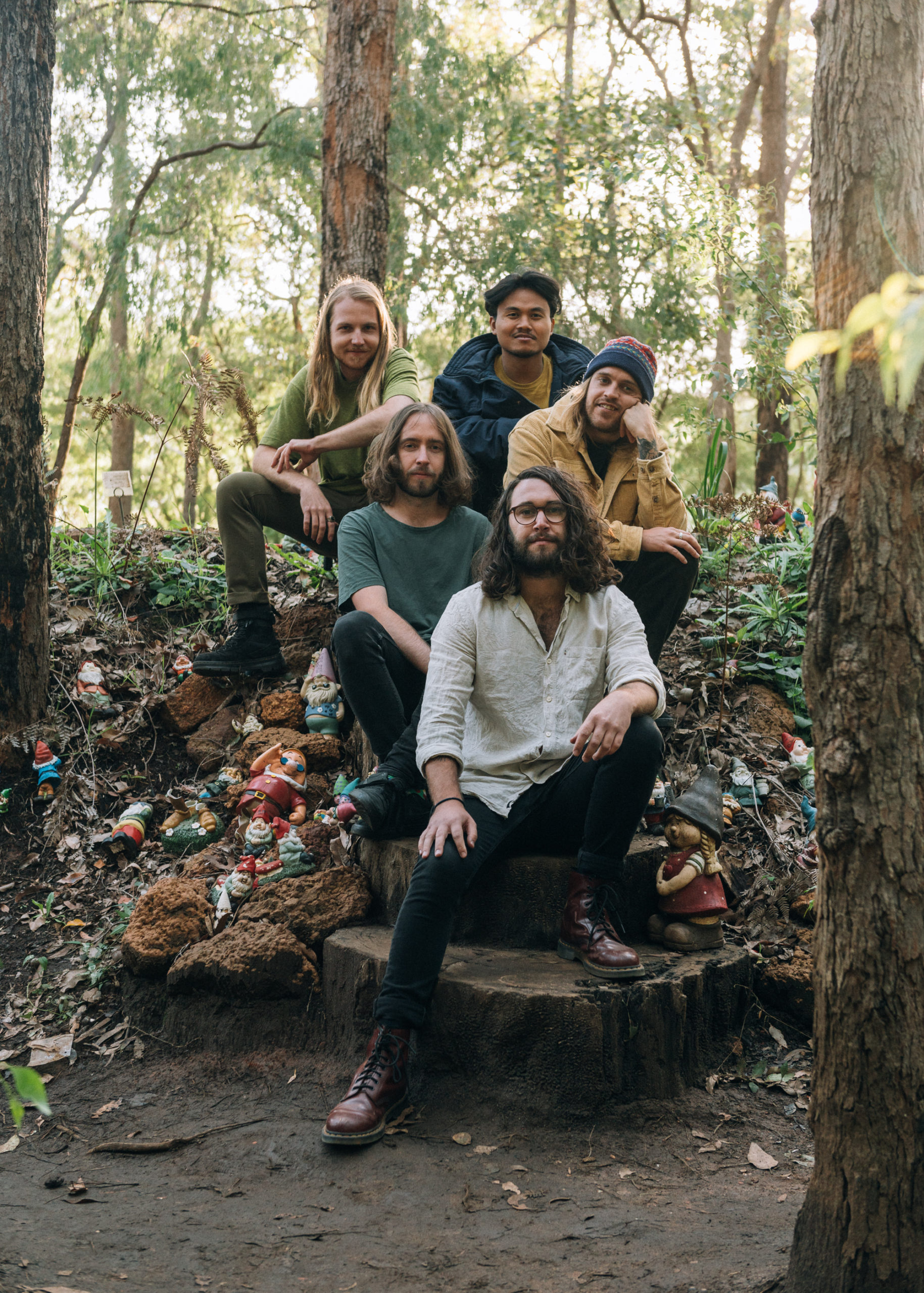 Australian favourites, Psychedelic Porn Crumpets have just unleashed their 5th studio album, Night Gnomes. It also comes with the announcement of an Australian tour which will see them stop over in Sydney, Hobart, Adelaide, Perth, Melbourne and Brisbane.
Night Gnomes is 11 tracks of sounds that extend beyond the traditional vibe we've come to know from PPC. Featuring the singles, Bubblegum Infinity, Lava Lamp Pisco, Acid Dent and Dread & Butter, this album sees the band enter some new sonic territories. Written in WA during another year of lockdown, it showcases main songwriter, Jack Mckewan's ability to jump out of his comfort zone and put together an epic piece of work.
"Night Gnomes is a bit darker than the other four releases. I don't know if that's the bi-product of being locked inside Western Australia for the past two years but it's definitely given us a lot of time to think. I reckon this record has a bit more of a KID A/Amnesiac vibe to it, it's a bit weirder, a little left of the 'psych/pop' world we've been tagged under. I kinda like that though, forever expanding, variety is the spice of life! It starts moody, talks of break ups and new relationships; gets kinda chirpy in the middle and then ends really beautifully, a bit like Jurassic Park 3. I reckon Spielberg might actually rate it, he's a mixture of a bag, ain't he.
 All in all I'm very proud of everyone's efforts, it's a step up which is a good direction to be stepping and it's a good body of work that I'm happy to share with the world, our little patch of darkness. And if deeper isn't your cup of moonshine, then at least you know the sixth album will be upbeat as F@!#." – JACK McEWAN, PSYCHEDELIC PORN CRUMPETS
For Night Gnomes, Psychedelic Porn Crumpets recorded at both McEwan's house and at Perth's Blackbird Studios with Dave Parkin (Tired Lion, Jebediah). The band also worked with engineers Michael Jelinekand Brian Lucey on mixing and mastering, fine-tuning that essential Psychedelic Porn Crumpets sound can still be felt right throughout the album.
Night Gnomes certainly sees Psychedelic Porn Crumpets at the top of their game, the album is available now, everywhere.
AUSTRALIAN TOUR 
Tickets through www.psychedelicporncrumpets.com 
Thursday 30 June Crowbar Sydney 
Friday 1 July Republic Bar Hobart 
Saturday 2 July Lion Arts Factory Adelaide
Saturday 9 July The Rechabite Perth 
Friday 15 July The Corner Melbourne 
Saturday 16 July The Triffid Brisbane 
UK / EUROPE TOUR 
Tickets through www.psychedelicporncrumpets.com 
Thursday, August 11th Hole44 Berlin
Friday, August 12th Molotow Hamburg
Sunday, August 13th Tivoli Utrecht
Monday, August 15th The Forum Tunbridge Wells
Wednesday, August 17th Brudenell Social Club Leeds SOLD OUT
Thursday, August 18th Rescue Rooms Nottingham
Sunday, August 21st Junction Cambridge
Monday, August 22nd Think Tank Newcastle SOLD OUT
Tuesday, August 23rd Saint Luke's Glasgow SOLD OUT
Thursday, August 25th Band On The Wall Manchester SOLD OUT
Friday, August 26th O2 Institute Birmingham
Saturday, August 27th Thekla Bristol SOLD OUT
Monday, August 29th The 1865 Southampton
Tuesday, August 30th  Concorde 2 Brighton
Thursday, September 1st Electric Brixton London
Friday, September 2nd Norwich Arts Centre Norwich SOLD OUT
Saturday, September 3rd Manchester Psych Fest Manchester
Tuesday, September 6th La Maroquinerie Paris
Wednesday, September 7th Trix Club Antwerp
Thursday, September 8th Vera Groningen
Friday, September 9th Doornroosje Nijmegen
Sunday, September 11th De Muziekgieterij Maastricht
US TOUR 
With support from Acid Dad (except Atlanta)
Tickets through www.psychedelicporncrumpets.com 
1st October Independent San Francisco, CA
3rd October Star Theater Portland, OR
4th October Biltmore Vancouver, BC
5th October Crocodile Seattle WA
7th October The Urban Lounge Salt Lake City, UT
8th Orange The Globe Denver, CO SOLD OUT 
9th October The Globe Denver, CO SOLD OUT
11th October 7th Street Entry Minneapolis, MN
12th October Empty Bottle Chicago, IL
13th October Empty Bottle Chicago, IL SOLD OUT
14th October El Club Detroit, MI
15th October The Axis Club Toronto, ON
17th October Bar Le Ritz Montreal, QC
18th October The Sinclair Boston, MA
20th October Le Poisson Rouge New York, NY
21st October Underground Arts Philadelphia, PA
22nd October Union Stage Washington, DC
24th October Exit/In Nashville, TN
25th October Terminal West Atlanta, GA
27th October Satellite Bar Houston, TX
28th October The Parish Austin, TX
29th October Deep Ellum Art Co Dallas, TX
1st November Casbah San Diego, CA SOLD OUT
2nd November El Rey Theatre Los Angeles, CA