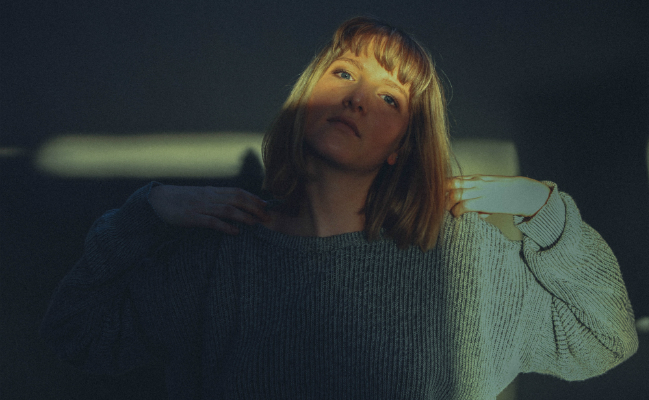 Melbourne-based electronic artist Aeora, the project of Lisa Spencer, has been turning plenty of heads with her latest 'dark pop' single Afloat, the second release from her upcoming EP 'Alt'. We asked the rising songstress some pretty deep questions to get to know Aeora and her music just a little bit better.
If you had your own TV show, what would be the theme song for it?
Hmm! I'd either create one with some funny voice overs (or even dog barks) with some simple vocals sort of like in Kimmy Schmidt's Unbreakable, or I'd try to beg Sia or Taylor Swift to use one of theirs.
What would be your most essential desert island album to take away with you?
I'd probably want something really happy and uplifting, but also one that goes through some hardship – I like to relate to what I'm listening to. So, maybe Sia's album '1000 Forms of Fear' (I've been listening to a lot of Sia lately). But then I'd probably really hate her music after listening it for a long time, so maybe not! This is a really tough question (laughs).
If you had to be trapped in a broken lift for 12 hours with any artist, who would you pick?
BANKS, because I love her!
If you were to curate a playlist for a house party, what essential songs would you put on it?
Shake It Off by Taylor Swift, Bootylicious by Destiny's Child, Like a Prayer by Madonna, and Let's Dance by David Bowie. They all make me feel great things.
CDs, vinyl, or streaming – What's your preference?
Vinyl! You have this big physical form of what you're about to listen to, and it is something you can treasure and collect. It kind of makes music really special!
What are your pet peeves when it comes to concert etiquette?
I know it's unavoidable, but when people just talk over your performance. It's really easy as the performer to just get on with it, but people around those who are actually trying to listen get the worst of it. Also when people have their phones out the whole time.
I was at Coachella a few years ago watching Lana Del Rey and there was this tall dude with his phone up in the air just in the place of Lana. Most of the time he just looked through the camera to see if the shot was good, instead of watching her…
If you weren't a professional musician, what type of career would you pursue?
I'm actually studying to become a Vet right now. I have a big passion for helping animals and it would just be amazing to do that. My favourite are dogs, I love dogs!
For the uninitiated, how do you describe Aeora's sound and live shows?
Most of my sounds are considered 'dark pop'. I guess people classify it as that because most of my songs are pretty emotional. I do like to make things darker than they are. Usually there will be some down pitched vocals, some synthesisers and some heavy beats. My live shows are usually just me with Ableton. My shows are always a bit more intense (vocally, I like to make it a little more crazy than my tracks). But soon I'll be backed by a little band, I'm excited for that!
We're loving your single Afloat, what's the inspiration or story behind the song?
Ah thank you! Afloat is really about self-love and recognising your own feelings. Sometimes I find it's quite easy to get caught up in some thoughts, and kind of lose it a bit. So, I wanted to express that and just belt it out. It's a bit empowering when you're just shouting it all out!
Lastly, what are three things people should know before seeing you on tour with roster buddie RKDA?
We're all great friends so we're basically having a friendfest (i.e. fun will be had).
I will have a slightly new set up.
I'll be playing my all my upcoming new songs from the EP.
Aeora & RKDA Live Dates
SAT 6 AUG
Oxford Art Factory, Sydney
SAT 20 AUG
The Milk Factory, Brisbane