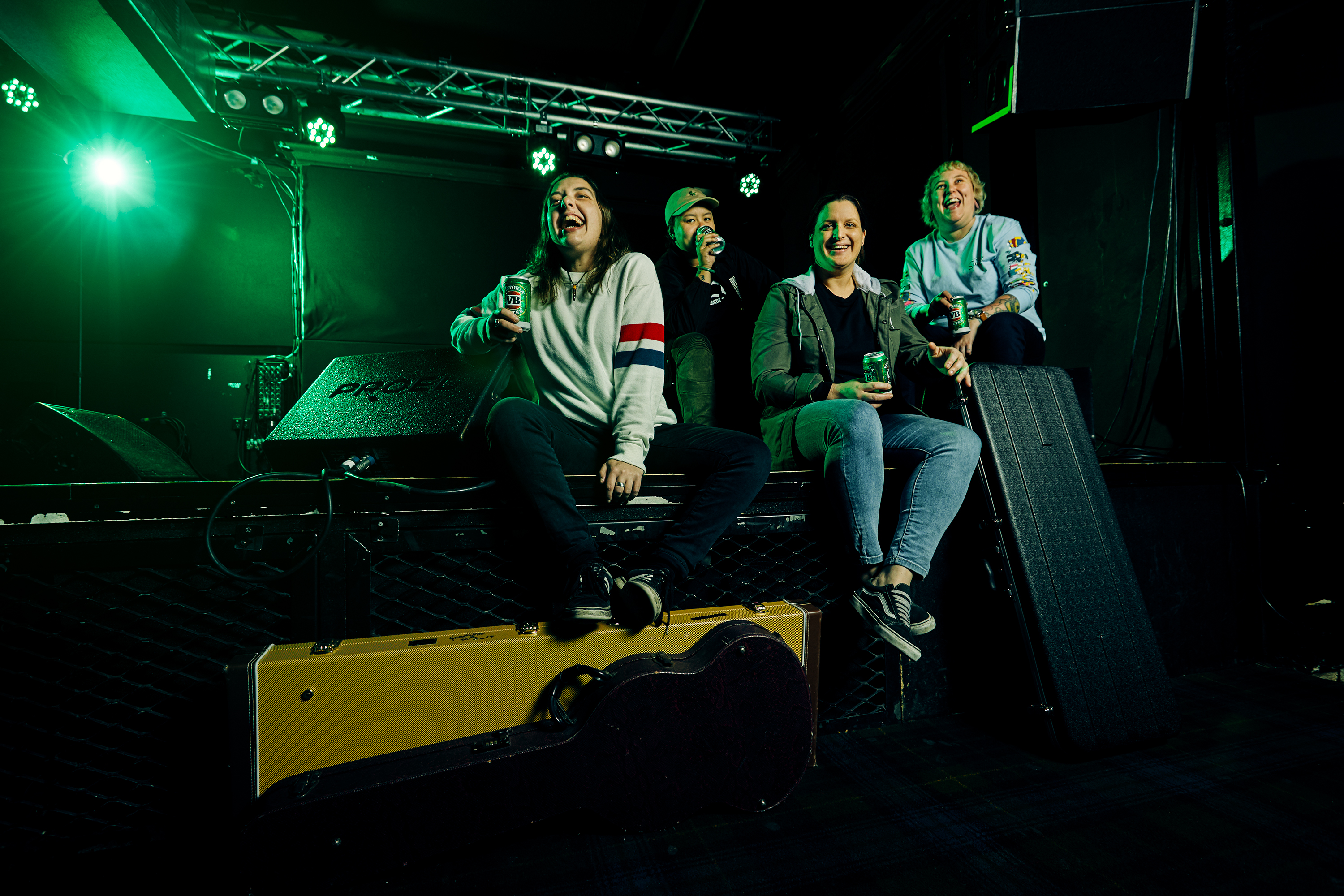 Speaking of bands who work their assess off, Being Jane Lane has been grinding their teeth for years. When an opportunity like VB Hard Yards arrives, it's both humbling and gratifying seeing this band being chosen for one of the three up-and-coming acts. The Gold Coast four-piece are working hard on an album, so we got in touch with them to chat about its progress, how music creates a positive head space and how excited they are for the VB Hard Yards tour.
What does winning VB Hard Yards mean for Being Jane Lane?
Winning this was a dream come true. Trying to play alongside your idols isn't something that happens everyday, so no matter what comes from it, we have achieved something truly special. As a band, it is hard to get noticed, so what VB and Deathproof PR are doing is very cool, and we have so much appreciation being apart of it.
Last time we saw Being Jane Lane was at Dead of Winter 2017! Fill us on whats been happening since then.
This year has been full of great opportunities. We brought in the new year playing alongside Melbourne rockers CLOWNS, supported Unwritten Law, have been on some huge festivals such as Dead of Winter 2018 and Big Gay Day, and have been working hard to bring you new music and start production on our debut album. Always something happening at BJL HQ!
How has it been working with Human Records? Was it a bucket list item to get signed?
I think it's every bands goal to get signed, and starting off on a small indie label was really good for us. We have learnt a lot. You forget how much of being in a band is actually business at the end of the day, and it took some of the pressure away. We also do our recording with HR, so we get to spend lots of time perfecting songs without having to rush things.
How's progress on the album coming along? How do they differ from the EPs?
Definitely. As we grow as a band, the more we learn about each other musically and over the last few years we have started to try and push ourselves to write more dynamic songs. We will always be a punk band, but that doesn't mean we can't push the music as far as we want to. We just want to make music people enjoy, and can relate to in some part of their life. We all have different influences and try to use that as an advantage.
Quickly going back to Sailboat. How do you buck yourself out of those moments of feeling worthless?
Definitely haven't mastered any techniques for getting out of that bad space in your head, but taking a step back to breath and asses why you're feeling that way is a good start. And talking to friends and family is always a good way to remind yourself that people love and care for you.
Does creating music help or hinder that progress?
Both, really. Usually when I have overwhelming feelings—be they happy, sad or angry—I feel inspired to write. It can drag on for a little while but if I get a song out of it I have something to feel good about.
I want to mention Wallapallooza on the Gold Coast, which you're playing. We need more community-grown festivals like this. Do you agree?
Of course! Wallapallooza is great. The Gold Coast needs more opportunity for local alternative bands, and Walla offers that. So glad it has been running for 10 years, and hopefully will keep going strong. Obviously it's easier said than done to make these days a reality, but festivals like Walla, and Dead of Winter are really setting new standards for local events. People will always love live music, so it really benefits both artists and fans.
Being Jane Lane will be on the road this October as part of the VB Hard Yards tour. See all details HERE.
VB Hard Yards Live Dates
WED 3 OCT
Northcote Social Club, Melbourne
w/ Alex Lahey
THURS 4 OCT
The Foundry, Brisbane
w/ WAAX
FRI 5 OCT
The Cambridge, Newcastle
w/ RAAVE TAPES
SAT 6 OCT
The Lansdowne, Sydney
w/ Tired Lion
TICKETS