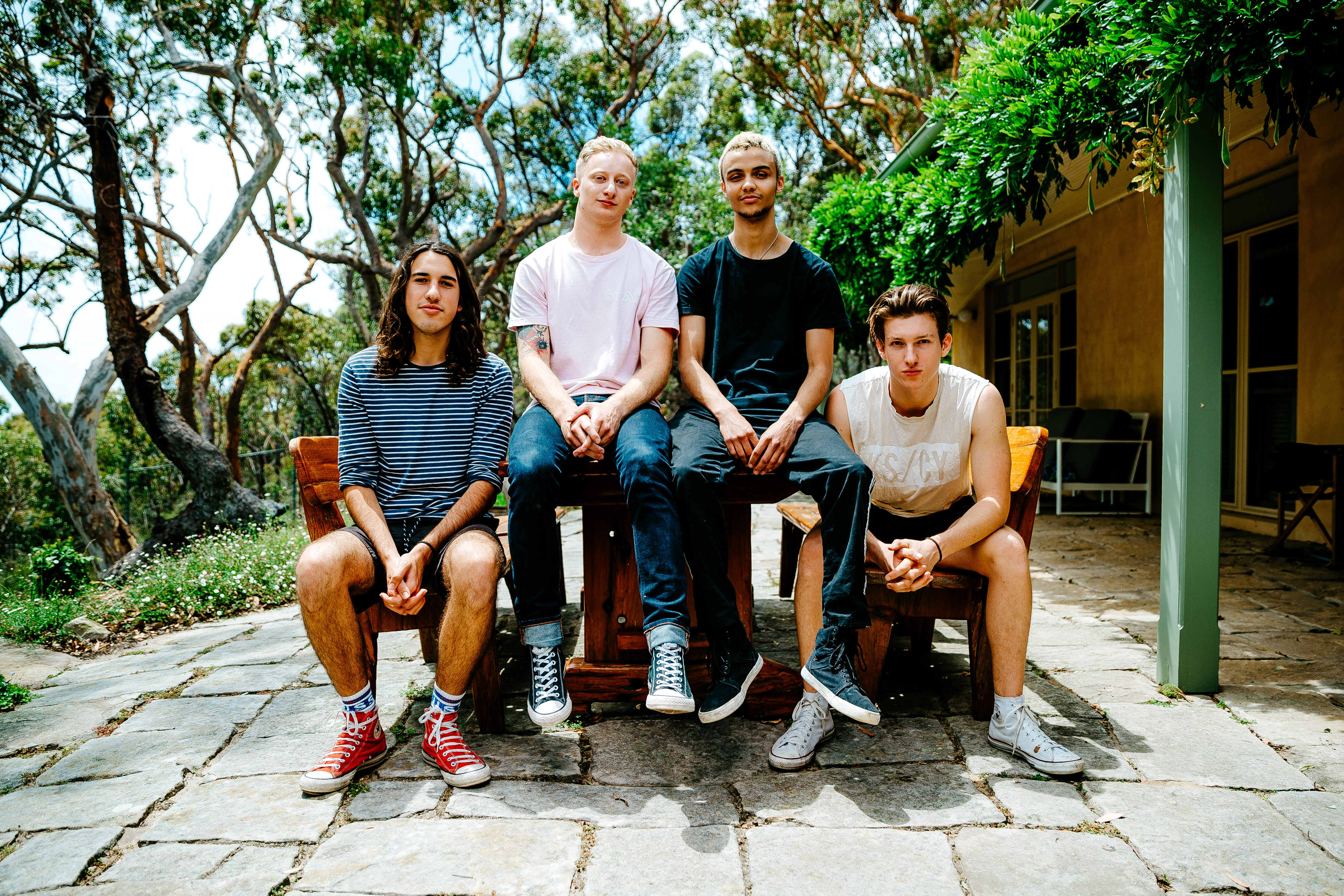 Fresh-faced and ready to be taken under the scene's wing, Down For Tomorrow is a four-piece from the Northern Beaches who are injecting some much needed vitality into pop-punk. Today, they've released What Could Have Been—an energetic and vivacious track that gets feet off the ground. We spoke to the band about the single and their year ahead.
You've described your sound as "happy-sad Aussie grunge." What does that mean and what effect has skating, surfing and the Northern Beaches had on your music? 
We tend to write a lot of happy sounding sad songs. There's a layer of sunshine drum beats and riffs, but when you dig into the lyrics, you'll see that most stuff we write about is a little bit melancholy. I think the main impact on our music comes from experiences we've had as a band and in our personal lives, but that's not to say we don't have our moments of inspiration while in the water, catching waves, or while doing a bit of downhill skateboarding. And I guess the main thing we take from the whole northern beaches image is that we're four young adults who enjoy the outdoors and will most likely be found obnoxiously crowd surfing at a local show, in the surf, or saving up to go to the snow.
What are your production or writing processes' like? 
Usually it starts off with Cody writing fucking everything, before he sends it to the rest of the band to be workshopped. Then it hits the studio and gets workshopped again. And then we record it! How good.
Can you tell us about your new single, What Could Have Been? What were the influences behind it? 
What Could Have Been is about loss and renewal. It's about desperately clinging onto old friendships, wishing you could've done something to make things better. In juxtaposition, it's also about waking up to yourself and realising you shouldn't waste the prime years of your life playing to the wrong crowd and ending up with regrets.
If you could support one Australian band at the moment, who would you choose? 
Luca Brasi. Don't even need to think about that one. It would be a dream come true to tour with those legends. They are such a loveable, wholesome band and they have definitely had an impact on our latest material.
Any shows coming up? 
Soon. We're keen to showcase our new music in what will be a busy year for us.
What's the rest of the year have in store for you?
Hopefully a tour or ten! There's plenty more new music to come. We're taking our time, but we're full of optimism, and even more energy.