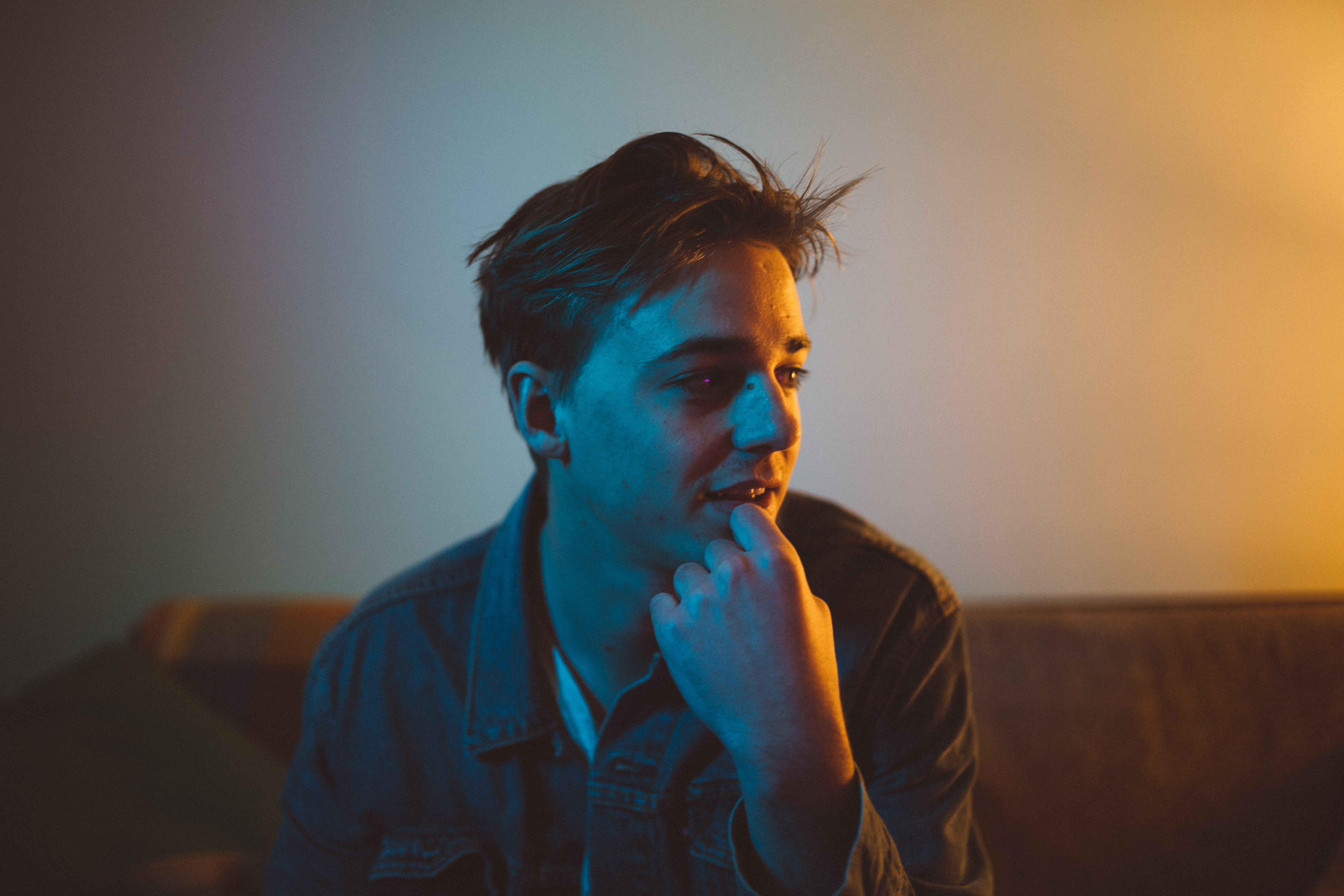 Slicing off a healthy piece of that high-octane indietronica, Hounded has found his clutch over his genre with Hollow. Better yet, he's found the soaring vocals of Panama to feature on the breathtaking new track. In our brief email exchange, we chat about the collaboration and the duality of the pairing.
Hollow is an amazing, ethereal experience of indie-pop. Was its creation a long process, or did it come together easily? How did the collaboration with Panama form?
Hollow was quite a long process of back and forth collaboration. Panama came up quite quickly with the lyrics of the record and the melodies, but the instrumental part took me at least three to four months of solid work. We had a few studio sessions, but when it came time for me to put myself into the track at home, I struggled a lot. In a weird way I'm kind of glad it took so long for me to finish, because allowed me to appreciate and respect the entire process of coming together to write a song.
You've talked about the duality of Hollow. How did that come about and how did you try to change-up the production process to achieve this? 
The 'duality' of Hollow actually came towards the final stages of wrapping up the record. When I've written songs in the past, I've always focused on the way it sounds, not the story it tells. I think I got to a point in my songwriting where I was so burned out on trying to write instrumentals at home in my headphones that it was impossible for me to finish anything. On one side, I had this really bright instrumental that sounded joyful; and on the other, I had Panama's dark lyrics of love loss. I felt like it was impossible to combine the two because of their obvious differences.
It wasn't until I took a step back and looked at all the themes the record conveyed and saw that Hollow had this duality behind it. It was telling two stories, and there was nothing wrong with that. I wrote an essay like page for myself on defining duality and how it was portrayed in the record, and this gave me the confidence to finally wrap it up and release it. On the production side I actually doubled down and made it more 'joyful' and happy to contrast Panama's lyrics to re-emphasise this idea of duality.
You've mentioned before the effect channels like Majestic Casual and Mr Suicide Sheep had on your foray into electronic music. Were there any particular songs or sounds that lead you to move away from rock and metal music?
Honestly, there's too many songs to mention that drew me away from the rock and metal I was listening to beforehand. I think it was the fact that it was the first time I ever heard music like this. It wasn't being made by bands in studios with record deals. It was being created in the bedrooms of teenagers with their laptops. I felt like there was this gap in ability when I tried to write rock with my guitar. I didn't have any recording software or the needed facilities to write a song. But when I heard the music coming from channels like Majestic Casual, I knew it was possible for me accomplish the same thing from mybedroom.
Your songs have garnered tens of millions of listens. Do you have to pinch yourself sometimes?
I'm very blessed to have music that's been able to connect with people all around the world. I love when friends message me saying that one song is being played in a cafe, or when my manager, Jon, was in a gym in Ireland and they had a few of my songs on their playlist. It always encourages me to never give up and just keep working at it. If I'm honest though, I spent a lot of last year caught up in trying to write another record that hits the million mark. It really slows down my creativity, because instead of focusing on writing music from the heart, I focus on writing another 'hit' for lack of a better term. I think that's why sometimes it takes me a long time to finish something and put myself back on track. I've definitely had to 'reinvent' how I approach a song and let it come naturally instead of worrying too much about how the record is received. Hollow has been a breath of fresh air for me because it's the first time I think I'm being open and honest in my songwriting.
You're heading out on tour in March. What can fans expect from your live shows?
My live show is still in development, I'm looking at fleshing it out more as the year progresses. I wanted my March shows to really show people the music I've written, both past and present. These shows will be more dance-centric, featuring more of my upbeat tracks. When my live show comes into fruition it's going to be very intimate. I think people will notice more this year that the songs I'm writing have more of a 'band' feeling, rather than your typical dance music. It's going to be both nerve wrecking and exciting to stop doing dance sets and move into a live environment.
What does the rest of 2019 have in store for you? 
The rest of 2019 you're going to be seeing me do my first live shows and hearing more honest music!
Hounded Live Dates
SAT 9 MAR
Jack Rabbit Slims, Perth
SAT 23 MAR
Hayday, Wollongong
SAT 30 MAR
Ours @ Beach Road Hotel, Sydney