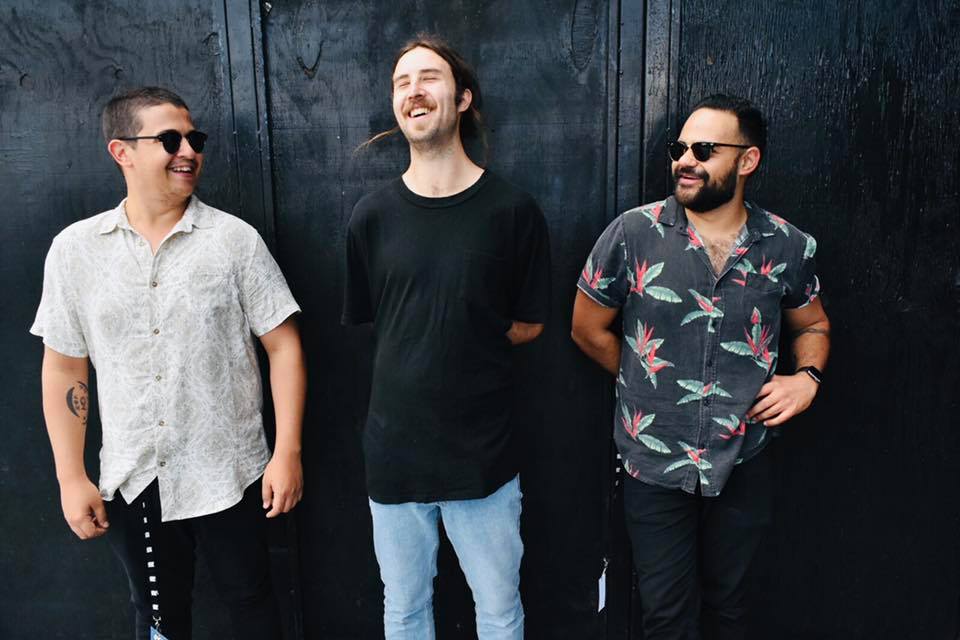 Outspoken and purveyors of gritty blues-rock, Central Coast's IVY have been cutting their teeth on the road for several years. It's not until Sinners Grin, their latest, where they've become a force to be reckoned with. We chat to the trio about the unadulterated, loose new track as well as some other big wins from the band.
Sinners Grin is a raw, hard hitting garage infused rock 'n 'roll banger. What was the influence behind the song?
Kane took big inspiration from songs like Methyl Ethyl's Ubu and Feet Don't Fail Me Now by Queens of the Stone Age—raw ideas kept simple and catchy, with big choruses and catchy guitar licks. We're getting a pretty good reception of it so far, so it's great people are diggin' it as much as we are.
You've supported some great bands over the years. How was it playing side by side with Violent Soho, Delta Riggs and British India?
I think the beauty of playing the music that we do is we get to play with a diverse bunch of bands and at diverse bunch of festivals and we can easily alternate. We're not sort of 'conformed' to play with any particular genre. The majority of the bands we've supported have been legends, but in their own different ways. I think the whole vibe of being 'too cool for school' is starting to go out the door. No one wants to hang out with rockstars who think they're better than everyone, so its been great chillin' and having beers and laughs backstage with these bands, if they're good people, you seem to get into their music more.
You've released Pocket Full of Blood and Now She's Got You to acclaim from triple j, MTV, and US and UK Radio. How has your writing process changed and evolved?
We use to go into rehearsal and writing volume up full-ball like we were playing a stadium or something and jam out these 20-minute numbers that went nowhere, but we've found toning it back, stopping and actually talking to one another has helped immensely. I think the older we're getting too the music and writing has stepped up and people are taking notice which is cool. Maturity!
You're hitting the road right through to late November. Is this your biggest tour ever? How was FKA Festival with Kingswood and The Jungle Giants?
As the number of shows go, no, it's definitely not out biggest tour. One of our first ones we smashed out about an 30-date stop over in about 3-months which almost killed (our livers and brains) us. From then on we're under the mentality is not about playing a million shows anywhere you can get a gig, it's about playing the right ones to the right crowds.
FKA Festival was great. We've been lucky enough to play some of the biggest stages in the country and this one was world class. Stepping out knowing acts like The Rollings Stones, Fleetwood Mac had graced the same stage was a buzz. The crowd vibe awesome. Highlights we're definitely Kingswood, British India (as always) and Luca Brasi, man those dudes know how to party. Good lads.
Any advice for young up and upcoming bands trying to get a start?
We've seen some cracker young acts coming through the ranks, locally and interstate. But we've noticed over the past few years there is like this army of young acts that are just trying to be like clone bands of acts like Dune Rats, Skegss, etc. Not that there's anything wrong with them boys, they're insanely good at what they do that's why they are where they're at, but in the Aussie scene you've really gotta stand out, have something different that's gonna appeal to a wide audience of all ages I think. Best advice is to keep going, keep jamming but write what YOU want. Not want you think people want to hear. A song about smoking durries or something is not going to age well.
What else do you have planned for fans later this year and early 2019?
We're in talks for a few more shows to end out 2018 post-tour it looks like. After that we'll definitely be back in the studio at some point early 2019. Whether it be dropping more singles or an EP not sure yet. But we've got plenty of tunes up our sleeves.