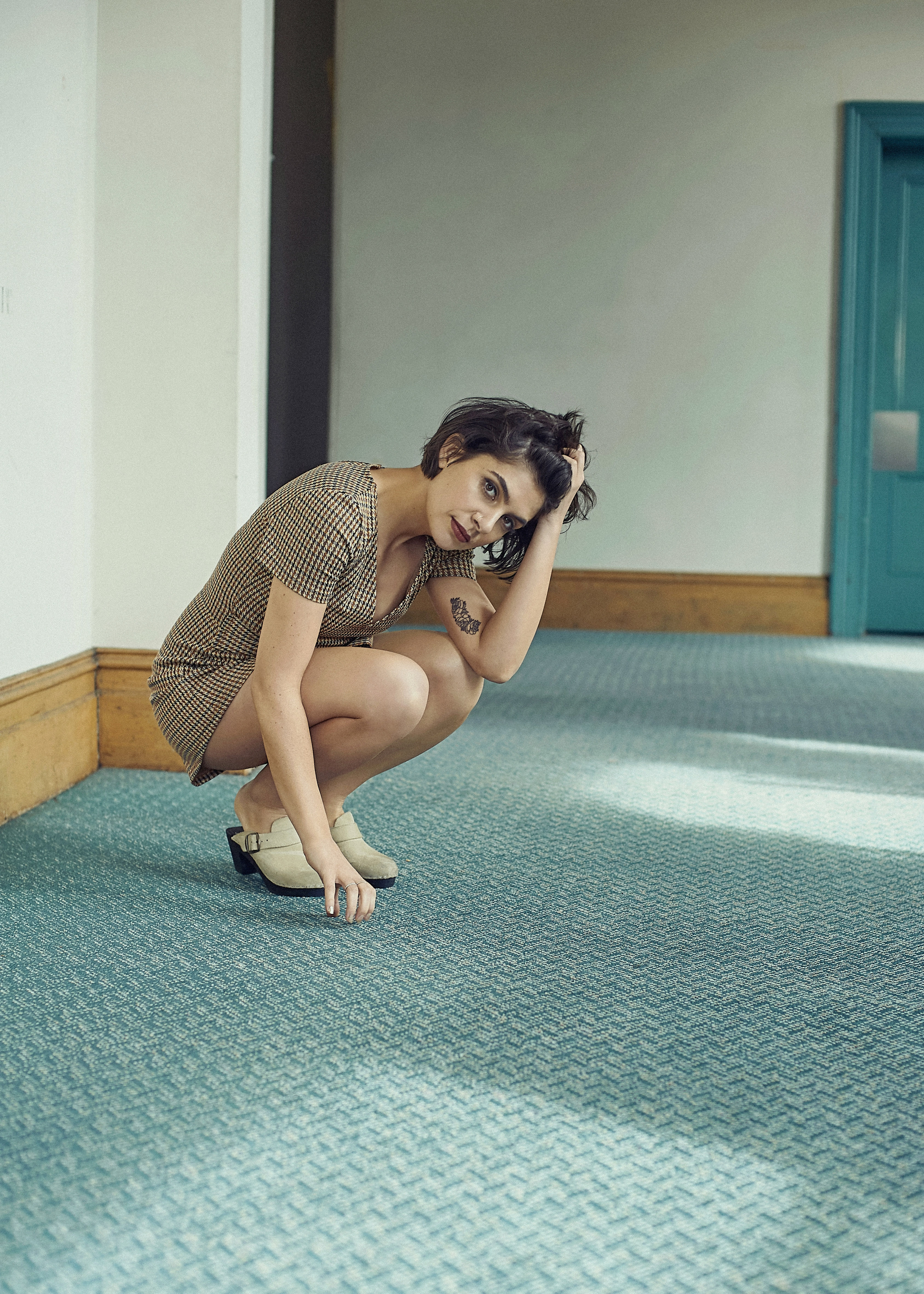 Lisa Caurso has travelling to-and-from London right under our noses building a collection of brash, dire and crushingly real songs. She's shaken up her sound for the better. Shake Baby Shake is her opus piece and, as we find out in our interview, there's plenty more where that came from.
Talk about your songwriting process? Is it natural, or do you have sudden moments of inspiration?
It's always been a pretty natural process for me. I've been writing for a long while, but after releasing the first set of songs, I now think more about the arrangements as I'm going. But generally I just pick up the guitar whenever I feel in the mood, and have a sing. I don't like to approach songwriting as a task, so I'll do it when I find a relaxed moment in the day. The creative juices usually start flowing of an afternoon or night, and I've come to realise that I get the best out of myself when I've spent the day alone, too! A bit of hush helps me collect my thoughts, maybe.
How was it working with Benjamin Fletcher? How did he challenge you when making these songs?
Yeh it was really great. He's a very talented human, and has an amazing energy in the studio. Nothing was a drama. We had spent a few weeks e-mailing each other with pre production/planning, and as soon as I landed in London, we hit the ground running. We share a lot of the same music tastes, and are both super drawn to tone. I learnt a lot from witnessing Ben challenge the people that we worked with. And myself, too. There's such stressful and crucial moments in the recording process that could change a stylistic feature in an instant! I feel really lucky that he has been there at this stage of the process, and just so ontop of it all. He can sense when musicians have more to give—"Okay one more run, okay, maybe just one more, okay this is the one now!" and then, woah! Magic! That's pretty special.
What else came from the sessions with Benjamin?
As it happens, you're working your way in the music biz, you're independent, and you unfortunately come across some idiots. What a pleasure it was to work with a genuinely nice guy! Ben's always had my back, and he continues to support me. It's nice to work with someone who gets as excited as you about hearing final recordings, news of radio play, etc. I feel very fortunate to have made a good friend in the process.
You have been travelling to and from the UK a lot. Has travelling inspired a different kind of way you're writing songs?
Yes, I think so. I'll take it all. I tend to listen to a wider range of genres when I'm not at home. Influenced by a different atmosphere, sometimes even the weather, it spikes different ideas and definitely provokes different ways of thinking. And the amount of gigs you stumble across when you're abroad! I saw Feist in London on my day off from recording. Perfect timing. And the one time I was in LA, my friend and I managed to see Lauryn Hill in a 300 cap room! That was pretty mind blowing.
If the opportunity arises, would you perhaps move to London?
Yeah! I'd definitely do a stint over there if an opportunity arose. Never say never. I do thrive off the sun, though. Sydney is pretty damn good at delivering the sun and the beaches. It's sometimes all the inspiration I need.
Have these new songs inspired a shake up to the live set?
Oh yes, definitely. I have been rehearsing with the band and am very excited. The new songs have a heap more edge that translates well in the live setting. There's still a rawness and a vulnerability, but with added grit and tude. The energy has been turned up a few notches.
What has you excited for the future?
I'm just really excited to have the ball rolling again. The last couple of years saw me unwell with a Crohn's relapse, so I was unable to release anything new for a little while. I was still writing and gigging, but I'm a bit of a perfectionist and wanted to wait. I've had to let that go now though, and am feeling really good for it. Super excited and ready to share, and play bigger stages. The album is on the horizon.