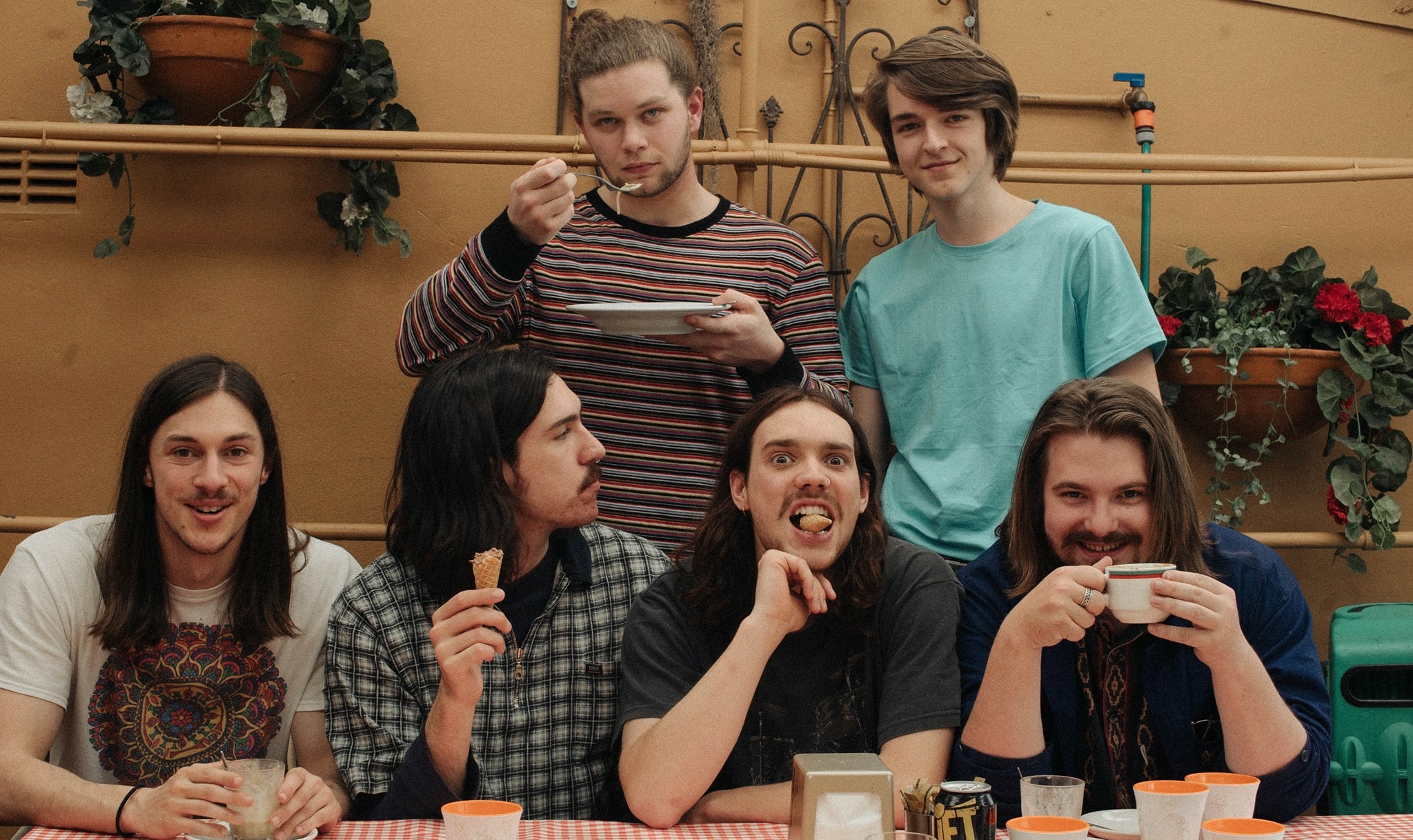 After releasing their critically praised single Radar, Sydney-based indie sextet Papaya Tree have just unveiled tour dates and their striking new cut 'Youth' – recorded and produced by Phan Sjarif (Middle Kids) at Parliament Studios, Annandale. We had a brief chat about influences, recordings and what's next.
After releasing Radar earlier in the year to much acclaim, what was the approach and main influences behind Youth?
It's funny because Youth was actually written aeons before Radar. We've just always felt that the song had enough to be released as a single. We were pretty happy with the track until one member raised some points which led to us completely re-sculpting the second half of the track including synths, harmonised saxophone and fuzz bass. Youth is about an old wives' tale that the apple doesn't fall far from the tree, in the sense that we are all destined to make the same mistakes as our parents in one form or another. Having this background helped shape the tones we used and the melodies we created as we wanted to have a nostalgic and longing kind of vibe which we think we achieved!
What was it like recording at Parliament Studios?
Parliament is like our second home, from ordering Uber eats every day to buying sandwiches from the corner coffee place that take 45-minutes to make, only to have it ripped from your hand by a passing dog. There's a weird sentimental kind of feeling whenever we spend a few days there. The recording rooms have such a vibe, there's ping pong tables and connect four to help ruin some friendships and having Phan with us workshopping and messing around with ideas is always a lesson in itself and a fun hang.
Earlier this year you sold out your show at The Lansdowne Hotel. That must have been nuts. How was that experience?
We're still absolutely buzzing from the experience. To see so many bodies dancing, having a great time and mouthing lyrics is just a surreal experience. Words can't describe how thankful we are to have people supporting the hell out of our weird as fuck band. It's stuff like selling out Lansdowne that makes all of the stress, tribulations and hard work worthwhile and my god we love it. Keep going out and supporting live music as much as you can people. We depend on you.
Sex On Toast are another high energy, incredibly fun live band. What did you take from touring with them?
Man, it was a great run of shows, Sex On Toast know how to put on a show and my god can they all play their instruments, they're all absolute freak musicians. Sex On Toast is a lesson itself in being a tight band, caring about the sounds you put out for the listeners and also not taking yourselves too seriously and having a ball on stage. They also helped us in realising that our favourite brews need to stay inside the can. Big love to those gents.
What can fans expect from your launch parties later this month and into December?
If anyone has come to a Papaya show they know the drill. Energy. Terrible jokes. Unparalleled in-between-song banter. Our instruments and persons making their way off stage at some point during. Other than these you can expect a night and a half of fun, and you'll hear some new instrumentation we've been working on. Synths and horns with pedals? You bet.
What is Papaya Tree's plans for next year?
A whole lot of recording and touring. We have big plans for Feb and March next year so keep your damn eyes peeled. In the meantime, keep spinning those singles so we have an excuse to keep checking our Spotify Artists playlists. Love you all.
Papaya Tree Live Dates
FRI 30 NOV
Three Eight Six @ Chasers, Melbourne
SAT 1 DEC
Waywards, Sydney