Q & A: Simon Relf from 'The Tambourine Girls'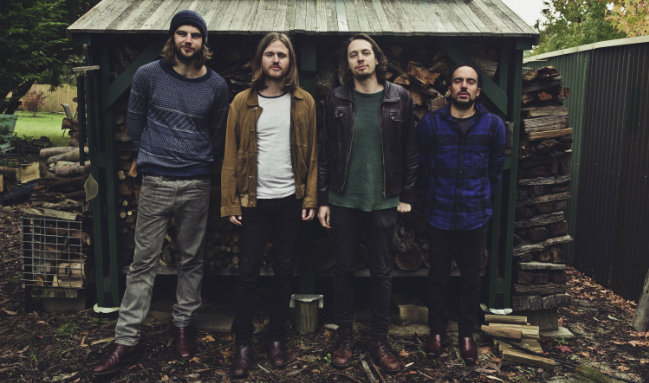 From the isolated Southern Highlands of New South Wales comes The Tambourine Girls' latest single Police, an eclectic cacophony that incorporates shoegaze, psych-rock, and plenty of reverberating vocals. We asked chief songwriting Simon Relf a few questions to get to know the quartet a little better.
Tell us about The Tambourine Girls. Is this a solo project or are there others involved?
I guess it started out as a solo project. The first EP was recorded in two days with some friends after a one-hour run through, and that helped to form the current line-up of Pat Harris on Bass, Nick Weaver on guitar, and Carlos Adura on drums. With all the touring and recording we've done together it feels more like a band now.
The imagery in the lyrics of your current single Police is quite striking, is there a story behind the song or something that you're trying to say with it?
I never really know what I'm trying to say, but I think that song is for all the people in your life who try to hold you up or give you trouble when you're not doing anything wrong.
Police is quite a sonic mist of atmospherics, is that something that was worked out in the studio or did you go into recordings with a vision of what you wanted?
I think you have to go into recordings with a strong idea about what you want whilst at the same time being prepared to be surprised. When we were recording this song we'd done a few takes and no-one was really feeling it, so our producer Tim Whitten suggested listening back to the demo and trying a more chilled out approach. He picked a tiny little amp for me to play through, and Nick just came up with that beautiful intro guitar melody on the spot. It was a good moment!
We understand you live in the Southern Highlands. Has that affected your songwriting or the sound of your current recordings?
I don't know…my neighbours aren't too close so I can come home from work late and play music all night. That helps! Also my favourite time of the day is the dusk and they go on forever down here. But I never really think too much about where I'm living…it works for now!
You've had a few interesting projects over the last few years. Do you feel that you're settled with The Tambourine Girls now?
Yeah, The Tambourine Girls is my main thing. I made a record with Marcus Gordon from Spookyland and Terry Serio, and we play together sometimes which is a great thing to be a part of, but I can't wait to release The Tambourine Girls' first album so we can record the next one!
Wow, an album! Out later this year?
Yes, we're working toward a full album. A release date is yet to be decided but I'm hoping it won't be too long!