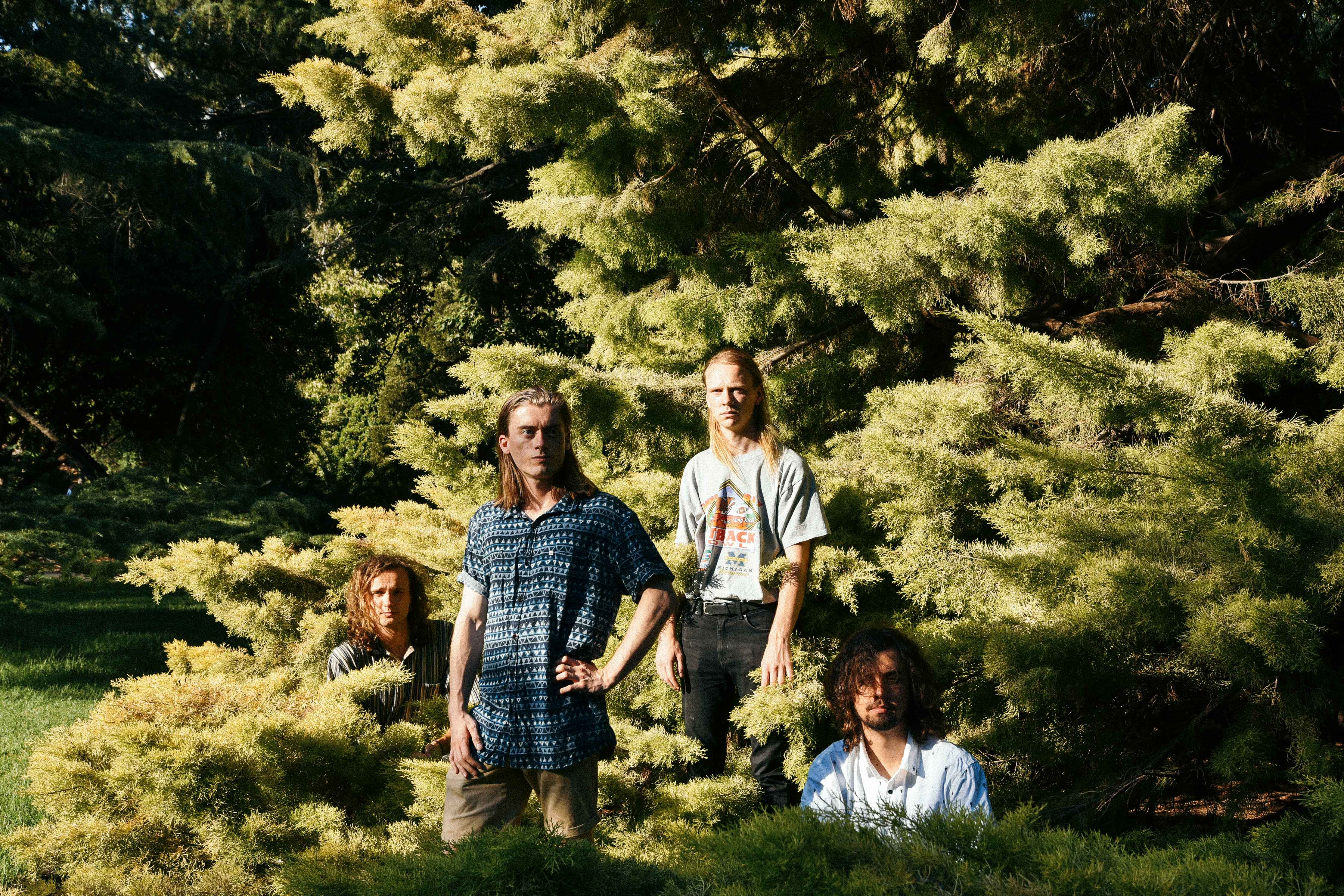 There's thousands, if not millions, of psychedelic bands in the world right now. So, what sets The Empty Threats apart? It's their commitment to achieving pure reverie and decadence in their music. Harnessing the obtuse and vapid extremes of the genre, the Adelaide four-piece's new opus, the four-track EP, 'Ablutions', is a marvel in psychedelic music. We got to chat to the band over email about the release.
How would you describe your sound?
Broadly, we can call our sound alternative-psych rock, but we've got such a diverse musical background and we all bring pretty different elements to our sound. Our singer takes a lot of inspiration from Michael Hutchence of INXS, both in stage presence and melodic habits. Our guitar and drum habits are mostly inspired by '70s and more modern psych-rock (Pink Floyd, Tame Impala), and our bassist is trained in jazz and takes any chance he can to throw in a sneaky lick.
How does your new EP differ from your past releases?
'Ablutions' gives us a bit more opportunity to tell a story than we previously have. Especially over the past year or so we've been through a bit of change as a band and each song on the EP reflects that in one way or another.
What is the hardest part of song writing for you?
Normally we get a bit stuck in the middle of a song writing process. We can normally get the basis of a song down fairly quickly but then as soon as we try and change a chord or another element we get a little fixed on it. More often than not, we end up going back to what we had in the first place!
Can you tell us a little bit about the meaning and influence behind your new EP?
The EP came about through a pretty natural course of action, we've been writing in the same way for a little while and our music has been influenced pretty heavily by the changes we've been through over the past year or so. It's really a comment on our personal mental states, the state of society as we see it, and trying to keep a positive attitude amongst all of that.
Can we expect an album soon?
We've just gotten started on something new in a bit of a new setting for us. We're aiming to get a bit more experimental in our new recordings, at the moment there's a little bit of uncertainty about where these recordings will end up in terms of single releases or an album. We'd love to have an album to share at some point in the future, it's definitely on the cards over the next year or so.
What drives you to create?
I think it's the excitement of seeing something evolve from nothing, when we all come together sonically while we're working on something new it's pretty cool. It can be tough to come together some days just because of our different musical perspectives but our differences can be what makes some songs better than others. There are a plenty of moments in our music where someone plays their part totally differently to what another member might have imagined, I think that's part of what makes it so exciting.
What is your go to album to listen to at the moment?
A couple of us are in a bit of a heavier psych rock place at the moment and we keep coming back to Thee Oh Sees' 'A Weird Exits'. We've been listening to Thee Oh Sees for a little while and I guess we try and take a bit of inspiration from them in our heavier moments. It's a pretty easy decision to put Thee Oh Sees on if we want to get our hearts pumping.
Who are some great Australian bands/artists we should be checking out?
Dean Forever – the unparalleled, dreamy vocals of Dean Forever's lead singer Kiah makes listening to them a treat. The lush tones draw you in and the song writing and lyricism make it difficult to turn your attention anywhere else.
Blush Response – they've been impressing us and everybody else for a long time. They're true alternative shoegaze and their dreamy, nostalgic, '90s sounds take us back to a simpler time.  They always amaze us whenever we catch them and it's well worth getting lost in their sound.
Donnarumma – each member is a force unto themselves and they synergise perfectly. Their energy packed live shows are an experience to behold.
Oscar the Wild – they're an all-girl indie-rock band with some incredibly honest song writing, taking influence from strong songwriters Courtney Barnett and Camp Cope.
Sons Of Zöku – these guys absolutely kill it with their wild jams and psychedelic soundscapes. Their rich, textured and detailed sound makes it hard to believe there's only four of them.
All of these guys are locals and they're absolutely kicking goals in the Adelaide scene at the moment.
If you could collaborate with any artist, in any medium, past or present, who would it be and what would you ideally create?
It would be hard to pass up the opportunity to create a studio album with Kevin Parker from Tame Impala. I remember reading an article about how he first began recording at home with an 8-track analog recording system and how it was born out of an immense enjoyment for making music and building a song piece by piece. I think working someone with that knowledge, experience and level of patience for making music would be invaluable experience.
I just hope he doesn't have other plans, I know we for a fact we would go on forever delving into which tones to use, how to structure the piece and the infinite layers we could apply. It would be a lengthy process, but I think we'd all be willing to put or lives on hold for it.
The Empty Threats Live Dates
FRI 22 MAR
Crown & Anchor, Adelaide
THURS 11 APR
Grace Darling, Melbourne