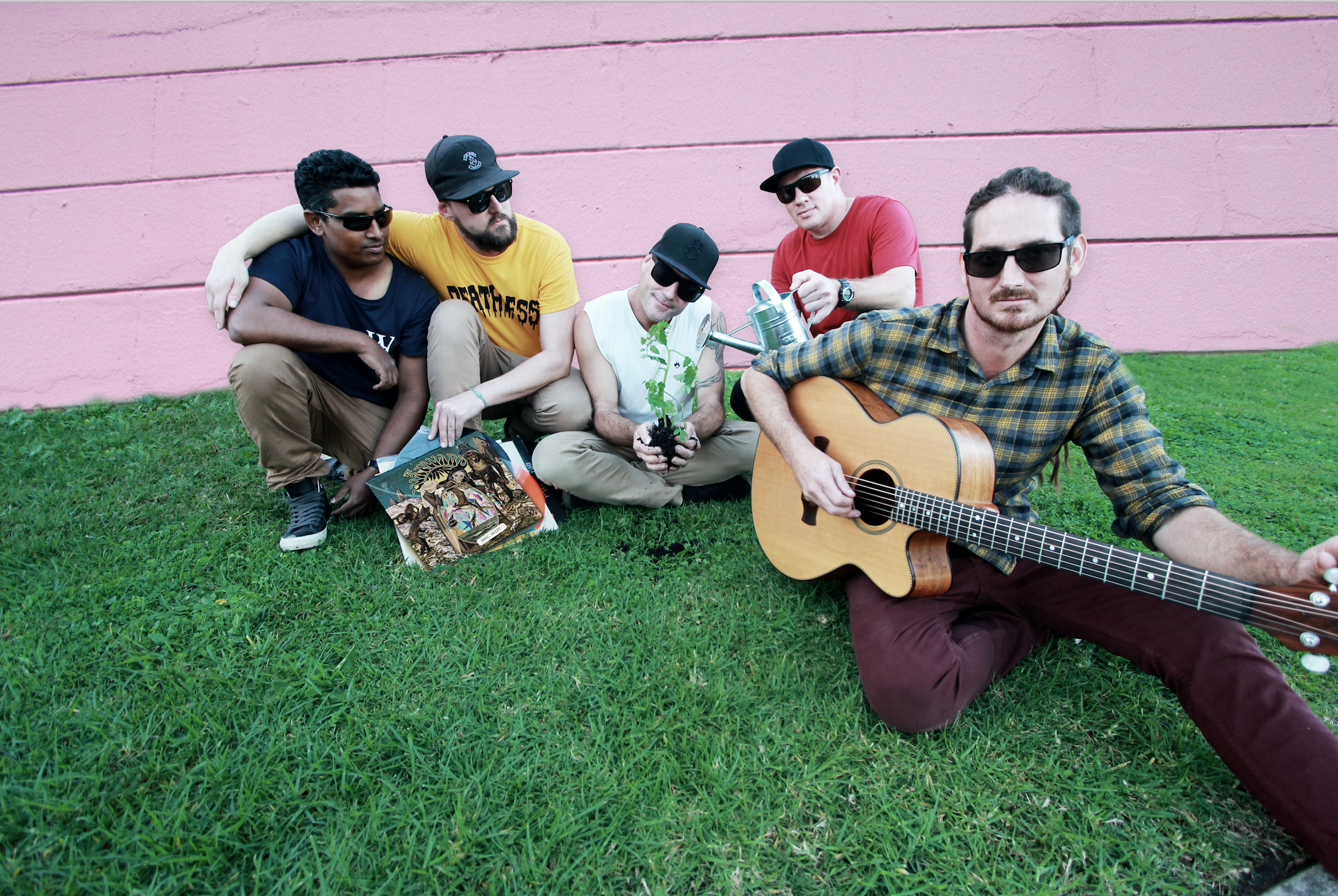 Ahead of their new single being released next week, we caught up with Instinct of Gold Coast based act The Wayward Suns.We chatted about their writing process and what the have planned for the year ahead.
You guys have been writing plenty of new tracks that are due out soon, can you take us through your general writing process?
A lot of navel gazing, a plethora of poetic post-it notes paired with a generous amount of fire ceremonies.  Then we seal it in a jam bottle and proceed to slow bake just until it's about to fall off the bone with ritual routine radiant resonance.  If that soul food sticks to our faces with a satisfied shining smile at the end of the process, then we welcome all to share in the sun gazing of our Wayward fun.
Since the release of your first album in 2017 do you feel like your style or approach has changed?
We Feel. We stick our plan, "Doin' It".  We're still grasping imagination from inspiration, approaching everything with love and gratitude, guided by the blessing of live and let flow, It's classic and never goes out of style. In saying that change is constant so we embrace every constructive phase and opportunity to co-constructively dream weave our wizardry and evoke rhythmic change.
What lessons did you learn from Paradigm?
As much as we're all about it as a set, we can't forget to focus on transitioning the single.
It's easy for bands to rest on their laurels and influences. How do you avoid that? 
The wicked don't rest, so neither do the we.  We're inspired by our wayward expressions and the sharing of stories, blended with others about our county, community and universe; Which we have transcribed as "Communiverse". It's an unfurling exploration into over unity which stokes our soul fire and the reflective glow of the perpetual path we all wonder along, like a river over rocks, mind blocks to ink spots, we don't stop.
Real Shift is your next single and is due out this week, can you tell us a bit about writing this track?
We started flipping this idea when we were writing the Paradigm album, which led us to an expression of wanting to re-write reality to how we feel it as a source, rather than how we see it.  Real Shift, a tune about the transitioning ebb and flow of the current state of mass consciousness, truth, love and part.  It's made from hip hop infused lyricism, meaningful metaphors, dusty samples juxtaposed  with an un tamable mix of blues-funk grooves.  Featuring melodic thumping bass lines, funk inspired beats and explosive guitar shreddery, "Real Shift" blazes a pioneering path through the timeless echoes of the current status quo, "Live on top, change the system, lose the banks, who's goin' to miss them; this whole worlds for you and me, let's rewrite this reality … Got to have love, Got to have truth, Got to have party "
You guys have a fair few live shows coming up to promote the single, do you have a ritual to get into the zone before you play?
Before we blaze the spot, we love sharing in the space with everyone and surfing the wavelength of the bands on show. Music is all time and uplifts with positive vibes, no doubt.  Then we plug in, channel and override with shared smiles and a high five.
What does the rest of 2019 hold?
Continuing on our current course, deep in the Love Street Studios sessions, recording our second album, aiming to drop a few more singles later on in the year.  Diving into Wayward World TV blogosphere on our newly launched website.  We're also lit up about our Real Shift live music love launch shows, which have the support of east coasts finest underground acts such Katie Who, Masterwolf, Lemaire, Flaskas, Machine Club to name a few.  The Real Shift single launch party kicks off in Brisbane Friday August 9th at the Woolly Mammoth Alehouse in the Valley, Brisbane; Then we're taking it to Sunny Coast's Solbar August 30th Friday; Then we're getting Wayward for our GC launch teaming up with the coastal tribe at Vinnies Dive Bar in September, then we cross the border road tripping down south to Yamba, exploring Newcastle, Sydney, Melbourne and finishing up full circle at Airlie Beach;  And for the rest of our Wayward 2019 we'll be independently sticking to our plan representing the Real Shift the only way we know, loving everybody.
Catch The Wayward Suns this Friday the 9th of August at the Woolly Mammoth in Brisbane.